Salif Keita - M'bemba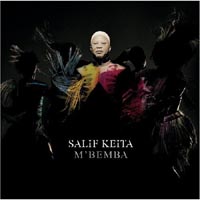 Salif Keita
M'bemba
Decca-Universal
Having been-there-and-done-that for more than 35 years, evolving from his early days fronting slinky Cuban-inflected tone-poems with the Rail Band and Les Ambassadeurs to his Paris-based eighties hi-tech heyday (Soro being the acme of this period), Salif Keita was inspired to move back home to his native Mali and reclaim his roots at the brink of the new millennium. One tangible result was Moffou, his Grammy-nominated masterpiece in 2002. Semi-acoustic and folklore-drenched, it remains his finest, most career-defining effort to date. For the follow-up release M'bemba, the good news is that not only has the singer-composer-bandleader continued to travel in a similar direction but he's retained most of the same personnel. Among these are guitarists Ousmane Kouyaté and Kanté Manfila, both of whom have been collaborating with Keita for decades. Legendary kora (West African harp) virtuoso Toumani Diabaté also sits in, as does Mama Sissoko on ngoni. Thanks in part to their informed, sensitive contributions, the hits just keep coming. "Bobo," the opening track, is all relaxed graciousness and "Calculer," with its insouciant Congolese soukous swing and glistening guitars flicks its hips while lilting along. On the final track, "Moriba," Keita's voice blares like a clarion over an eerie, repetitive figure played on a 7-string simbi shadowed by an answering choir. It is unsettling and utterly unforgettable.
Of course, the "Golden Voice Of Mali," being at once nobleman and troubadour, persecuted albino and international superstar, and crabby yet committed humanitarian, will probably always be something of a contradiction. Not surprisingly, his output has often reflected this. While session players like percussionist Mino Cinelu and bassist Michel Alibo manage to defer to what is going on around them and color inside the lines, to say that Buju Banton's guest turn on "Ladji" breaks the mood would be wild understatement. Whoever made the decision to swath Keita's searing, agile, technically flawless tenor in gratuitous reverb, particularly during the hypnotic drama of "Laban," was also extremely misguided. Amid the prevailing splendor, these may be relatively minor missteps, but they do lower the tone just enough to position M'bemba a notch below the towering achievement that was Moffou. - Christina Roden
CD available from cdroots.com
© 2006 RootsWorld. No reproduction of any part of this page or its associated files is permitted without express written permission.