Touching down from the French Caribbean by way of Montreal is Daniel Bellegarde's Anba Tonél (Under the Arbor), his first album, released in 2018. Anba Tonél offers a fetching mélange of genres, on the one hand a cherry-picked conglomeration from the musical strains and configurations he's been a part of for 30-plus years, and on the other, an undeniable offering of homage to the French Antilles, especially to Haiti, the benighted yet irrepressible island from where his bloodlines flow.

"I have always loved European traditional music," says Bellegarde in our email conversations; Anba Tonél presents a "musical meeting between Europe and Africa," and, inevitably, reprises the master-slave relationship played out on North American and Caribbean soil. Bellegarde's cherry picking yields a basket of hybrids, from sacred chants invoking French Caribbean spirits; to quadrilles transplanted from Old World ballrooms to the New; to original forms birthed on the French-colonized mainland of Acadian Quebec and the Louisiana Territory. online. Read more about the artist in Carolina Amoruso's interview and review.
| | |
| --- | --- |
| | The hypnotic, infectious pulse of Tuareg music is fully realized on Tartit's long-awaited follow-up to their 2006 album. Tartit's name translates to "union" and while the group members met in refugee camps between Mauritania and Burkina Faso, they all originate from the Timbuktu region of Mali. Led by the the incredible Fadimata 'Disco' Walet Oumar, Tartit is comprised of four women and five men. The group covers all aspects of Tuareg music to create a strong sound that seems simple and complex at the same time on their latest release Amankor / The Exile. Read Alex Brown's review and hear their music |
Pauanne is a Finnish trio haunted by, as they put it, the "utterly outrageous" beliefs of the past. The delightful cover photograph of the group finds Kukka Lehto (violin), Tero Pennanen (keyboards, prepared piano, organs, and programming) and Janne Haavisto (drums and percussion) ankle-deep in snow, wearing garb that looks as it were out of some primitivistic future; modern Finnish musicians, turned by frozen water into something rich and strange. But, Pauanne are not drawing a line between what has gone before, and the lived-in present. The trio slyly point out that the "outrageous" beliefs of our forebears are still with us. Lee Blackstone reviews this remarkable new self-titled recording from Finland. Read it all, listen to some of the music and see a video performance.

Pauanne's new release is RootsWorld's Music of the Month recording for May, 2019. Subscribing to Music of the Month is a great way for you to support the ad-free, data-safe RootsWorld; the radio programs and the magazine. These CDs are donated by the artists and the record label, Nordic Notes (www. nordic-notes.de ), so all but the postage costs go directly to our work here. Sign up for a monthly subscription.
| | |
| --- | --- |
| | "It took me four years to paint like Raphael, but a lifetime to paint like a child." This statement, attributed to Pablo Picasso, might just as well apply to Clang Sayne. Their music reveals a wealth of learning and collaboration, but also an excavation of something long-buried under layers of adult life. In this sense, guitarist and lead singer-songwriter Laura Hyland crafts enduring fairytales, while cellist Judith Ring, clarinetist Carolyn Goodwin, and drummer Matthew Jacobson capture quintessential moments in time as portraits of the wider world they inhabit. The Round Soul of the World is divided into two parts, exploring the lit and unlit faces of the same celestial body. As if in service of that metaphor, it opens with "Curse You, Mocking Moon," which personifies its titular subject with that same childlike brilliance of which Picasso waxed so philosophically. Emblematic of the group's ability to not simply capture, but more importantly release honest reflections, it passes through time toward the only true catharsis of stillness. Tyran Grillo shares their music with you. |
| | |
| --- | --- |
| | As sisters, Laura (cello) and Gianna (clarinet) Caronni share an indivisible connection. As musicians, affinity runs as deep, embedded in histories and personages beyond their blood relation. For this album, which comes three years after 2015's Navega Mundos, Las Hermanas Caronni expand their musical reach in a program of immense scope and variation. Drawing on the music of Johann Sebastian Bach, Wolfgang Amadeus Mozart, Charles Ives, Claude Debussy, Maurice Ravel, Marin Marais, Béla Bartók, Astor Piazzolla, and Nino Rota, along with some vernacular influences for good measure, the whimsically titled Santa Plástica is a personal mosaic that expands the notion of family by welcoming the listener into its own. Las Hermanas Caronni harmonize through both instruments and voices Read Tyran Grillo's review and hear their music. |
| | |
| --- | --- |
| | A hybrid of styles from France, Louisiana, Mongolia, and elsewhere, Bâton Bleu is Maria Laurent, who plays Mongolian lute, banjo, guitar, thumb piano, Glockenspiel, flute, and more, and Gautier Degandt, who also plays all the above, plus bass, harmonica and tovshuur. The French duo's debut, Weird and Wonderful Tales, is just that, a collection of strange tales from all over that fit thematically, even if they are sometimes musically baffling. Laurent's clear soprano vocal contrasts with Degandt's often bullfrog like, expressive blues voice with the banjo lending an strong Appalachian feel to the music. Read David Cox' review and listen to some of the music |
| | |
| --- | --- |
| | Since its inception in 2009, Gergana Dimitrova's Belonoga project has built itself around one of the most heart-opening voices in all the world. It's a voice born from roots in Le Mystere des Voix Bulgares, grafted into global others through collaboration. On Through the Eyes of the Earth, the follow-up to 2013's Through the Eyes of the Sun, Dimitrova convenes kaval virtuoso and composer Kostadin Genchev, guitarist and bassist Aleks Nushev, gadulka player Violeta Petkova, and percussionist Peter Todorov. The result is her deepest record yet, at once evoking a mature tree and the autumn leaves clinging to its branches. Unbound by any single interpretation of history or time, she closes her eyes to open her heart, singing as if to bring dying cultures to fullness of life. Thus, her music reads like water, her singing like land: each shapes the other into a cartography of human pathways. Read Tyran Grillo's review and listen to some songs from the album. |



Freedom is a verb
Something never finished, never done
It's something you must make, it is something you must take
Something you must constantly become.


Daniel Kahn and the Painted Bird offer the pointed reminder that we are not what we think we are. On The Butcher's Share, it seems like Kahn and his band were transported back in time 100 years, to the Weimar era of germany, or perhaps sometime after the Second War. The music, as well as the cover art, evoke memories of an era when the world was waiting for the next cataclysm. Listen to the music and read David Cox' review.
Inner Rhyme is the debut album from celebrated Lebanese violinist-composer Layale Chaker who, joined by the ensemble Sarafand, plants Arabic poetry into borderless musical soil. Using the cadences of that poetry, in both classical and vernacular forms, as rhythmic infrastructure, she cultivates fresh ecosystems in which words and instruments nourish one another.

Read Tyran Grillo's full review and hear some pieces from the recording
It's said that in villages where Sufism is practiced, conflict is settled via poets, one for each person involved in the dispute. Arguments are heard and then sung as poetry while people from the villages dance until they drop. In this way, music, trance, ecstatic surrender, and ultimately, peace become intertwined. And it's this notion of universal peace that Jedba attempts to conjure on an album several years in the making, a release that covers quite a bit of musical ground as it moves from Morocco's Saharan south to its more fertile North... Musician-producers Abdesselam Damoussi and Nour Eddine assembled various groups of players who they then recorded in a variety of settings, including the streets of Marrakech and a Tangiers mosque. As a result, they captured the essence of Moroccan music, stripped of glossy production, but with just enough professional sheen to make this ancient music sound forever current... Listen to some of the music and read Bruce Miller's review.

Jedba: Spiritual Music from Morocco is our pick for Music of the Month for April.
I am not from the East, nor from the West.
Not from the land, nor from the sea.
I am not from the world, not from beyond.
My place is placelessness. My trace is tracelessness.

So sings Mahsa Vahdat in the title song of Placeless, the Iranian vocalist's collaboration with sister Marjan Vahdat and the well-traveled Kronos Quartet. It's one of those confluences of time, space, and creation that feels as inevitable as it does long overdue, and provides ample berth for these verses of Rumi to stretch their forlorn wings. Spanning 14 of Mahsa's original melodies in arrangements by Sahba Aminikia, Jacob Garchik, and Atabak Elyasi, the strings court one adventurous spirit after another... Listen to some of the music and read Tyran Grillo's complete review.
Music of the Month

Two titans of Breton music, noted for their uncompromising experimentalism, have released their latest albums. For Yann-Fañch Kemener, Roudennoù/Traces is his last artistic statement, as Kemener passed away (aged 61) in March 2019 from cancer. Alan Stivell's Human~Kelt is a celebratory album after more than fifty years in music. The new pieces from both men allow us to compare their two legacies, as both Roudennoù/Traces and Human~Kelt share a fierce pride in Brittany's language and heritage, but they are markedly different, musically.

Brittany's language – found in the northwest of France -- is a Celtic one. Language is fiercely important to a people's identity. Conquerors will usually attempt to stifle the language of those whom they oppress. For Bretons, the integration of Brittany into France threatened their language. Breton had gone into decline as French became more widely utilized by the populace. Breton nationalism – especially since the 1960s/70s – has sought to keep traditional expression alive.

Lee Blackstone traces the history of these two ground breaking artists and shares music from each of the new albums.
| | |
| --- | --- |
| | Nostalgique Kongo: Rumbas Lingala, Swahili, Kikongo, & Douala 1950-1960 is the result of various aspects of the African diaspora finding their way home. In this case, Afro-Cuban rumba turning up on both sides of the Congo River thanks to commercial recordings flooding the West and Central African markets as Caribbean cargo ships brought shellac records. There has already been much written about this music, its connection not only to Cuba but Congolese independence. It dominated sub-Saharan Africa for decades, influenced sounds from Uganda to Burkina Faso, and gave the world stars such as Franco, Le Grande Kalle, Dr Nico and others. This collection showcases many of the style's pioneers who recorded in Kinshasa and across the river in Brazzaville. Labels such as Opika, Olympia, and Ngoma captured the origins of the form, blending vocal harmonies, duos and trios of acoustic and electric guitars, and the insistent clave rhythm, borrowed from Cuba, but originally from West Africa. And while the Cuban Son is deeply influential, the emphasis on stringed instruments, and the lyrics, often sung in Bantu languages such as Lingala and Kikongo, distinguished it radically from its Caribbean counterpart. Read Bruce Miller's review and hear some of the music |
| | |
| --- | --- |
| | Mon Laferte continues to blaze her own fiery arc across the alt-Latino firmament. With Norma, the Chilean-born belter takes a look back at classic Latin styles, polishing up a new facet to her musical personality with each song. Not quite as full-retro as Gloria Estefan's 1993 pre-Castro Mi Tierra album, Norma looks at different dance rhythms, from old-school mambo to psychedelic cumbia to a smoky bolero. But with each cut, she takes on a genre and adds her own personal twists, usually in the form of a bracing, rock 'n' roll roar. Marty Lipp reviews |
Music of the Month

The world is full of musical mutts, folk/pop concoctions, strange hybrids, mutations influenced by the west and seismic technological shifts, and with this, endangered traditions brought on by any number of factors: young people seeing them as "old," fundamentalists decreeing them forbidden, and more. And then there are those places where traditions, in some ways far away from home, have managed to find cover, flourish, maintain nurturing by guiding hands, community, and perhaps even isolation... In Guyana there are the ancestors of former Surinamese slaves who fled that country and who have been holding onto traditions for hundreds of years. Musically, one would be forgiven for assuming these recordings, all taped between 2009 and 2014, had to come from Ghana or Benin. But the Bushinenge, who scattered into the Amazon in the 18th and 19th centuries, creating their own cultural groups, languages, and hierarchies, are a product of South America as much as anything else. ..

The music on Les Bushinenge : Neg Mawon De Guyane, recorded often but not always in the country's coastal capital, Cayenne, thrives on radically syncopated drum rhythms, at times conjuring hints of Ewe drumming found in southeastern Ghana. Read Bruce Miller's full review and hear the music.



Hama Sankare is a renowned composer, arranger, vocalist, and calabash player from Mali whose reputation grew rapidly working with Ali Farka Touré, Mamadou Kelly and many others. Now he returns with his second release, Niafunke, where enlists the help of his longtime friends and collaborators Afel Bocoum, Yoro Cissé, and Kande Sissoko. They continue to explore the traditions of his region... He balances acoustic and electric compositions well, and the clear recording helps the listener hear the intricate details. Sankare is not just preserving this music, he is passionately bringing it to the next generation. Read the complete review by Alex Brown and hear some of the music.

Niafunke is our Music of the Month selection for March, 2019.
Not a subscriber? Now's a good time to start.
| | |
| --- | --- |
| | Jaune Toujours is well-seasoned band comprising some of Belgium's brightest musical pub-crawlers: Piet Maris (lead vocal, accordion, and melodica), Théophane Raballand (drums and percussion), Mathieu Verkaeren (upright bass), Mattias Laga (soprano saxophone, clarinet, and bass clarinet), and Bart Maris and Dirk Timmermans (trumpets). Once these cats get their claws in your attention, it's impossible to turn away. The music on Europeana is a seamless contradiction, at once living in its own bubble and siphoning a global sound. They take cues from many genres, even as they inhabit a culture all their own—one that mixes languages (English, French, and Dutch), voices, and styles. Read Tyran Grillo's review and listen |
| | |
| --- | --- |
| | Back in 2015 Czech trio Ponk declared "Folklore is dead." Now the band from Brno returns with a new set of songs and tunes and the group has not lost its boundary-busting approach to attacking one's preconceptions about sound. On Diedina, Ponk have moved towards more self-penned material. Where death was exhaustively explored on their previous release Postfolklor, the latest tackles village life in Moravia. The result is songs that hearken to traditional themes and break with them in crazy-quilt fashion: this time out, Ponk remind me of a post-punk XTC let loose in the Czech countryside. There are nods to jazz, funk, blues, rap, the Beatles, doo-wop, punk, and minimalism, making this album another exercise in joyous iconoclasm... Read Lee Blackstone's full review and listen to the music |
| | |
| --- | --- |
| | Aktè is a self-titled project led by oud maestro Elias Nardi. Although taking its name from the Greek goddess of pleasure, eating, and rest, the music of heeds the call of such itinerant paths that the association feels more theoretical than practical. Despite the obvious pleasure with which this Italian quartet renders its moods, almost none of them conjures images of careless recumbence. Even the meditative "Armenian Song" of Gurdjieff that occupies the program's center, chambers a restless heart, beginning on land but ending in water. Most of the album consists of in-house originals... This embrace of oud, accordion (Fausto Beccalossi), and baritone guitar (Claudio Farinone) journeys as much within borders as between them. Emerging from this delicate flower, the trailing insect of a soprano saxophone (Max Pizio) returns to the hum of its hive... Read Tyran Grillo's review and listen to some of the music |
| | |
| --- | --- |
| | Although singer Mahsa Vahdat calls Iran home, her voice resides in the world at large. Thanks in large part to the Norwegian record label KKV, her music has welcomed wider audiences into a personal living space of inclusion, creative journeying, and unconditional love. Much of her repertoire consists of original settings of Persian poetry, and on Endless she continues in that vein with clarity of vision, exploring the lovelorn exhalations of Rumi, only now welcoming the pioneering Turkish poet Yunus Emre (a near-contemporary of Rumi) via the renderings of singer and kopuz virtuoso Coşkun Karademir. Vahdat's voice feels divinely ordained for Rumi. In combination with the ney of Mahdi Teimori, it conveys a depth of yearning that defies translation. Karademir's strings carve two forks of light for every slice of shadow... Read Tyran Grillo's full review and listen to the music |
| | |
| --- | --- |
| | Violinist/singer Maarja Nuut and electronic artist Hendrik Kaljujärv (a.k.a. Ruum) liberate their first studio collaboration, muunduja in quiet ceremony. The title, meaning "shifter" or "transformer" in Estonian, is an apt description of a sound that's constantly in motion, changing form more often than an identity thief. That said, there's nothing deceptive about the music of this liquescent duo. If anything, theirs is a drift of invitation through which the open-eared listener can float at will. Hear their music and read Tyran Grillo's review. |
Razia Said and her music are steeped in Madagascar's culture, but were also shaped by her peripatetic life around the world. She was born and raised in Antalaha, a small town in a region known for growing vanilla beans. At 11, she made the first of several moves because of her family situation, living in Africa, Europe, Asia and eventually settling in New York City where she started her musical career before relocating again to St. Lucia. All the time, she stayed connected to Madagascar, raising worldwide attention to the environmental damage being done to the unique ecology there.

The Road is an intimate, acoustic set of songs, with her warm slightly raspy voice front and center. The main melodic accompaniment is a nylon-string guitar, which gives the album a breezy lilt not unlike some of the pop music of Brazil. Read Marty Lipp's review and listen to the music
| | |
| --- | --- |
| | Aguas is the latest of Omar Sosa's many associations with gifted singers and instrumentalists from across the planet, testament to his versatility and border-crossing musical imagination. Drawing upon her Cuban, Venezuelan and Swiss conservatory training in violin and voice, and her extensive classical performance experience, Yilian Cañizares has ranged far afield, working in a variety of genres with artists from Cuba, Tunisia, Cameroon, Lebanon, France, South Korea and the United States. Dedicated to Oshun, the Lucumí goddess of love and the mistress of rivers, Aguas celebrates water as synonymous with life, a transformative source of energy, strength, destruction and creation. Read Michael Stone's full review and listen |
Assembled by Michael League, Bokanté explores roots music from around the world. League writes the music, sings, and plays oud, cümbüs, bass, guitar, Minimoog and percussion. He is joined by Bob Lanzetti and Chris McQueen on guitar and vocals, Roosevelt Collier on dobro and vocals, André Ferrari and Keita Ogawa on a wide variety of percussion, and Weedie Braimah on djembe and vocals. Malika Tirolien's rich vocals and lyrics are the centerpiece of the ensemble.

What Heat, the band's second release, raises the stakes by joining forces with Metropole Orkest, a dynamic, non-classical orchestra based in the Netherlands, for a fascinating collaboration. Read Alex Brown's full review, see a video and listen to some of the songs.
Listening to the strains of the West African kora, one can't help at times but feel called to the gods. Dawda Jobarteh is a virtuoso kora player with a touch that is at times heavenly; at the same time, life's experiences and experiments have defined his playing in other rich and rewarding ways, taking him beyond the Gambia River of his birth to Europe, and Denmark in particular, where he has lived and worked for several years.

His fourth album - I Met Her By The River - traces his travels in sound. It's a testament to his Gambian roots, an impactful life abroad, and his mastery of the instrument; it is also the personal statement of a man engaged in the world. in the world. Read Carolina Amoruso's review and listen to some of the music.
| | |
| --- | --- |
| | On Dreamers, New York-based Mexican vocalist Magos Herrera and the quartet Brooklyn Rider squeeze light from shadow. Their meticulous selections share origins in countries whose regimes have historically oppressed creative expression as counter-cultural. Longtime Kronos Quartet listeners will therefore find a familiar combination of artistic and political integrity, while rejoicing in Brooklyn Rider's distinctly vibrant commitment to the inner lives of repertoire. Listen to the music and read Tyran Grillo's review. |



Weaving together elements of Cajun, zydeco, jazz, R&B and her own Haitian-American heritage, conditioned by a near decade of living in New Orleans, Leyla McCalla's The Capitalist Blues is a departure from her prior, solo acoustic outings. McCalla enlists some of the city's outstanding players (on banjo, guitar, lap steel, fiddle, viola, bass, piano, accordion, clarinet, sax, trumpet, trombone, tuba, glockenspiel, drums, percussion) and concentrates primarily on her singing. Her style is straightforward, concrete and unadorned, yet seasoned with tenderness and a trace of whimsy conveying the palpable joy that she took in working with her collaborators.

Her third release is a lyrical rebuke of the untold emotional, psychological, socioeconomic and environmental costs visited upon the commons by late capitalism. McCalla observes, "These songs are my reflection on motherhood, womanhood, activism and spirit…. seeing more clearly the cost to humanity in placing value in capital over human life." Read Michael Stone's review, along with audio samples and videos.

The Capitalist Blues is our February 2019 selection for Music of the Month. Subscribe monthly or make a one time donation and get the CD as our thank you. Find out more.
| | |
| --- | --- |
| | Salif Keita has been called "the Golden Voice of Mali" and "the Golden Voice of Africa," but both epithets sell him short: he is one of the world's greatest living singers. His voice is not confined by geography or metallurgy – nor, evidently, by age; 69 years after singing his birth cry, it sounds as strong and supple as ever. However, we may be hearing his swan song in his12th solo album, Un Autre Blanc. Whether or not it proves to be his last, it sounds like a summation of his career, a valedictory. Ken Braun looks back on the career of the vocal superstar and human rights activist, and presents his newest work. |
| | |
| --- | --- |
| | Where documentary and fiction collide is this video of the song "Kap Kap" by La Réunion poet and composer Ann O'Aro, in a short live performance film juxtaposed against scenes from the town of Tan Rouge. With a dose of dark humor, "Virages" questions the viewer about the poetic, social and political links that can develop within a micro-society, the unique connections forged in a small village. See the film. |
| | |
| --- | --- |
| | God Is Not a Terrorist is no more representative of Pakistani music than anything else coming from that country's massive collection of folk, pop, and other hybrids. Nor is it an example of some sort of folk relic, to be listened to with an understanding only of the past, which somehow needs to be preserved just because it's old. What Ustad Saami and his music represent are an ongoing conversation about gharana mastery, or lineage that, in Saami's case, goes back to the 13th century. Yet, since gharanas of different disciples and time periods have been free to emphasize some aspects of music and dance over others, what Saami plays is well-rooted but forever present. Like Appalachian ballad singers, the experimental ululations of Gedalia Tezates, or Vietnamese Catru performances in temples in Hanoi, Saami's music concerns itself with the one note that links his voice to everything around it, giving space for something all-encompassing and eternal... Read Bruce Miller's review and listen to the music |
Czech Republic Dreamin' - In the artist's own words
I invited Michal Krystýnek (left) of the Czech trio Ponk to talk about one of the songs on their latest recording, Diedina. See what he has to say in their song "Dycky Dobre," a poem to friends, music, eternal truth, and pot. Read and listen.
| | |
| --- | --- |
| | 18th Century French painter Claude Arnulphy managed to capture, among other portraits, the nobility of musicians known as flute drummers, who led processions in and around Provence's lower Rhone area, with his work, "Portrait de Jeune Tambourinaire". The painting captures not only a player but a musical form that dates back to the 13th Century. Folk music of a one man band- the galoubet (three-holed flute) noted with the left hand while the right smacks the tambourin (drum) in any number of patterns, from polka to grooves harder to pigeonhole- these sounds became associated with Provence and nearly died out altogether... A focus and insistence on the importance of the musical past has brought us the Belouga Quartet's Quatuor de Galoubets-Tambourins. The quartet, representative of a new generation, has for this record, enlisted 4 composers who had a set of constraints to work with in order to pay homage to the tradition, while at the same time, expanded what these musicians could do by acknowledging a percussive debt, however small, to Africa and its diaspora... Listen to some of the music and read Bruce Miller's review. |
| | |
| --- | --- |
| | Music Through the Walls was created artists by Romain Bly, Simone Bottasso and Tijmen Veelenturf, who share a home in Rotterdam-West, in the Netherlands. Their project - creating music videos with a house orchestra - is dedicated to the idea that by bringing musicians together from all walks of life, in their communities, they will create greater interaction, goodwill and exchange of ideas. Their first project is now finished, a recording of a very original arrangement of "Good Vibrations" scored for a small orchestra. It is presented as just the audio, and also as a video that includes some of the behind the scenes moments, as well as the song. I have also included a little commentary from Simone Bottasso to give you a little more insight into the creative process behind the project and the recording. Watch, listen and read in RootsWorld |
Music of the Month

| | |
| --- | --- |
| | Bachata Haiti may be the first recording of its type. It offers14 representative tracks by noted contemporary Haitian-descent artists in the Dominican Republic. Guitarist-singer Joan Soriano plays lead guitar behind Franklin Medina "El Zorro Negro" (the black fox), Tomas Pérez Zenón "Toni Tomas," Hector Ventura "El Gavilán" (the sparrowhawk), Willy Sánchez, Fritz Sterling "Felix Cumbe," and Tony Sugar. One hears the occasional strain of Cuban guaracha and son (as on Soriano's "Si un amor se va," Felix Cumbe's "Adónde vas?" and El Zorro Negro's "Tounen nan vim"), but overall, the interpretations are in keeping with the topical, instrumental and vocal conventions of bachata... Read Michael's full review and listen to some of the music. |
| | |
| --- | --- |
| | Chris Wheatley looks into the recent work of former Public Image Ltd bassist, cockney mystic and world music pioneer Jah Wobble in his reviews of three recent and very different releases. Dream World is abrasive, exhilarating and hypnotic, a wild serving of electro/acoustic, largely instrumental tracks, with plenty of global pepper and cinematic salt... The Butterfly Effect, in contrast, is a pure post-punk riot, seven tracks of visceral and cerebral band-workouts over which Jah Wobble declaims on everything from Margaret Thatcher to the Zen concept of unity and post-modern angst... Maghrebi Jazz does what it says on the tin. He and members of his Invaders of the Heart team up with Moroccan musicians MOMO for lengthy tracks of sublime North-African dub-jazz. Read Chris' complete review and listen |


All over the world, independent artists and journalists are being harrassed, insulted, jailed and even murdered for doing their job, speaking truth to power. While occasionally one of these men or women becomes a cause célèbre in the global media, so many more slip under our collective radar in the daily onslaught of news we endure each day.

One such case is that of Halil Karapaşaoğlu, a poet and activist in Cyprus. He was arrested this month for refusing to serve in the Turkish Cypriot military. He will serve jail time instead of paying a fine, stating, "If tomorrow there is a war, we as anti-militarists, will not fight... Our grandfathers and fathers had fought in the past, we will not make the same mistake. Our duty towards our country is peace."

Antonis Antoniou, a member of the ensemble Monsieur Doumani, offered his personal commentary and a song in solidarity with the peace movement in Cyprus.
| | |
| --- | --- |
| | The seventh album from Indian/Canadian singer Kiran Ahluwalia is a bright and shimmering affair... with a mix of traditional Indian, European jazz and hints of a desert blues and rock style. On a blind listen, one might puzzle over exactly where on earth the music of 7 Billion came from. The production is light and airy with plenty of space for individual musicians to perform. Ahluwalia's voice is never less that note-perfect; it is strong but never overpowering. The tracks make use of acoustic and electric guitar, synths, drums, hand-percussion and accordion. While the song is at the center, the assembled musicians create a sound with delicate highlights and subtle shadows. Read Chris Wheatley's review and hear some songs from the album. |
Composer and musician Basel Zayed presents music with deep roots in Arabic history and Sufi culture, but shown through the lens of a classically trained artist and conductor in Europe and now the United States. The Ayn Trio is his a vehicle for the expression of that global vision - Zayed on oud, buzuq, and vocals, Layth Sidiq on violin and Naseem Al-Atrash on cello. In his interview with Tyran Grillo, Basel says, "Since moving both to a different geographic location and a different mental and spiritual state, I have entered a new cycle in life that makes me feel more grounded, supported, and free."

In his review, Tyran writes, "The musicians work together like the past, present, and future of a protagonist whose narrative journey from 'pain and loneliness to connection and joy' makes catharsis seem like an understatement." Read the full review and a full track and samples.

Basel Zayed's Ayn Trio is our first selection for 2019's Music of the Month series. Find out more and subscribe.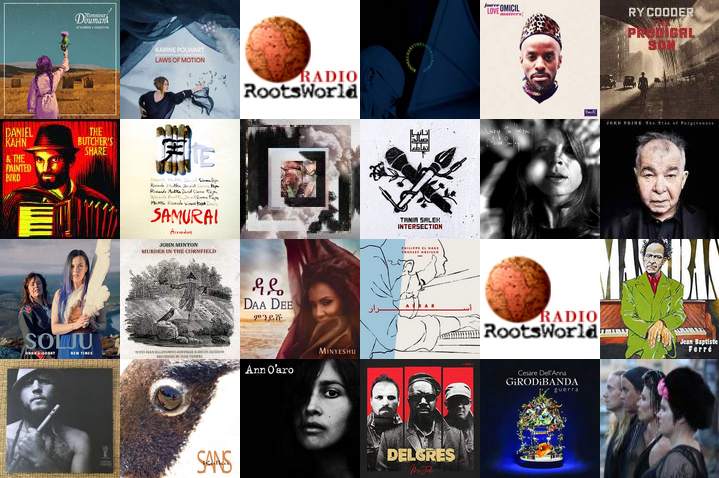 So much great music passes through our door every year, and in the magazine and on the radio, I try to sort it out as best as I can, with the help of a very dedicated group of volunteer writers. So this year, with the input of some of those writers, I am presenting a series of radio shows picking out some of our favorite songs from the last year. They are not ranked, simply presented in a mostly uninterrupted hour of music. I hope you enjoy them as much as we do. - CF
Listen and read more about each artist.
| | |
| --- | --- |
| | The Furrow Collective is an English/Scottish quartet. Their recording Fathoms might very well be one of the best folk recordings from the Brisish Isles in 2018. I emphasize folk, because this quartet focuses on tradtional story telling, from classic to lesser known, performed with a lot of spirit. The arrangements are personal and direct, with few contemporary embellishments. I chose to feature the song "Davy Lowston" because it strikes such a deep chord of humanity and despair, in a tale about whale hunters stranded in New Zealand by their captain. Listen! |
| | |
| --- | --- |
| | Paris Combo is a group that is tough to pigeonhole, but that hasn't stopped folks from trying to do so for the last 20 years. Often described as a Gypsy swing band in the style of Django Reinhardt, the group has always kept a recognizable core sound but pushed out into other territory. This year, they defied expectations again with Paris Combo Remixed, composed solely of remixes as they gear up for a North American tour. As founding member David Lewis told Marty Lipp, "It just sort of snowballed." Vocalist Belle du Berry added, "It's a little bit of French culture meeting a little bit of American culture….For us it's always interesting to meet new people in the audience... the way they feel the music, the language – it's always very interesting and precious." Read Marty Lipp's full interview and listen to some of the music. |
| | |
| --- | --- |
| | Alba Griot Ensemble is an intriguing collective that connects musicians from Scotland, Belgium and Mali to create a blend of Celtic folk music with rock, blues and jazz undertones, woven together with a strong Manding influence. Scots Mark Mulholland and Craig Ward feature on guitar, while Belgian Hannes d'Hoine provides the foundation on double bass and Malian Yacouba Sissoko adds ngoni, calabash, yabara and karanya to the mix. All four members sing and add their harmonies to the project with fine guest appearances from Tony Allen, Toumani Diabaté, Madou Sidiki Diabaté, Pamela Badjogo, Lassana Diabaté, Jean-Philippe Dary, and Ruth O'Mahony Brady... On The Darkness Between the Leaves the quartet works seamlessly, spinning their acoustic instrumentation into a natural, harmonious style that is full of depth. None of the separate elements sound out of place and the performances draw from the strength and support of the ensemble. Hear samples of many of the tracks and read Alex Brown's full review. |



Two new albums by prominent figures on the Salento music scene display the sonic diversity of that small but culturally fecund territory of Italy's Puglia region. Guerra, by trumpeter, composer, and bandleader Cesare Dell'Anna and GirodiBanda, is an expansive offering; its eighteen tracks, in various styles and multiple languages, total more than an hour's worth of music.

Di zampogne, partenze e poesia, by Giulio Bianco, the utility player of Salento's best-known group, Canzoniere Grecanico Salentino (CGS), is a more modest affair, comprising six tracks and clocking in at twenty-six minutes. Dell'Anna's record ranges widely, with Salentine idioms in the mix but also Neapolitan and other Southern Italian traditional music, Balkan, jazz, reggae, and European classical elements. Bianco's album keeps a tight focus on pizzica and tarantella. Both are first-rate offerings that will delight southern Italian music fans, whether seasoned cognoscenti or newcomers who caught the pizzica bug. Read George De Stefano's full review, listen to the music and see some videos from both artists


The categorical declaration that "jazz is America's classical music" expresses a curatorial certitude and sense of exclusiveness that denies the authenticity of improvised music produced or rooted anywhere else on the planet. Paradoxically, this frees overseas devotees of the canonic straitjacket that fetishizes pedigree and technique, and an obligatory nod to New Orleans and formulaic invocations of an over-determined musical past... Three recent recordings suggest that, as jazz evolves in a global milieu, the music's rooted certainties are giving way to approaches that take the North American formulary in very different directions.

Arturo O'Farrill and the Afro Latin Jazz Orchestra: Fandango at the Wall
Jowee Omicil: Love Matters!
Sons of Kemet: Your Queen Is a Reptile

What unites these recordings is not so much their ease with jazz as defined by the North American canon, but their independence from its received norms, and a readiness to experiment and draw from myriad sources, reflecting the cosmopolitan character and globe-ranging experience of the artists themselves. These titles convey a pervasive sense of cultural and political intentionality, an inclusive conception of world musics, a contrarian sense of world history, and a conviction that music can bring people together in inspiring and powerfully enlightening ways.
| | |
| --- | --- |
| | Once producers Tim Cole and Bao Bao Chen learned how potentially damaging climate change could be to the Pacific and Indian Ocean regions, they set about recording music from those areas so that the musical connections binding the whole could be spotlighted and raise awareness. It was in Australia, where such connections are known as songlines, that the idea came about. The interestingly packaged and impressively diverse 18 tracks of Small Island Big Song are the result of their labors, and the oceanic songlines they present will fill your ears with some of the most heartfelt and evocative sounds imaginable... Everything from water percussion to rapping is employed by musicians representing Australia, New Zealand, New Guinea, Taiwan, Borneo, Tahiti, Madagascar, Easter Island, Bali, Bougainville (Papua New Guinea), Hawaii, Vanuatu, Malaysia and the Solomon Islands... Read Tom Orr's review, hear the music, and watch some videos showing how the process evolved. |
| | |
| --- | --- |
| | Karine Polwart is a Scottish songwriter, musician, storyteller, poet and performer, among her very long list of credits and skills. She delves into ancient folk music, modern popular song and pretty much everything in between. Her new album is both theater and song, a thematic look at refugees, immigrants, emigrants and other people on the move in the world, from both historical and modern perspectives. Laws of Motion is a powerful piece of work: sympathetic, loving and angry, artistic, political and raw in equal measure. We'll have a full review of the new album soon, but "Laws of Motion" struck such a chord with my radio listeners that I felt I wanted to share it in the moment we most need it. Co-written with Martin Green, its musical setting is a tense bed of electronics and acoustic instruments, with multiple, layered voices singing of the grace and strength of displaced people. Listen! |
| | |
| --- | --- |
| | On Fenfo, her third album, Fatoumata Diawara starts with just her sweet, fine-grained voice and drums, laying down a groove as if to tip her hat to the wellspring of traditional music she draws from. Then the song picks up an electric guitar and bass, segueing into a marriage of past and present, setting the stage for the rest of this fine album. Like fellow Malian singer-songwriter Rokia Traore, Diawara plays a personal distillation of her multi-cultural life. Her soulful voice has a hint of rasp in its silky flow, and the instrumentation liberally uses modern and global elements, though she sings in Bambara rather than English or French. Read Marty Lipp's full review and listen to some of her music (two with great videos). |
| | |
| --- | --- |
| | Suistamon Sähkö started as part of a multi-performance series of works for music, dance and visual arts called Suistamo - The Laboratory of Tradition by Finnish composer and accordionist Anne-Mari Kivimäki. In a number of journeys to the Russian-Finnish border region of Karelia, she explored both the traditions and modern realities of this multi-national territory. Etkot, ресторан ja etnoteknoa marks the band's first fully independent recording, free from the laboratory and open to anything. It's a project rich in contradictions and full of energy (the band's name translates as Suistamo Electricity)... There are two full songs with commentary. Tuomas Juntunen talks about the beauty and dilapidation of Jyskyjärvi. Eero Grundström explains how a project with 800 folk dancers evolved into rap song about the Finnish civil war and the dangers of hate speech. Please meet Suistamon Sähkö |
Music of the Month

"To talk about it, to sing it, to make music, is to learn to think."

Today I have the privilege to introduce you to the stunning and challenging music of Ann O'aro from the island nation of Réunion. O'aro is a poet, dancer, singer and composer who dedicates this album to the lost and abused of her island, the victims of violence and sexual assault, incest and rape, not in the tone of hopelessness and despair, but in a defiant survival and healing. As Bruce Miller writes in his RootsWorld review, "Musically, Ann O'aro is breathtaking. Her voice is as sinewy as it is soothing, as if she needed to calm all of us so that we'd be OK. But she's also clearly insistent... if she's not showing her anger in more typical fashion- smashing things, getting into fights- she's letting it out without compromise in music that turns torture into art." Read Bruce's full review and listen to the music.

This is our pick for Music of the Month for November. Get a copy of the CD and support RootsWorld.
| | |
| --- | --- |
| | Kyab Yul-Sa means 'the land of exile.' Certainly for Tibetans and for many others in this world exile is the reality. Kyab Yul-Sa's independent debut production is the work of a talented trio - Tibetan exile Lobsang Chonzor (vocals, dranyen lute, gyumang dulcimer) and Europeans Margeaux Liénard (violin and buzouki) and Julien Lahaye (percussion) - who work the Tibetan sounds into a stirring melange on Résonance d'Exil(s). Chonzor's powerful and evocative voice joined by the diverse experience of two very skilled musicians makes the recipe for a gentle, but not anodyne, recording bringing together traditions and sounds from across Europe and Asia. Read David Cox complete review and listen to some of the music online. |
| | |
| --- | --- |
| | The latest release from Minyeshu Kifle Tedla showcases her broad, inventive blend of contemporary music rooted in the traditions of Ethiopia. This compelling set of songs explores Minyeshu's past while looking forward with a dynamic ensemble that is steadfast and expansive. The blend of traditional and western instruments give Minyeshu a range of musical options to support her rich vocals and personal lyrics. The title of the album, Daa Dee, refers to the sound of encouragement an Ethiopian mother gives her baby as they learn to take their first steps. Minyeshu draws inspiration from this idea of a newfound independence... Read Alex Brown's review. |
In an uneasy era of peace in Central America, where memories of Maya genocide remain strong, a new generation of artists has emerged, often with a pointed consciousness of historical subjugation, and identification with other oppressed peoples across the globe. Born in Quetzaltenango, Doctor Nativo (Juan Martínez) worked in his father's restaurant from a young age, imbibing the reggae, cumbia, salsa and bolero that blasted from its speakers. His father Arturo, a native of Cuba, welcomed the Guatemalan guerrillas who would slip into town from time to time; hence, in 1990 the regime assassinated his father, along with five of his friends. Doctor Nativo left to travel in Europe, India and Latin America, Cuba and Barcelona before returning in 2010 to Guatemala. On a spiritual quest, he took part in a Maya ceremony under the tutelage of an indigenous elder, encountered his animal spirit or nahual, and began seeking to incorporate Maya culture and cosmology into his music. Guatemaya is a play on the country's name ­ a pointed assertion of the indigenous presence that long preceded the Spanish conquest. Read Michael Stone's article, listen to some songs from the recording, and see a recent performance video.

Guatemaya is our October 2018 pick for Music of the Month. These recordings were donated by the artist and Stone Tree Records. Read more, listen and subscribe or buy the CD.
| | |
| --- | --- |
| | A hurricane came through Somerville, MA this month, in the the larger than life person and persona that is Sona Jobarteh. She is one of the very few female kora players in her native Gambia, and comes from a line of West African griots, including her grandfather Amadu Bansang Jobarteh and her cousin Touomani Diabate. With her was a five piece ensemble, The Sona Jobarteh Band, that at one point included her young son. The entire show was a dynamic blur, with interesting jazz-like cross currents and a happy, beaming band. It all flowed seamlessly, making it impossible for the audience to stay seated as the band played. David Smith was there to tell you about it. |
Music of the Month

| | |
| --- | --- |
| | Vigüela's A Tiempo Real (ARC Music) is a double CD recording which looks at traditions from the oft-forgotten heartland of Spain, Castilla La Mancha, located primarily to the south and east of Madrid but also southwest of the capital... La Mancha is a more typically "Spanish" area and part of the Castillian heartland, albeit with stronger Arabic traditions than many parts of Spain... Vigüela is a six-piece band with a multitude of singers who also play a variety of traditional instruments. Accordingly rural preoccupations and village life make up the subject matter in many of the songs performed. Read David Cox' full review, watch a live performance and listen to some of the music from the CD. |
Read more reviews from
2018
2017
2016
We Interupt Our Regularly Scheduled Magazine For This Important Announcement.
RootsWorld cannot survive without the support of our readers. If you want to hear great music and read great writers, then we need each listener and reader to contribute just a little to make it happen. Please join us!
Make a One Time Contribution Today!
| | | |
| --- | --- | --- |
| $5.00 | $10.00 | $20.00 |
| $40.00 | $70.00 | $100.00 |
,
This web site is optimized for any good browser.
Notscape and Internet Exploder will also work well here.
We won't make that choice for you.
The Hollow Ear: no roots, new routes
Featured CD link: Lodging... food... gas?: travel reviews
Hear.cc: Hearing Health Information
---
Please contribute to our survival.
About RootsWorld: RootsWorld is a world music magazine started in 1993, pretty much at the dawn of the term "world music" as well as the pre-dawn of internet publishing (I suspect this was the first music magazine of any sort published on the www). Our focus is the music of the world: Africa, Asia, Europe, Pacifica and The Americas, the roots of the global musical milieu that has come to be known as world music, be it traditional folk music, jazz, rock or some hybrid. How is that defined? I don't know and don't particularly care at this point: it's music from someplace you aren't, music with roots, music of the world and for the world. OK?
All pages at RootsWorld are © 1992-2018 RootsWorld/ Cliff Furnald / FNI Multimedia Publishing, New Haven CT
The RootsWorld name is protected by US trademark law.
All picture and sound images are the property of the artists and record labels, and are protected by copyright. No file or part of a file may be used for any purpose, commercial or non-commercial, without the express written consent of RootsWorld or the other copyright owners.
About the use of sound files and copyright protections at RootsWorld