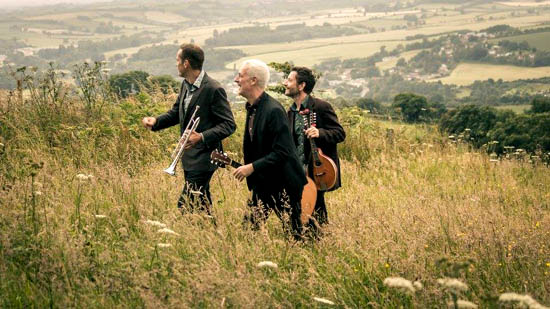 Three Cane Whale Live in Kelston Roundhill, England

We present a group of musicians from Bristol, England who call themselves Three Cane Whale. These recordings were made in the Old Barn in Kelston, Roundhill, in the south of England, between Bristol and Bath. They play what the ensemble calls folkish minimalist miniatures.

The musicians are:
Alex Vann (mandolin, bowed psaltery, bouzouki, zither, music box, etc)
Pete Judge (trumpet, harmonium, dulcitone, glockenspiel, lyre, etc)
Paul Bradley (acoustic guitar, harp, etc)

We begin with a set of three pieces that all feature the words and voice of their guest, Jon Hamp and then carry on from there.

These pieces come from a new recording by the trio released on Kelston Records, titled simply Live at The Old Barn, Kelston Roundhill. You can find out more about the ensemble and this new recording on their web site.

Here is the RootsWorld review of their 2015 CD, Palimpsest

Audio is ©2016 Three Cane Whale and Kelston Records.
Used by permission.

Photo: Matt Prosser