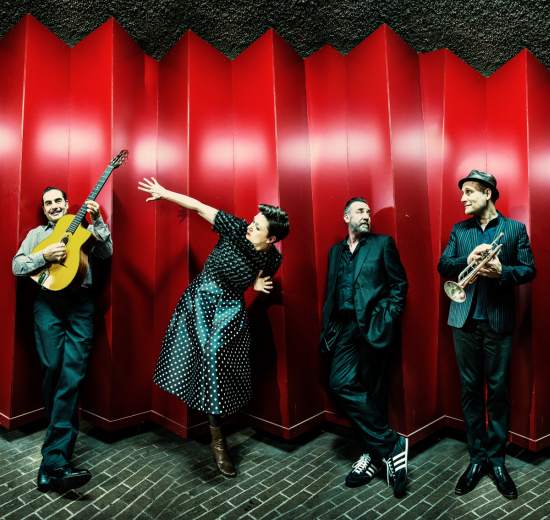 Paris Combo is a group that is tough to pigeonhole, but that hasn't stopped folks from trying to do so for the last 20 years. Often described as a Gypsy swing band in the style of Django Reinhardt, the group has always kept a recognizable core sound but pushed out into other territory. This year, they defied expectations again with Paris Combo Remixed, composed solely of remixes as they gear up for a North American tour.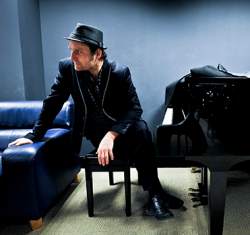 One of the group's original members, Australian-born David Lewis, explained that the group included two remixes on an Australian edition of their 2013 album 5, then continued the experimentation by passing their last album, Tako Tsubo, to a group of remixers with whom they were acquainted.
"It just sort of snowballed," he said.
He noted that while some remixes seemed to nail it on the first try, a few others involved some give and take between the Paris Combo members and the remixers.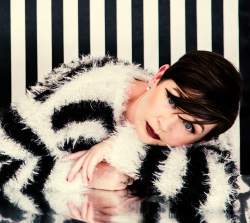 "There was a lot of almost-tenderness toward the songs," said Lewis, "It gave us a lot of pleasure," while the group's singer, Belle du Berry, said it was like raising children where babies grow and develop into altogether different entities.
Lewis said the remix experience has affected the band in "subtle ways," even on tour. He noted that they were adding another musician for some shows of their upcoming tour and generally were interested in expanding the group's palette.
"It's always been a sort of hybrid outfit," he said, noting their early use of Turkish rhythms, among others. "We are always trying to push the envelope of the group."
The group has roots in disparate types of music. Lewis played with Manu Dibango's Soul Makossa band, du Berry started her career with a punk group and guitarist Potzi honed his guitar chops among Roma musicians.
The band members met during a time in Paris when there was both a revival of swing music and a very conscious attempt among musicians to mix genres. In the early 1990s, du Berry, Potzi and drummer Francois met in a cabaret band called Les Champêtres de Joie and Lewis met them while they were performing at revue called Cabaret Sauvage. The musicians began with covers of songs from the 1940s then Lewis joined and he and du Berry began writing original songs, forging the group's distinct identity.
Rehearsing in a garage, they soon ventured out to play local clubs. They named themselves Paris Combo since they felt like there was something about the cultural capital that brought them together despite their varied musical journeys, releasing their first eponymous album in 1997.
"We didn't want to be a swing band. That was not the point," said du Berry. "We just wanted to play all together. Paris Combo is a very Parisian group… because we were playing styles. I don't know how really, but we just got together to play in this band."
"Right from the start there was this desire to not be just a Gypsy swing group," Lewis said, "to stretch the boundaries."
The group's second album, Living Room, went gold in France in 2000 and was a breakthrough, leading them to tour internationally, including shows at the iconic Hollywood Bowl.
Their 2017 studio album, Tako Tsubo, takes its name from a medical condition sometimes called "broken heart syndrome," when a devastating emotional event, such as a bad breakup, leads to the weakening of the heart's left ventricle, which takes a new shape. Scientists noted that ventricle's shape resembled the clay pot used by Japanese to trap octopi, so they named the condition for the trap – tako tsubo.
"It shows what emotions can do to your body and self," du Berry said about the title and theme of the album. "Emotions are very strong – you have to be careful."
Paris Combo Remixed is itself disparate, from the dub reggae of the Taggy Matcher's "Je Te Vois Partout" remix to the slow-motion rhythm and viscous guitar solos of the Dee Nasty remix of "Orageuse" to the electro-cumbia Patchworks remix of the group's first big hit, "Living Room."
Against the backdrop of today's turbulent and divisive atmosphere, Paris Combo's cosmopolitan sound and joie de vivre take on new shades of meaning.
When they play the U.S., du Berry said, "It's a little bit of French culture meeting a little bit of American culture….For us it's always interesting to meet new people in the audience, the way they feel the music, the language – it's always very interesting and precious."
"There should be one hundred times more cultural exchange than there is now," said Lewis. "It just reminds people of how much we share in common... We owe it to ourselves and our audiences to keep being creative." - Marty Lipp
© 2019 RootsWorld. No reproduction of any part of this page or its associated files is permitted without express written permission.