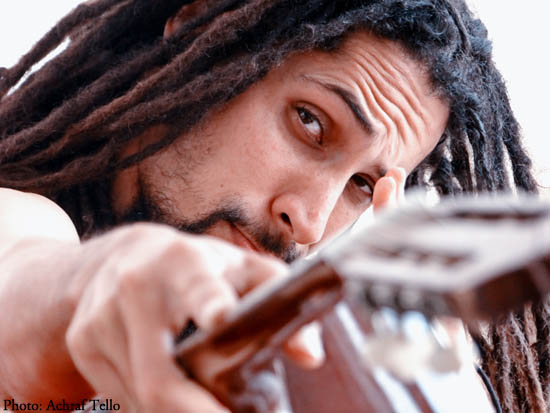 "We want to show the Algerian youth that we all have a voice and that no one can take that away from us. It is not a weakness to express feelings, and even the deepest issues can be dealt with in a humorous way. Humor gives us distance and the possibility to laugh at problems in everyday life."
Sadek Bouzinou talks with RootsWorld's Maria Ezzitouni.
*
There is a definite reggae beat, repetitive refrains and strong vocals mixed with the mystique of North African instruments. It's easy to listen to, difficult to put into a category. This is the eight-man band, Democratoz; part of a new generation of Algerian musicians, pushing boundaries, blending Algeria's rich music traditions with modern influences from around the world.
The group's sound is their own fusion of Algerian rai, African gnawa with more universal sounds like reggae, jazz and rock. Traditional Algerian instruments; karkabou (castanets), gallal (a long, narrow drum in clay), jembe (traditional guitars) and bendir (frame drum) enhances the North African touch, while the lyrics in colloquial Arabic about hope and despair add another dimension. In mid-July the group hits the U.S. with a month long tour, spanning from west to east coast, as part of a cultural exchange program by NEFA, promoting musical and cultural exchange between borders.
"Dounya" (excerpt)


"Zoulikha" (excerpt)
I caught up with lead singer and songwriter Sadek Bouzinou one afternoon during the month of Ramadan. He tells me how a music researcher attended one of their concerts and loved what she heard. She advised them to apply for the program and Democratoz was chosen along with five other acts from Algeria and Tanzania.
"We have worked hard and sacrificed a lot for our music during the last five years. This is the fruit of our sacrifices; an open door for me and the musicians to reach further with our music," he says.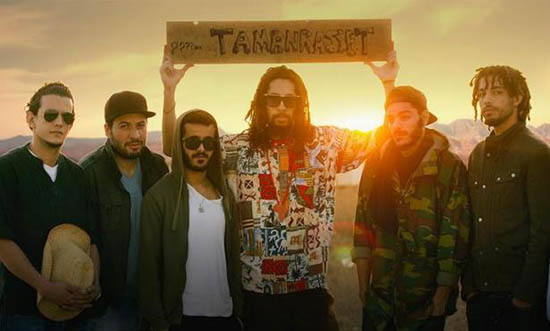 I ask him what he hopes to achieve with the trip to the U.S. "To introduce our music to America and for everyone to enjoy of course," he says with a smile. The tour will include performances at festivals and smaller venues but also people-to-people exchanges and community gatherings where Sadek hopes to influence the false image of Muslims that is often portrayed. "We want to show that we, as Muslims are humans too, we are against terrorism and racism, just like everyone else. We shouldn't have to worry about saying that we are Algerian Muslims." He hopes to engage in discussions about injustice and racism, issues that are global and exist wherever you go.
In Algeria a new generation of musicians write and perform without fear of negative consequences. Culture in all forms has been given a more important place in society. After the so called dark decade of civil war and terrorism in the 90's, the Algerian population desperately wants to enjoy the good things in life. You will therefore find a full house wherever there is an organized music or cultural event. The increase in TV and radio stations as well as social media has made it easier to promote music to a wider audience, without a big budget.
Like many other Algerian artists, the band started off by posting videos on YouTube. Views and comments reached thousands in just a few days. Television shows and concerts followed, as well as performances at international festivals in Morocco, Jordan and Tunisia. Their first album will be released later this year and was produced in Paris by the legendary Jean Alain Roussel, who has worked with artists like Celine Dion, Sting and Bob Marley.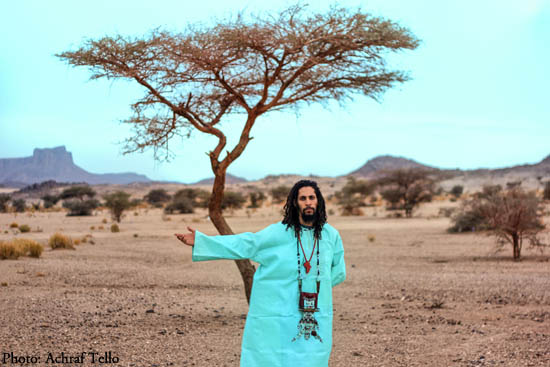 Democratoz has gathered inspiration from near and far with the Rastafarian movement having a big impact on them.
"Looking for new ways to express ourselves as young Algerians, we got interested in music well beyond Algerian borders. The Rastafarian movement really inspired me. I think many of their messages apply to Algeria nowadays," says Sadek.
However, music from home has also played a part in the Democratoz sound. Growing up in Oran, the capital of rai, they all tried to sing like Cheb Hasni, Cheb Mami or Cheb Khaled.
"Rai music runs through our veins; the rhythm, the sound of the base drums and the special way of singing that does not sound like anything else. The music that we have heard since we were small at weddings, cafés and in the car is undoubtedly integrated in our music today," he explains.
Sadek writes all the band's music and lyrics, and enjoys the live performance experience with the fans. But knowing that the band is able to reach masses, the ultimate goal goes beyond entertaining.
"We want to show the Algerian youth that we all have a voice and that no one can take that away from us. It is not a weakness to express feelings, and even the deepest issues can be dealt with in a humorous way. Humor gives us distance and the possibility to laugh at problems in everyday life," says Sadek.
Young people have definitely taken to the group, often identifying with their lyrics. On You Tube you'll discover that there is a range of Democratoz cover versions; a group of guitarists singing the song, "Mazel" in a classroom, a young woman doing an acoustic version of "Jaziri." Sadek talks about giving people hope and inspiration to think in new ways, which has led him to introduce a new instrument to their repertoire - an empty plastic bottle, not only to create a new sound but also to convey a message.
"By creating a new instrument out of what people consider worthless; I can show them that it's too easy to say that we can't do anything. They might have a different view on rubbish after having seen me playing on a bottle on stage."
Find the artists on Facebook.
They are currently on tour in the US. Here is where they will be.
© 2016 RootsWorld. No reproduction of any part of this page or its associated files is permitted without express written permission.