Music of the Month For a contribution of 20.00 a month (33.00 outside of the US), I'll be sending you a recording from somewhere interesting, each and every month. Some months you will have a choice, some months it will be a surprise, and once in a while, there will be an extra bonus surprise as well. Check out other ways to donate at The Rent Party.
---
RootsWorld's
Music of the Month
for April
Darshan
Raza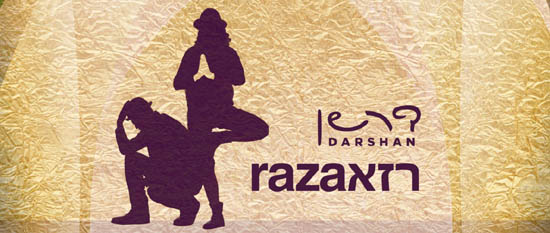 A radical reimagining of Sephardic and Askenazi music.

Inspired by the mystical poetry and songs of Judaism, Brooklyn based Darshan breathes new life into ancient Hebrew and Aramaic texts. With a deep interest in the connection between music, poetry and their own religious experiences, rapper Eden Pearlstein (ePRHYME) and singer Basya Schechter (Pharoah's Daughter), joined by a stellar ensemble, turn classic texts and traditional prayers into contemporary arrangements that reach into the past and pull it into a world of pop, folk and jazz.

Listen to some samples from the album:
"Sing a new Song"
"Let There Be Light"
"Arrives The Bride"
"These Are The Journeys"
Buy a copy of the CD now and support RootsWorld
$21.00 includes postage, US and Canada.


Buy a copy of the CD now and support RootsWorld
$33.00 includes postage, worldwide.

I asked the artists to tell me about some of the songs and why they chose them. They both picked this first song, "Arrives The Bride."
Eden writes:
The song "Arrives The Bride" is based on the Kabbalistic poem Lecha Dodi, which is the thematic climax of the service. The chorus sung in Hebrew translates as "Let's go greet the Bride and receive the face of the Sabbath", alluding to the mythical Sabbath Bride that arrives with the onset of Shabbat on Friday night. It is customary to sing the entire poem on Friday night with two different melodies, which is why "Arrives The Bride" contains two separate but related musical parts. The original lyrics are not translations of the Hebrew poem, but are rather inspired by or in conversation with the original poem. Writing and recording this song was fraught with anxiety, as it is the cornerstone of the Friday night service, so we knew it had to be something special. Admittedly, we were having a tough time sticking the second part of the song, which is a beautiful bouncy melody in 6/8, not a common time signature to rap in. We had all the other songs locked in and were still experimenting with solutions for this track, when we actually brought in a second drummer who specializes in African rhythms to fill out the beat. We ended up sticking it and now this is my favorite track on the album - definitely not like any other version of this ancient mystical prayer that I have ever heard!
Basya writes:
Lecha Dodi, the prayer, has always been the climax of the Kabbalat Shabbat Service, a peak love moment. In modern progressive Synagogues, this prayer often begins slowly and then two thirds through, the melody and temp change and the congregation erupts into dance. There is a sense of abandon, joy, almost like dancing at a wedding, which is the metaphor of the prayer. G-d and Israel, week after week, Friday night, have a kabbalistic wedding ceremony. I've been very influenced by my prayer leadership at Synagogue as a Cantor and Musical director, and wanted it to follow that trajectory. I just played oud over and over till I came up with a chorus that felt mid-tempo and groovy for the first part - since Eden's rap ended in the words "Songs of Praise" - and the whole album, and all these poems and prayers are about divine praise, I wanted to create a "bridge.." a real bridge between parts that took a moment to honor that all these prayers are "Songs of Praise.." and for the second, I was a little conflicted. On the one hand I love the 6/8 Moroccan grooves that I was exposed to in Marrakesh, but they tend to be less up-tempo than 4/4 grooves. Somehow I still wanted to try it, and Eden created a rap over the groove. Like he said in his statement, this was really our problem track. It took a drummer who plays 6/8 like it's a part of his heart beating to really lock in that section and make the piece fly, a singer who performs in the Lion King, Jessica Lurie, a sax player, and our amazing producer, Frederik Rubens to tie it all together. It's also now one of my favorites!
These recordings were donated by the artists so your subscription and purchase all goes to support the magazine and radio programs. We thank them all for their generous support.
Buy a copy of the CD now and support RootsWorld
$21.00 includes postage, US and Canada.


Buy a copy of the CD now and support RootsWorld
$33.00 includes postage, worldwide.