<!!!column 1>

Sign up for Music of the Month with a 20.00 monthly donation: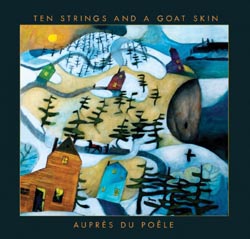 Ten Strings and a Goat Skin
Auprès Du Poêle
From the Canadian Maritime province of Prince Edward Island, here is a band that plays fast and loose with the Scottish and Acadian traditions that permeate this part of the world, adding touches from Europe and beyond. The goat skin (and other percussion) of Caleb Gallant and the strings (guitar, fiddle) from Rowen Gallant and Jesse Périard (who also adds some pump organ) join their voices together in the trio Ten Strings and a Goat Skin. "We're less anchored in traditional structures, the way many players assemble dance sets," remarks Rowen. "We've left them by the wayside. We retain the melodic elements, but we're not opposed to messing with things."
"The Ukrainian Expedition"
"Auprès Du Poêle"
"Maluron Lurette"
"Coal Not Dole"
"Shoot The Moon" (full song)
This CD was donated by the artists, so all proceeds go to help the magazine and radio program. We thank them for the generous support.
The band writes:
Expanding on the Scottish and Acadian roots of PEI's traditional music, Ten Strings and a Goatskin weave old-school Franco-Canadian, Breton, Irish, and Scottish tunes with wickedly current grooves and clever quirks, flirting with indie's best moments.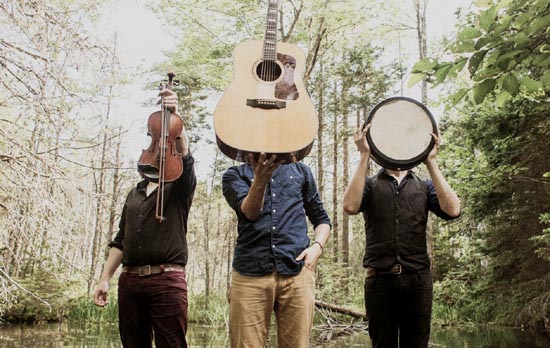 "We were fortunate to start touring and engaging more professionally in our teens," Rowen muses. "There have been great resources to help us along in that change. But really, it's only been in the last year or so, that we reached a point where we're doing most of the songwriting and all the arrangements. The project has embraced more and more of who we are, with tradition acting as our anchor point."
It's been a lifelong anchor for the Gallants, who remember travelling with their mother to Irish and Scottish music sessions around the Canadian Maritimes. They started a band with schoolmate and guitarist Jesse Périard, sticking to traditional repertoire at first. Soon, however, inspired by musicians friends from PEI's lively avant-pop and rock scene, they began exploring new approaches to arranging and began crafting their own songs and instrumentals. They worked with Leonard Podolak, a trailblazing producer who, urged them in dynamic, engaging directions.
Sign up for Music of the Month with a 20.00 monthly donation (includes postage):
---
Or make a one time contribution of 21.00 (postage included, world-wide) and get a copy of Auprès Du Poêle.
---
You can also make a subscription by US check or US Postal Money Order payable to:
RootsWorld
Box 1285
New Haven, CT 06505