Music of the Month
For a contribution of 21.00 a month (33.00 outside of the US), I'll be sending you a recording from somewhere interesting, each and every month. You will receive a CD in the mail, and regular monthly subcribers will also get a bonus CD now and then.
Check out other ways to donate at The Rent Party.
Our Music of the Month selection for December 2022
Góbé
Elem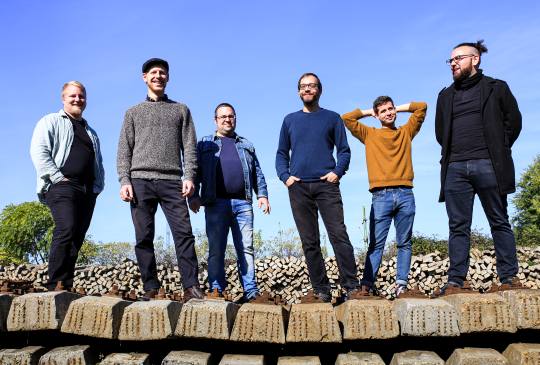 Fusion folk from the Carpathian Basin

Góbé was founded in 2007 in Budapest, Hungary. The word means "a man with a twisted mind". They use authentic folk music in new ways. Their range of tools includes classical, folk and popular music alike. Over the last 15 years the band has travelled the whole Carpathian Basin and half of Europe.

Not only do folk music and contemporary music coexist but they also form the same culture and interact with each other – Góbé has looked for these points of intersection in their work, and in this new recording.

The musicians:
Várai Áron – lead singer, bagpipe, whistle, percussion
Rigó Márton – violin, viola, guitar, vocals
Vizeli Máté – violas, violin, guitar, kobza, vocals
Egervári Mátyás – hammered dulcimer, viola-tambura, hurdy-gurdy, bagpipes, whistle, flute, schalmei
Hegyi Zoltán – double bass, bass guitar
Czupi Áron – drums, percussion, vocals

Please note: these CDs are enroute from Hungary and may not be available for about 10 days.

These CDs are donated by

the artists

and I thank them (

and I hope, you

) for supporting RootsWorld.
| | | |
| --- | --- | --- |
| | | "Fekete föld" (excerpt) |
| | | |
| --- | --- | --- |
| | | "Chikós" (excerpt) |
| | | |
| --- | --- | --- |
| | | "Korcs" (excerpt) |
You can also buy previous Music of the Month titles in our shop
(and save a little on postage for more than one CD).