!!!! base href="http://www.rootsworld.com/rw/" />
Music of the Month
For a contribution of 21.00 a month (US only), I'll be sending you a recording from somewhere interesting, each and every month. You will receive a CD in the mail, and regular monthly subcribers will also get a bonus CD now and then.
Check out other ways to donate at The Rent Party.
Our Music of the Month selection for March 2022
Terje Isungset's Glacial Poetry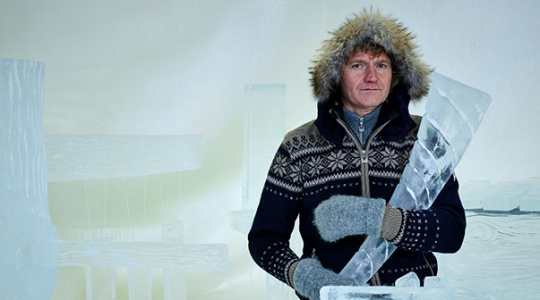 "You have to treat ice with respect, otherwise it breaks. We should do the same with nature." - Teje Isungset
"Through the process of making his ice instruments and having to transport them to concerts Isungset has become well aware of the fragility of his chosen material. With the world's glaciers receding before our eyes, an important part of the reasoning behind his project is to use music to help focus attention on the issue of global warming.." - Mike Adcock, RootsWorld review of Glacial Poetry
Terje Isungset is one of Europe's most accomplished and innovative percussionists. With over two decades experience in jazz and Scandinavian music he is taking these types of music far beyond their traditional boundaries, becoming more like a cross between a sound artist and a shaman. Crafting his own instruments from Norwegian natural elements such as ice on this new recording, he is highly recommended to those sensible to the poetry and simplicity of sounds.
This is our first-ever digital-only selection. It is only available to our monthly subscribers. Join Music of the Month and you will get a code to download the album as our thank you.
The music has been donated by
the artist
and I thank him (
and I hope, you
) for supporting RootsWorld.
You can also buy previous Music of the Month titles in our shop
(and save a little on postage for more than one CD).