Music of the Month
For a contribution of 21.00 a month, I'll be sending you a recording from somewhere interesting, each and every month. You will receive a CD in the mail, and regular monthly subcribers will also get a bonus CD now and then.
Check out other ways to donate at The Rent Party.
A Music of the Month selection
Lebeha Drummers's Biama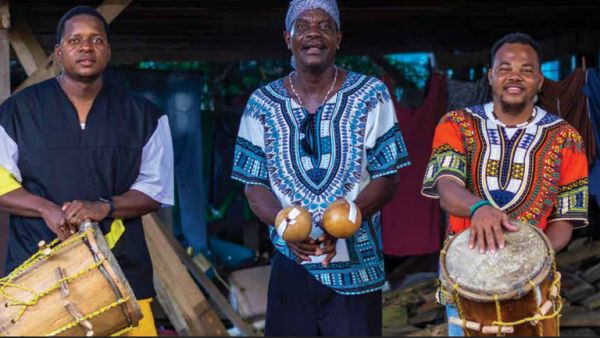 On the North End of Hopkins Village, Belize, if you follow the sound of drums, you will find the Lebeha Drumming Center, opened in 2003 to preserve Garifuna culture. This is where youngsters raced to after school every day to learn their own traditional songs and dances. In 2005 the kids released their first album, Lebeha Drumming, recorded under a palapa. Audiences around the world marveled at their infectious enthusiasm and soulful playing. Now, two decades on, some of those same kids (including Warren Martinez and Clayton Williams) have grown into masterful professional talents. It was high time they made their first studio album. With the support of international fans, and despite the pandemic, they recorded Biama (Two in Garifuna) at Stonetree Studios near the Guatemalan border and it was mastered in California.
The 13-song album of vocals and drums (and some calabash shakers and turtle shells) includes new songs and old, set to traditional rhythms such as punta, paranda, chumba, wanaragua, and hüngühüngü. While other Garifuna musicians have added amplification, guitars, and keyboards (as found in the more commercial up-tempo Punta Rock), the Lebeha Drummers always play unplugged, in the time-honored, traditional manner.
Biama is not an artifact of an endangered culture but rather a celebration of the daily vibrancy of the living street music of Hopkins.
These CDs are donated by
Neuma Records
and I thank them (
and I hope, you
) for supporting RootsWorld.
You can also buy previous Music of the Month titles in our shop
(and save a little on postage for more than one CD).