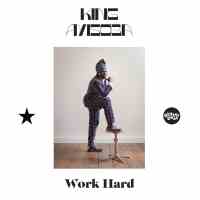 K

ing Ayisoba is part of a recent wave of global interest in kologo players from Ghana's far northeast Bongo District. Alongside Ayuune Sule, Prince Buju, Atimina and others, Ayisoba's music has previous been found on compilation This Is Kologo Power and his artistic input was at the heart of This Is Fra Fra Power, both of which focus on current sounds from northeast Ghana's Fra Fra tribe and were released on Makkum records. The label's owner, Arnold de Boer, vocalist and guitarist with long-running Dutch avant-punks The Ex, is also involved with Ayisoba's latest, his sixth release and second for Glitter Beat. Like he did on Ayisoba's last LP, de Boer does do some production as well as guitar additions here and there, though unlike that record, most of Work Hard was recorded in Bongo, Ghana at the studio of Francis Ayagama, who was also involved with This is Fra Fra Power.

Not as unadorned as his tracks on the Kologo Pawer compilation, but less slick than his earlier releases, this album revels in jagged, sometimes distorted grooves that never let up. "Good Things God Knows" jolts the record into action with Ayisoba's sandpaper rasp before his kologo enters, followed quickly by electronic percussion, autotuned harmony vocals, and a rhythmic relentlessness as Ayisoba declares that everything we do is pre-ordained.

"Bossi Labome" hits even harder, combining a barbed-wire groove with growled vocals denouncing the double standard that punishes women for adultery while often praising men for the same behavior.

Themes address taking action instead of talking, the importance of teaching children to value local languages, and, in the case of "Namba Sonne," benevolent leadership. This track's call and response vocals ride atop a repeated flute flutter and a hand drum loop that locks the tune in place. Here and there, things get a bit slicker, with the wiry synths and overt club feel of "Kokogo Enter," which also features a metallic, nearly-Congolese guitar lick.
| | |
| --- | --- |
| | |
But the album ends on a less-produced note with "Buri Malima," a track featuring hand drums, flute, and the Do, a traditional hunting horn, logical instrument choices for a song telling people that modern society needs to learn about local cultures. Work Hard is consistently infectious, as tracks slam one after another, tightening their grip until listeners surrender. Grounded in traditional kologo patterns alongside an immersion in more modern production, the music places the rural north of Ghana at the forefront of radical music coming from West Africa.
Further reading:
This Is Fra Fra Power
Alostmen - Kologo
Ayuune Sule - Putoo Katare Yire