Sekou Bah has spent a number of fruitful years hobnobbing with Malian musical royalty, playing guitar and bass for Salif Keita; as bassist and musical director with Oumou Sangaré; and currently as bassist for Malipop superstar, Fatoumata Diawara.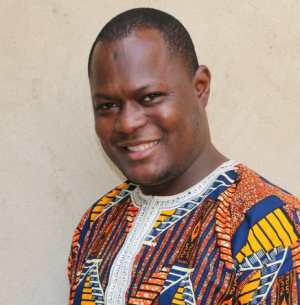 Soukabbè Mali is Bah's first international release under his own name, and he serves as composer, lyricist, arranger, bassist and vocalist. Recorded with his group Bandia Jazz and guests, this is a neat package that ties traditional and Afropop sounds to borrowings from rock and Western jazz, blending various percussion instruments, the stringed ngoni and kora, and wooden balafon from West Africa, with electric bass, guitars and drum kit from the West. With a distinctly Malian sound that steps somewhat harder on the pedals than Habib Koité's softer integration of Africa and the West, yet stays shy of the bruising power chords of Vieux Farka Touré, Bah may have found a middle-ground formula appealing to a global listenership.
| | | |
| --- | --- | --- |
| | | "Doyon Oulon" (excerpt) |
While native to an expansive country of many diverse ethnicities - Bamana, Malinké, Tuareg, etc. - Bah has the added grace of hailing from the Dogon people of Mali's dry, rocky interior, a proud, colorful and famously artistic community. Bah dedicates Soukabbè Mali to the Dogon; the first track, "Doyon Oulon," is an appeal to his people to reject the ever-increasing threat to debase Dogon culture, and to preserve and bolster their traditions. Other tunes are ecumenically sung in the various languages prevalent in Mali.
Malian pop evolved from traditional praise singing and its underbelly of political patronage to become a pivot for addressing social issues. Soukabbè Mali takes on an array of hot-button problems facing a country besieged by social, political and religious strife with tunes about immigration, marital fidelity, ethnic and community pride, and more.
| | | |
| --- | --- | --- |
| | | "Soukabbè Mali" (excerpt) |
On "Soukabbè Mali," Bah entreats the young not to emigrate when their country needs them, urging them to become the farmers, business people and students the society needs for development. Mamadou "Prince" Koné's mournful, spare bass drum plots the tune's sentiments led on by Yacouba Koné's easy but engaged Afro-rock guitar. Bah's voice here and throughout the album is certainly adequate, but the judiciously engineered reverb boosting his vocals on this and the other tunes, adds needed breadth, inching the singer's plaint towards greater urgency.
Cherif Soumano's kora is up-front, extended and accomplished in the original version of "Kalan Ko." The song appears in two aspects, the prevailingly acoustic original and a punchy remix with an assertive drumbeat. "Kalan Ko" is visited by Master Soumy's gravelly rap interlude decrying the state of formal education in Mali. I found the declaiming smoothly nestled into the remix, but incongruous in the softer first version, the ubiquity in Afropop today for voice-over notwithstanding.
| | | |
| --- | --- | --- |
| | | "Kalan Ko" (excerpt) |
| | | |
| --- | --- | --- |
| | | "Kalan Ko" (remix/excerpt) |
"Nge Mounkila" is the second tune reimagined in the studio. Both versions are powerful, the original especially so. Here we meet marital discord kindled by a distrusting wife. High voltage guitars suggest brinkmanship, with Yero Dicko's insistent wawa met by Yacouba Koné's heated Strat-like tones and Ami Koité seemingly voicing the part of the aggrieved wife. Koité provides cool clout on both takes; her tart vocals are distinctive and add texture. A second diva, Hawa Maiga, appears on the cautionary Chi Bory, again adding notable contrast.
The instrumental, "Planette," is the track most influenced by jazz. Pleasingly, it is all about Bah the bassist who, in good jazz fusion fettle, flashes through a number of melodic runs with remarkable alacrity.
In all, Soukabbè Mali is a promising entry on the world stage for veteran Sekou Bah. After some fine tuning to add dimension to the vocals and a bit more energy to some arrangements, Sekou Bah, with his Bandia Jazz, should be on his way to a successful stand-alone career. - Carolina Amoruso