Touching down from the French Caribbean by way of Montreal is Daniel Bellegarde's Anba Tonél (Under the Arbor), his first album, released in 2018. Anba Tonél offers a fetching mélange of genres, on the one hand a cherry-picked conglomeration from the musical strains and configurations he's been a part of for 30-plus years (Bellegarde did a stint with Cirque du Soleil, for example), and on the other, an undeniable offering of homage to the French Antilles, especially to Haiti, the benighted yet irrepressible island from where his bloodlines flow.

"I have always loved European traditional music," says Bellegarde in our email conversations; Anba Tonél presents a "musical meeting between Europe and Africa," and, inevitably, reprises the master-slave relationship played out on North American and Caribbean soil. Bellegarde's cherry picking yields a basket of hybrids, from sacred chants invoking French Caribbean spirits; to quadrilles transplanted from Old World ballrooms to the New; to original forms birthed on the French-colonized mainland of Acadian Quebec and the Louisiana Territory.

To convey the diverse strains that feed into the mix, Bellegarde collected a core of disparate musicians beginning with David Boulanger, a friend and violinist from Montreal, who would give the project "a personal touch in the sound and the arrangements." The core expanded to include more players of percussion, banjo, mandolin, bass, guitar, banjo, a lead vocalist and a chorus, plus a. Most of the instruments were of French colonial heritage, notwithstanding a few surprises, like a hurdy-gurdy, tossed in to add texture, but "not to denature this music."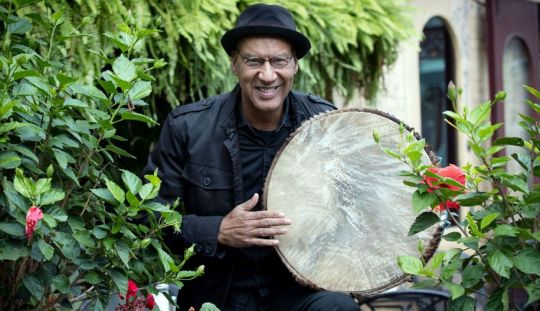 Some of the instruments have an itinerant's story to tell: The banjo—aside from defining Southern US folk music—is used extensively in both French-Caribbean and Acadian tunes, and is an elaboration of West African prototypes, deriving from the xalam, played in the region of Senegambia, or from the akonting, also from Senegambia, or the ngoni, of neighboring Mali.
The violin is an intriguing example of survival and metamorphosis as well, its sound elevated and soigné in the Old World, before becoming a fiddle, scratchy, intense, funky and bold in the New.
Smitten when just a boy after hearing Indian master tabla player Alla Rakha in a concert with Ravi Shankar, Bellegarde decided that he must study percussion. "This concert had dazzled me," he says. With his hands having lain on nearly everything that makes an unpitched sound both sides of the Atlantic, on Anba Tonél the maestro runs the gamut of percussion from three Haitian ceremonial drums, to a big bass frame drum, a rhumba box, maracas, claves, and more.
His has been a journey of exploration, discovery, and now, arrival. After contributing to 50 albums, and touring world-wide, Bellegarde felt ready to make his own statement. Before undertaking solo this grand project—from all aspects of the music (some in cooperation with other band members), to "promotion, marketing, contacts, broadcasts… It's a huge job… but I like challenges"—he sought the advice of Chantal Jolis, of Radio-Canada. She was a beloved radio host and founded the station's world music department. Jolis heartily encouraged her friend to go forward. This recording is dedicated to her memory.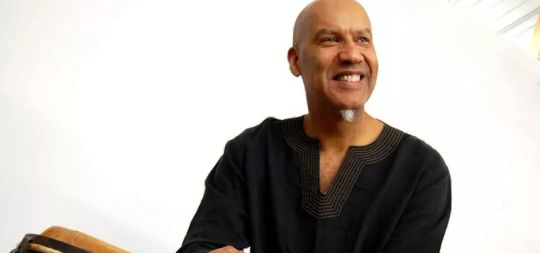 The effort has paid off as, since its release, Anba Tonél has earned or been nominated for a number of awards including winning a Global Music Awards—2018 for independent musicians, and just recently, earning a nomination for best album at the upcoming Independent Music Awards in New York (2019).
The album is a playful mashup of instruments and sounds, but it's not frippery. "Anba Tonèl is a bit of history of colonization in the French-speaking Caribbean," says Bellegarde, and, we may add, of colonization on the French-speaking mainland, as well.
To begin, "Kafou Tengendeng" is a traditional Haitian tune given a new day under Bellegarde's hand; it is a nod to the spirits, notably Baron Samedí, denizen of the burial grounds, and Maître Carrefour (Kafou), keeper of the crossroads. Delightful is the mini-prelude in a cloud of electronica—one of a number of Bellegarde's off-genre surprises—that blends into a chorus promising serious goings on to come. This is born out by the rousing, raucous street rhythms of Rara, energized by clam bell, banjo, and Jeanty's raspy, convincing vocal. For Bellegarde, the song represents life and death (as does the Baron), and is a tribute to the 250,000 Haitians who perished in the earthquake of 2010.
Further along Bellegarde refits quadrilles and related contredanses that had already taken on Afro-Antillean interpretations during slavery. In these dance tunes, he often replaces the accordion favored by Afro-Antilleans with the fiddle, which played a major part in forging southern Americans' signature pass time, the square dance.
Also catalogued are the forever popular sashaying tunes of twoubadou, a French Antillean genre derived from the romantic troubadours of the Renaissance, with a bit of Cuban sazón tossed in. Bellegarde plays with twoubadou in two versions of "Autobus Nord," the first under Marco Jeanty's voiceover, while the second is an instrumental showcasing Toto Laraque's breezy acoustic runs.
In the variegated basket, too, are memory lane pieces as Bellegarde puts his own stamp on two legendary Haitian bands with nouvelle contredanse arrangements: Le Super Jazz des Jeunes d'Haiti, formed in 1943 ("Vingt Juin, Quatre Avril"), and Nemours Jean-Baptiste, formed a few years later ("Contredanse"). Both bands were immensely popular partly because their big band sound incorporated Cuban rhythms into the swing. Over their long runs, Le Super Jazz remained wedded to the traditional folk and vodou themes, while Nemours veered off into the nascent and infectious pop of konpa, becoming its major early exponent.
For the plantation Africans before and after manumission, adapting the quadrilles originally performed and danced to in courtly ballrooms by mistresses in crisp bell-jar crinolined ball gowns, and masters in breeches and knee-high hose, gave them release from the hard times hammering them in Haiti and the other French outposts. In appropriating their masters' dance, they would also mock them and their mannered moves, as stiff as their glad rags, while they, as more casually dressed Africans, were bending quadrilles and minuets with ease as if into a rattan rocker, the "danse" having moved from the hard wood of regal ballroom floors to the trodden earth of their quarters' common spaces.
Daniel Bellegarde's mission is novel, "giving a different, original and more personal color [to the miscegenetic music of Franco-America] without removing the very essence of this…music." Anba Tonél is ultimately a paean to the power of music to deliver a people from their pain by improvising artistic expression using scarce or tainted resources, and to do what people the world over instinctively do in need: make merry. - Carolina Amoruso
Find the artist and his music online