Las Hermanas Caronni
Navega Mundos
Artist release (www.LasHermanasCaronni.com)
| | | |
| --- | --- | --- |
| | | "Maria" |
Born in Argentina but living in France since 1998, Caronni sisters Gianna (clarinet, bass clarinet, vocals) and Laura (lead vocals, cello, violin) grew up in a multicultural family, absorbing a gamut of musical influences as they developed into the present duo. Sitting somewhere on the border of classical music and freer territories, they craft a form of chamber folk that is as lovely as it is intimate. Their original compositions are at once reflective of the past, and of a future in which fusions serve as expressions of genuine unity.
| | | |
| --- | --- | --- |
| | | "Macondo" (excerpt) |
The song "Agua de Río," with its frothy percussion and melodious flow, sets the album's aquatic tone. As in the currents of its word paintings, the music is such that distant landscapes feel close at hand. From the start, listeners will note the synergistic harmonies, which in the manner of other sibling singers (think The Everly Brothers) translate just as effectively to the languages of their chosen instruments. Yet through that patchwork of shared genes they allow the colors of others not related by blood to shine.
Their setting of Rainer Maria Rilke's "Notes on the Melody of Things" (see video below) epitomizes not only Las Hermanas Caronni's compositional integrity, but also their resourcefulness. Here the cello acts like a jazzier upright bass, while bass clarinet sets the scene for Laura's folk-like enunciations. Less obvious sources - such as the Ottomans that inspired the livelier drama of "Turchinsky canzonetta," and Gabriel Garcia Marquez the alluring textures of "Macondo" - show their spatial awareness at full tilt, while the unexpected, if familiar, strains of The Doors' "Spanish Caravan" reveal an even deeper poetry in the rigor of their arranging skills.
| | | |
| --- | --- | --- |
| | | "Ya Me Voy" |
The contributions of guests Ceïba (percussion) and Raúl Barboza (accordion on "Ya Me Voy" ) accentuate yet expand the Caronnis' cohesions, and further underscore the trust they inspire in other musicians. In these collaborations one finds the album's liveliest turns, intimations of the dances and flourishes that surely must have infused their childhood. But the heart of this project lies in the standalones, which range from the ritualistic simplicity of "Amanece," with its beating drum and solo voice, to the classically inflected sway of the "Preludio y habanera." There's even a sad tango of sorts ("Cansino") and the trio for cello, clarinet, and violin that is "El Español," a masterful example of both composition and performance, and one that places the duo in a league all its own. - Tyran Grillo
Audio and photos © 2016 Las Hermanas Caronni. Used by permission of the artists.
Text © 2016 RootsWorld.
No reproduction of any part of this page or its associated files is permitted without express written permission.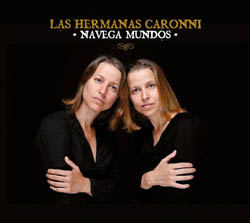 Music Of The Month
July, 2016
Subscribe to Music Of The Month
Or make a one time contribution of 24.00 (postage included, world-wide) and get a copy of Navega Mundos.