T

wo new bands from Denmark have similar personnel and a common factor, but quite different approaches to music. Penny Pascal boast two fiddles, cittern and bass, and state that they're a band where "rules, conventions and comfort zones do not apply." On their digital-only release (recorded the same day they streamed a live 40-minutes piece of music, which has much of the material from the album), it's a step outside music that might be termed folk.

That's apparent from the opening "Prelude #46," with its echoes of modern North European classical, building at the end to explode into the downright aggressive riff of "Wreck." They set their stall out in high style, but musically, they range all over. There's some wonderful melodicism on "Fantasten," beautiful formality on the title cut, the curious atmospherics of "Morgenrytter" and some violin playing as explosive and wild as any rock guitar solo on "Murky Deep" (one of two songs, both sung in English) and "Frilåst Hoppen The Train To Hudson." It rounds off exquisitely with "Tak For Alt #46."

While the violins might push a fair bit of the limelight, and their twin fiddle attack has a lot of power, this really is a band where there are no passengers. Everyone holds up their end, and every contribution supports every other one. It's a stunning release, one that thankfully doesn't sit within any style. Acoustic, yes, but damn, they rock.

*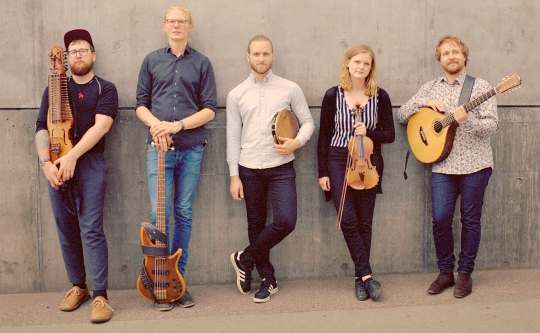 Tailcoat
"Morgenhalling"
One of the violin players in Penny Pascal is Henriette Ambæk Flach, who recently won New Talent of the Year in the Danish Music Awards. She is also a member of Tailcoat, bringing her fiddle and hardingfele to work alongside cittern, bass, percussion and nyckelharpa on a selection of original compositions. There's plenty to enjoy here, and the music is obviously grounded in several different traditions, pulling on ideas from places as distant as Norway and the Middle East. Yet, at its heart, it remains ineffably Nordic, with a dancing lightness to the melodies. It's good, with all the musicians as incredibly accomplished as you'd expect these days. But it doesn't quite have the spark of Penny Pascal, who have the ability to set the place on fire and laugh as it burns. – Chris Nickson