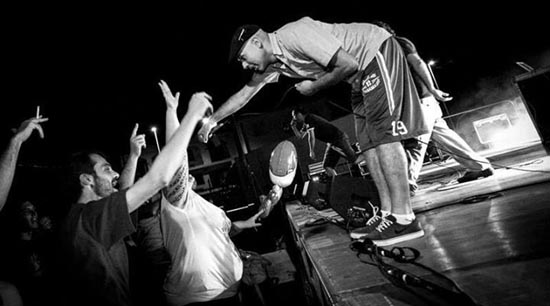 Dr. Drer & CRC Posse
Cabudanni
artist release (www.crcposse.org)
Review by
The return of this Cagliari, Sardinia-based roots-rap-reggae outfit after a five-year break in recording has been awaited by the cult-like following of this interesting musical formation. 
Led by Michele Atzori (Dr. Drer) the band has been active at least since 1991 ; they've collaborated with members of Massilia Sound System and Assalti Frontali (two of their best-known counterparts in Marseille and Rome respectively) and have released five previous discs, Love and Peace de Casteddu, Ajo, Sega sa Cadena (2005), the iconic In Sa Terra Mia (2010), and Cosa Bella Frisca (preceding this one in 2012). Atzori as main vocalist is again backed up by the strong vocals of Giorgia Loi, rappers Mauro Mou and Giuanni Siccardi on Cabudanni. 
Having made a featured performance at Liet (festival of regional and minority languages) in 2011 the band began a period of intense activity. At this point, such songs as "SARD" and "Dammi una Manno" blending rap and reggae received positive notice especially in Cagliari/Casteddu, Sardinia's capital a place "between Europe and Africa" as they put it in one song. 
Cabudanni is a mature recording of a veteran band that knows what direction it is going. In this case it has added electronica to its rich blend of rap, reggae and traditional Sardinian sounds. The eleven tracks are rich and varied and are sung primarily in Sardinian but also in Italian, sometimes, if I am not mistaken, switching within songs. (Without doing a count there seems to be more Sardinan on Cabudanni than on previous discs). 
Sardinian is the closest modern language to Latin, and it's certainly tougher to understand than standard Italian as it differs sharply from other Romance languages. So, without lyric translations, it can be tough to get the exact nuances of what they are trying to say. 
It isn't always easy to designate a 'top track' but my favorite here is definitely "Su Palu," a brilliant Sard-language reggification of what is either the 30th or 31st translation of Lluis Llach's Catalan freedom song "L'Estaca." Almost as impressive however is "Su Trenu," a story of a long-forgotten tragedy presented in a vaguely Portishead-esque style, with a memorable, ominous bass line by Riccardo "Frichi" Dessi.
I'm also fond of the shorter tracks: "S'Accentu" where the electronic laundedda is introduced, and "In Su Mundu," a melodic pastiche. 
By contrast "Murra" is an almost punky shout-out to a traditional Sardinian card game, while "Terra" continues the band's militancy against the American and Italian bases and military activity on the island, something the locals claim is destroying communities and harming health. The electronic and poppy "Po Su Dinai" might be the most infectious tune, an odd but catchy melody with Latin influences. Keyboardist and programmer Alex P (Alessandro Pintus) plays a big role in creating the signature sound on these tracks.
There is some history of popular groups performing and recording in Sardinian, but that said, it is not as accepted popularly as music in, say, Basque and Catalan within the Spanish state. It is a bit of an uphill battle --for now. I think of Negu Gorriak's debut album in Basque (1990) and the effect that had in bringing international and traditional sounds together to revive the pop music of an old and oft-denigrated culture, starting a two-decade long florescence. Cabudanni is comparable in format and content; topical and unpolished, it has the potential to be that galvanizing record for the Sards. 
© 2017 RootsWorld. No reproduction of any part of this page or its associated files is permitted without express written permission.