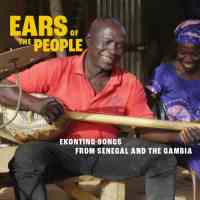 T

hanks to more than a quarter century of scholarly work, as well as a growing number of young, contemporary African American banjo players, it is increasingly well understood that this often maligned, misunderstood, yet ubiquitous North American folk instrument came from West Africa. All one has to do to take note of this truth is hit up youtube searches for West African lute players, which reveal a smorgasbord of Nigerian Hausa kontigi players, Nigerien teharden masters, Malian ngoni thumpers or Moroccan gnawa trance musicians driving listeners into ecstatic states with the gimbri. These instruments all contain wooden necks and rectangular bodies with heads made from animal hide.

Perhaps closer still in resemblance and direct ancestry to the American banjo is the ekonting, found in far-west Africa's Senegambia region. Quick google hits turn up multiple sites either featuring this connection or focusing on the ekonting itself. There are also interviews with Daniel Jotta, a member of the Jola tribe from the Gambia who runs the Akonting Center for Senegambian Folk Music, also in the Gambia. Furthermore, Jotta's liner note introduction and music are included among the 25 tracks from nine different ekonting players who stretch from Dakar, Senegal, through the Gambia and finally down to the southwestern-most hunks of Senegal's Casamance region.

A quick listen to this collection reveals a direct connection between what we know as "clawhammer" style old-time mountain banjo playing in the US and Senegambia players, who use the same right hand technique, making the drone with the ekonting's top string, which is also the shortest. Just like the fifth string on banjos from the US. The music on Ears of the People also reveals that, in spite of abominable slave ship conditions, the racist, violent American plantation system that separated families and extinguished languages and culture, not to mention the horrible working conditions that befell people not even recognized as human, the music continued.

That said, it's unlikely anyone playing the ekonting today in West Africa gives a whiff about its connection to the US or America's still frustratingly white old time music scene. Instead, this is an instrument played for various types of entertainment, from village festivals to wrestling matches. The tracks here were recorded in 2019 in houses and makeshift studios and feature solo players as well as groups featuring harmony vocals and various percussion backing. Some songs are older while others are recent compositions; all of them are astounding.
Abdoulaye Diallo
"Inje Mama Oomei" (excerpt)
Abdoulaye Diallo's solo songs are especially mesmerizing. The lyrics to "Inje Mama Oomei," for example, deal with Diallo's solitary childhood with playing that matches the sadness of the words. Elisa Diedhiou is one of the few female ekonting players; she also makes a professional living with the instrument. Of her several tracks here, "Adiatta Ubonketom," an original composition, is especially powerful. She plays with a quick, relentless right hand and sings of a number of hardships, including the death of her husband. Also featured are several tracks by Jean Kangaben Djibalen, who was born in 1959 and was also one of the earliest ekonting players to do so professionally. His take on the old story "Madu" is raw and hypnotic.
Elisa Diedhiou
"Adiatta Ubonketom" (excerpt)
This collection, recorded and produced by ethnomusicologist Scott Linford, who also wrote the liner notes, is likely the most complete and transformative collection of ekonting music available. However, one does not need to be connected to academia- or the banjo for that matter- to appreciate the music found here. On its own, it's hypnotic, infectious music played by people steeped in the tradition, but unafraid to keep the music current.