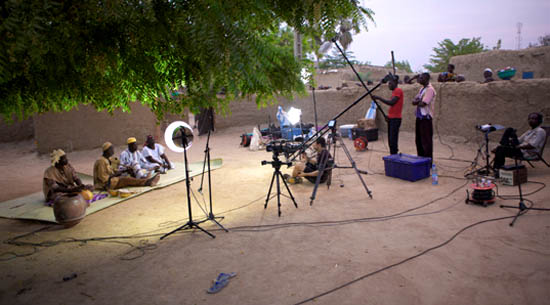 Every Song Has its End: Sonic Dispatches from Traditional Mali
Glitterbeat
| | | |
| --- | --- | --- |
| | | Super Onze "Houmeďssa" |
It may be true that traditional Malian music, or at the very least, music played by Malians on traditional instruments, is alive and well. However, ask Paul Chandler, an American record producer now living in Bamako, about the state of traditional music in Mali and he'll argue that traditional context is being lost. And it's this state of endangerment that helped him make the decision to start recording rural musicians in their environments, ideally capturing the ritual of their performances as much as he could. Climate change, desertification due to deforestation, shifts in population density, and drought have no doubt brought about this scarcity of context, as has the increasing shortage of animals to hunt and fish to catch. When these things disappear, so do the rituals- typically accompanied by song- that went with them. So like many folklorists, musicians, and musicologists, from Hugh Tracey to Samuel Charters in the mid-20th century, to Michael Baird and Chandler in the 21st, documenting tradition music in its element is and has been an act of preservation, as urban "progress," changing political climate, western influence, and many other factors conspire to rearrange notions of cultural relevancy. No doubt, the act of bringing in audio and video equipment itself brings about change, as even the merest hint of outside interest could alter reasons for performance irrevocably.

Whatever might be happening to threaten this music in its environment, the recordings here are astounding. There's Sidiki Coulibaly's solo simbi hunter's song, "Donzo Fasa", Inna Baba Coulibaly's hoddu and calabash- driven homage to a Marabout saint, "Sidi Modibo," and the raw, electric kurdu single chord drone of Super Onze, a group to which label Sahel Sounds recently devoted an entire LP. Boukader Coulibaly's 6-string harp (Danh), provides a light, spiky sting to one of the disc's most relentless tracks, "Taka Kadi." For these performances, Chandler and crew hopped from Gao, in East Central Mali, to Koulikoro, just outside of Bamako, stopping further northeast in Mopti, hitting Segou on the way, and venturing south to Sikasso as well, all regions steeped in music.

And then there's the DVD, which does an immersive job of allowing the viewer to understand individual musicians' stories, struggles, and art. There's Ibrahim Traore, a Mandika bolon (3-string bass harp) player who claims to be the last one in Mali; he performs both solo and with a small group, relates stories of magic and ritual, including claims of the bolon's use as part of beheadings, a bloody action that independence and various attempts at democracy helped to end. A scene featuring the Tuareg kurbu lute-led Super Onze describes their having to hide instruments from the recent wave of religious extremists, which wreaked havoc on the country's north, forcing them to resettle in Gao. There is also some amazing footage of body-sized mask ritual. While disguised puppet-like people dance, groups of elders explain how these rituals come in times of good harvest and bring villagers together. They also admit that animals are disappearing from overhunting. Perhaps most poignantly, Simbi master Sidiki Coulibaly admits that there is no interest in the instrument in his village and he expresses the frustrating awareness that when he dies, the simbi will go with him. Because of his ability to let these musicians make their own observations on the state of their arts, as well as his capacity for capturing first rate performances, Chandler's work, as featured here, is as relevant a contemporary document of Malian music as one is likely to find. - Bruce Miller

© 2016 RootsWorld. No reproduction of any part of this page or its associated files is permitted without express written permission.