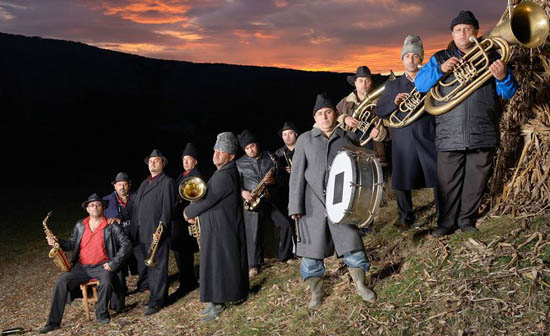 Fanfare Ciocârlia
Onwards to Mars
Asphalt Tango (www.asphalt-tango.de)
For Romani brass band Fanfare Ciocârlia, Onwards to Mars seems appropriate, considering the group from Zece Prăjini, northeastern Romania is celebrating its twentieth anniversary this year and seemingly stopping at nothing to perform work beyond the earthily expected. The fourteen tracks on this 2016 release continue the group's trend of making connections between numerous rhythmic and melodic elements from seemingly disparate cultural contexts, as well collaborating with artists from different regional and linguistic backgrounds.
Yet despite this impulse to bring together distant musicians and sounds, Fanfare Ciocârlia remains committed to circulating their "Gypsiness," arguably the principal element that allowed them to gain popularity. Dr. Jan Reichow explains in the liner notes that Koby Israelite, the primary composer of the group, has long "devoted himself to 'Blues from elsewhere'" or "'Balkan blues, so as to give outsiders an idea of the special atmosphere of 'Gypsy music.' " Consequently, this set is dominated by characteristic Romanian and Romani song types: hora, cocek, melancholy doina, and urban lautareasca (think Taraf de Haidouks), but distinguished by their stylistically wide-ranging, sometimes wryly humorous, brass arrangements. As might be expected, Fanfare's improvisational flexibility is on full display throughout, with a host of trumpet, baritone horn, saxophone, clarinet, and accordion soloists.
Fanfare Ciocârlia invites its audience to the Mars party straight from the get-go with "Crayfish Hora," which begins with the members singing the main melody a cappella, feeds into something resembling a 1930s hot jazz romp, and ends with the musicians joining the brass in scatted vocables, an effective layering that emphasizes the participatory qualities of the hora. Other dance tunes on the album draw on the group's penchant for lush orchestration ("Cucuritza," "The Patron's Funeral") and the musical camaraderie of clarinetists Oprica and Vladut Ivancea ("3 Romanians"), whose textural fluidity approaches that of an expert accordionist. One of the more memorable instrumentals on the album, "Saints and Dates," features references to noir film music such as John Barry's James Bond theme and Anton Karas' score for The Third Man. The alternations between major and minor sonorities here evoke simultaneously a melancholy light-heartedness and a stirring darkness, demonstrating Fanfare's wide emotive range.
Along with the mostly instrumental dance tunes, Fanfare Ciocârlia features a number of popular Romanian folk songs. "Trenul, Masina Mica" (roughly "Train, Little Train"), famously performed by Romanian vocalist and actress Maria Tanase in the 1930s, centers on sustained vocal phrases chronicling the loss of one's lover from the village to the city, interpolated with rapid horn riffs and blues-y clarinet lines. The arrangement of "Un Tigan Avea un Casa" (roughly "A Gypsy Once Had a House"), a song popularized by Tanase and Romanian Romani singer Romica Puceanu, juxtaposes a relatively bright hora with a narrative largely concerning domestic violence and complicated intra-family relations. "Doina pentru un frant inima" (roughly "Song for a Broken Heart"), a piece featuring an unmetered extrapolation of the melody on alto saxophone above a quilt of low-brass, realizes all the pain and longing suggested by the title. The particular interpretations of these songs elucidate Fanfare's penchant for clever adaptation in tandem with underlying loyalty to standards of the Romanian popular repertory.
The most ear-catching pieces from Onwards to Mars are the ones that include what I have designated "Mars moments" - uncanny or surprising musical collisions that put Fanfare Ciocârlia's stylistic syntheses in relief. "Mista Loba Loba" relies on a phrase used in many Jamaican dancehall songs ("loba" comes from "lova" or "lover"), and brings the Romani-associated cocek rhythm into conversation with Caribbean-based grooves. Furthermore, its baritone horn intro references the melancholy doina that are so much a part of Romanian musical heritage.
A faithful rendition of Screamin' Jay Hawkins' campy R&B masterpiece, "I Put a Spell on You," (featuring Romanian singer Iulian Kanaf), is notably the only song on the album not sung in Romanian, complete with carnavalesque brass punctuations and straight-ahead blues tenor saxophone wailing that provide an incredibly eerie soundscape.
Two of the tracks exhibit a very successful synthesis of pan-Latin American and pan-Slavic elements. Though the brass/saxophone melody of "Out to Lounge" is spun out in triplets and ornamented as many lautareasca songs are, the unceasing cha cha cha groove and non-saxophone brass passages coalesce around something evoking the Afro-Caribbean dance craze of the mid-twentieth century.
The final piece on the album, "Fiesta de Negritos" features Colombian group Puerto Candelaria and ties together Southeastern European and Argentine tango solo virtuosity through use of the accordion, and highlights the similar implementations of hand percussion (bongos/darbuka) and brass ensembles in regional dance musics. Though the particular presence of each instrument reveals its sonic origin fairly obviously, their seamless overlap render such contrasts as afterthoughts. Ultimately, Fanfare Ciocârlia seems to favor collaborations that illuminate cross-cultural stylistic and expressive connections while maintaining its Romanian and Romani musicality. - Dylan McDonnell
---
© 2016 RootsWorld. No reproduction of any part of this page or its associated files is permitted without express written permission.