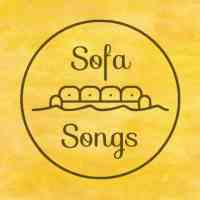 F
or
their third album, and first in five years, the Floating Sofa Quartet becomes a revolving quintet on all nine tracks, as a cast of singers join them. Aptly, given the pan-Nordic makeup of the band, the vocalists are from several of the Nordic countries (Denmark, Finland, and Sweden, the same as the band members). As you might expect from a band that has never done the obvious, this is not quite as straightforward as it might seem. It's actually a series of audio and video recordings made at locations that have meaning for the singers, all done between 2019 and 2022.
They recruited some big names, like Denmark's Lars Lilholt. "Kun Een Jord" (Only One Earth) is a jaunty romp, with a traditional fiddle tune appended to close the piece. The musicians' playing is immaculate, as always, and the instrumental arrangements deliciously twisted and precise; a definite workout for the fingers.
The great Swedish performer Ale Möller contributes one of his own compositions, "Ge Oss Någonting Att Hoppas På" (Give Us Something To Hope For). It's a beautiful piece; definitely not traditional, but the band uses a broad definition of folk music here. There's plenty from the various traditions, of course, but something newly-composed, or a protest song all fit snugly into the whole.
Sofa Songs is a series of pleasures shared that also includes Pia Raug from Denmark, Topi Saha, Maria Kalaniemi and PK Keränen from Finland and Izabelle Norén and Esbjörn Hazelius from Sweden. Special attention belongs to Dane Mia Guldhammer, who packs so much passion into "Som Stjernerne På Himlens Blå" (Like The Stars in The Blue Sky) that it feels likely to explode in her hands. Disregard the album's playful and fitting title; this is an epic project in its scope, and the band pulls it off with superb style. A long time in the planning and execution, with Covid intervening, it's one of those joys that hides a delight around every corner.
See all the videos and learn more about the quartet.