It's not a recognized genre as far as I know, so you'd likely get a variety of responses if you asked a sampling of people to weigh in on what they consider to be "ghetto" music. Trumpeter Frank London, who has played with a dizzying and diverse array of artists ranging from Itzhak Perlman to Iggy Pop, certainly has his own ideas about it. His starting point happens to be the 1516 establishment of Venice's Jewish quarter, which had been the site of a copper foundry, or geto, thus the word "ghetto" in the lexicon.

While London's roots in klezmer and jazz are hinted at throughout Ghetto Songs, more important is the indomitable spirit of music that reflects what life in a ghetto- any ghetto - can inspire. And because many of the tracks are based on sources that are centuries old, something of a musical history lesson is at work as well. London's trumpet has moments of prominence (it's the only horn to be heard), but his key role here is that of musical director, and he does an admirable job of balancing jaunty moods with serious ones. You'll find yourself swaying to the reggae-like shuffle of "Amore an" (the music of which was composed for a 2016 production of The Merchant of Venice in that very city) and bouncing along with "Accordion Jive," a South African township number in which London's playing can't help but bring Hugh Masekela to mind.
| | |
| --- | --- |
| | |
Keep your ears attuned, however, to where musical creativity and cultural poignancy mix with even greater perfection. A cover of War's 1973 landmark "The World is a Ghetto" is one such instance, as are the Moroccan tinge of "Nirdi Natan Rekho," which shines a light on the shared experiences of North African Jews and Muslims under colonial rule, and "Ve'etah El Shaddai," an airy and almost operatic piece that shows how much common ground there was between Jews and Christians in 17th century Italy.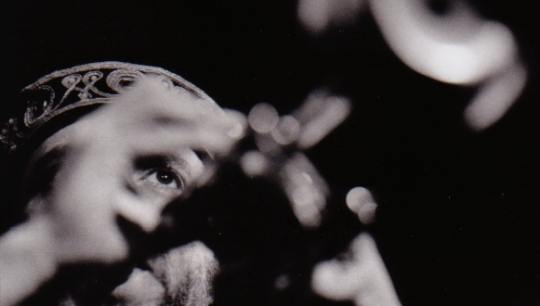 There is an abundance of full-blooded cantoric vocals on the disc, often traded between male and female voices. The operatic feel mentioned earlier recurs, as does an up close and personal passion not unlike what you'd hear in good musical theatre. The instrumentation, which includes cello, accordion, bass, drums, oud and violin, tends to take a back seat. Think of it as a strong supporting player.
What this unique album accomplishes is musically imparting that these ghetto-surviving works are story songs of the highest order, whether swinging or somber. And if humanity has the smarts to heed the message of "Oseh Shalom," a prayer for peace, the story will have a happy ending for all, be they ghetto dwellers or not.