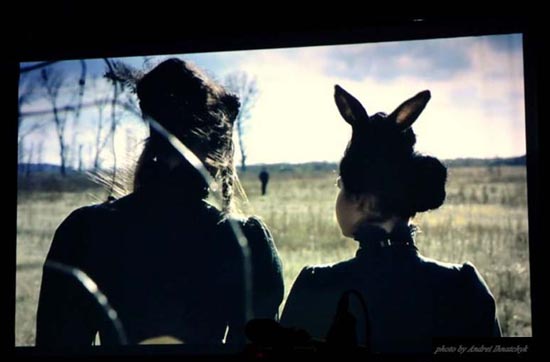 Folknery
Useful Things
Nash (www.folknery.com)
| | | |
| --- | --- | --- |
| | | "Goydalka" |
Folknery describe themselves as 'Ukrainian free folk,' which sounds as if the band from Kiev, Ukraine, are about to blow your head off Albert Ayler-style. On Folknery's album Useful Things, the band does expand the palette of Ukrainian folk music: there's plenty of structure to their music, but a gleeful kitchen-sink abandon so that experimentation and genre-clash unite in soulful grooves. The story of Folknery mirrors the music's off-kilter approach: this is a band whose name emerged as a mash-up between William Faulkner and folk music, the idea for which came straight out of a dream.

Volodymyr Muliar and Yaryna Kvitka founded Folknery in 2009. Muliar was fresh out of his experiences drumming for various Ukrainian rock bands, and he was delving into folk singing with another Ukrainian group called "Rozhanytsia." The two enjoyed not only music, but also bicycling – and in fact, they continue to conduct wide-ranging cycling trips that have evolved into excursions across Ukraine, and other countries, in order to find folk music and record living singers. Augmented by another member of Rozhanytsia, vocalist Yulia Sovershenna, the group continued to incorporate world music influences and diverse instrumentation. Together with percussionist Roman Sharkevych and guitarist Dmytro Sorokin, Folknery also utilizes accordions, African djembe, field-recorded sound effects, and hurdy-gurdy.

Useful Things is a blast, with Folknery providing surprises from one track to the next. Ukrainian music is the foundation, but in true post-modern style, it is not the focus so much as what the other musical elements bring as commentary to the tunes. There is some continuity in sound: the dual vocals of Kvitka and Sovershenna carry the band's repertoire, sounding both traditionally Ukrainian, but also as if they were chanting spells in the style of the Finnish folk group Varttina. The drums are positively huge, too, filling the sky (check out the hurdy-gurdy and drum foundation to "Goydalka").
| | | |
| --- | --- | --- |
| | | "Rovoza-beriozova " |
The production lends an unexpected element of '80s nostalgia. For example, Folknery projects a post-punk vibe: the atmospheric opening to "Rovoza-beriozova (Na kul' stala)" gives way to the group ripping through the song, punctuated by sounds of rainstorms. "Tadi, shuhay, tadi" has the bounce and swagger of nutty-boy Madness ska. Tension and mystery come together on "Karchata," again augmented by percussive blasts and an underlying drone (the video below captures the evocative darkness).
| | | |
| --- | --- | --- |
| | | "Tadi, shuhay, tadi" |
Elsewhere, didgeridoo, Indian and far-Eastern flourishes (on "Chaynushky"), and the ever-present percussion (both thunderous and soft, on the closing mind-bender "Vyplyvalo utenya") maintain the feeling that Folknery is perfecting music for an inclusive global tribe. That Ukraine itself remains in a war-torn state makes such optimism especially poignant. Folknery's worldview brings a freshness and enthusiasm to Ukrainian music that cannot be ignored, and the freedom they espouse is to see barriers, and to break them. – Lee Blackstone

© 2016 RootsWorld. No reproduction of any part of this page or its associated files is permitted without express written permission.