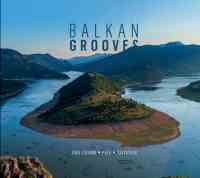 Trio Grekow-Peev-Tsvyatkov features three musicians who come to this project having each made a name for themselves in numerous other collaborations. Accordionist Jacek Grekow is Polish but has long been interested in Balkan music; Peyo Peev is already a renowned exponent of the gadulka, the bowed instrument from his native country Bulgaria, and guitarist Hristiyan Tsvyatkov, also from Bulgaria, has played internationally with various ensembles. They have now come together to produce the trio album Balkan Grooves, and it certainly makes for an interesting listen.
At first it feels as if there's something of a mismatch between the sound of the accordion and the gadulka. The album opens with "On the walk," kicking off with Grekow playing a very nice melody supported by Tsvyatkov's chomping guitar rhythm. It would sit perfectly in a vintage cinematic depiction of a stroll along the bank of the Seine. You almost expect a chanteur or perhaps a chanteuse to make their entrance, delivering a sultry vocal through a cloud of Gitane smoke. But what we get instead is the edgy, heart-felt wail of the gadulka, letting us know that things are not going to be quite what they seem. Grekov and Peev then get down to business playing a second, more characteristically Balkan melody in unison, which in turn gives way to some vigorous improvisation from each of the players.
"Warriors' time"
(excerpt)
Once the album gets under way you realize that they are actually all playing from the same hymn sheet and things really start to gell. Grekow shows that the accordion too can have its dark side, producing some gorgeous deep growling notes at the start of "Warriors' time" which complement Peev's gadulka perfectly, as Tsvyatkov mixes rhythmic guitar chops with bass lines. All but one of the seven tracks are composed by Grekow and for the most part they explore successfully the shared ground between the three players.
"Balkan Groove"
(excerpt)
The title track sets off at a relaxed pace and while the melodic lines do sound pretty Balkan the guitar actually has more of a Latin jazz groove as it tends to do throughout the album, but that's fine and it works well. Again initial expectations can be misleading and just when you think things are all pretty laid back the sheer intensity of the intricate unison playing and some later hectic improvisation take things into another gear, with the whole thing speeding up as matters come to a head.
"Shepherds Feast"
(excerpt)
The closing track of the album, "Shepherds Feast," begins with Jacek Grekow bringing out his more jazzy phrasing before we return to the kind of unison playing, the Balkan element, we've heard before. The improvised sections here, as in the rest of the album, bring some welcome and necessary light and shade. The whole thing is certainly a tour de force with some fine playing throughout from all three musicians. The arrangements ensure that each track has plenty of changes of mood but sometimes it just feels as if the core material could have benefited from a bit more variety.
Further reading and listening:
Celenka - Villoi Varsa
Cesare Dell'Anna and GirodiBanda - Guerra
Jovan Pavlovic - Life On Accordion