T

he Nordic countries, particularly Norway and Finland, are quite the place for innovative accordion playing, the sort that, chances are, even an accordion-hater would find remarkably attractive.

Frode Haltli is one of Norway's prime examples. Since the early 2000s his projects, both solo and collaborative, have spanned new-classical, avant-garde, traditional, and Norway's own special approach to what might be described as jazz but is a misty, atmospheric thing that has little or no connection to the USA.

Last year I said quite a lot about his illustrious track record in my Rootsworld review of his previous album, Border Woods, so I won't repeat it here. I did mention, though that there would be another release from his Avant Folk ensemble, to follow its eponymous 2018 first album. A single and video, "St. Morten," by Avant Folk featuring Hardanger fiddler Helga Myhr, based on a traditional Christmas song from her home village, came out in late 2020. (You can watch the video below.) Now here's the second full album, which doesn't include that one but consists of four tracks, all around the nine to eleven minute mark.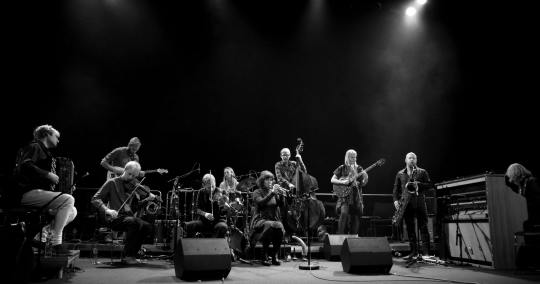 The ten-member ensemble is a live band, whose gigging has been interrupted by the pandemic, and the music on this second album was commissioned by Vossa Jazz in 2019. The line-up is unchanged from the first album. To put it briefly, it's accordion, two fiddles, two winds, organ, bass and drums, but that belies the range of tone colors, from Hardanger fiddle (Erland Apneseth), violin (Hans P. Kjorstad), saxes (Rolf-Erik Nystrøm), trumpet and goat horn (Hildegunn Øiseth), Hammond organ and synth (Ståle Storløkken), acoustic and electric guitars (Juhani Silvola and Oddrun Lilja Jonsdottir), double bass (Fredrik Luhr Dietrichson) and drums (Siv Øyunn Kjenstad).
Haltli describes how such a large ensemble manages to maintain improvisational freedom. "In Avant Folk we use processes from folk music: I present a simple material to start with, that all musicians learn by ear. This way, without any scores at all, we all get a common feel of the phrasing and the rhythms, with flexibility and freedom in further elaboration of the musical material."
In the first track, "Doggerland," the accordion feels its way in quietly, and gradually more instruments join in a big almost-jig, before dissipating into a stretching, sucking underwaterscape of synth with goat horn, morphing into scattered plankton of squeaking violin and accordion, before the big jig re-enters.
Typical misty Norwegian trumpet opens "Nordlys," over musing, wave-motion accordion chords and skitters, resolving into a reflective slow melody. Half way through, the texture fattens as other instruments join, and the drums and bass begin to assert while still following the slow waves, the piece moving to a greater but still languid urgency before gradually subsiding into whisperiness.
"Gravberget," based on the traditional pols dance form, refers to the village of that name in Finnskog, the area of 17th-century Finnish settlement where Haltli grew up. It moves in and out of a muscular pols lurch, with repeated overlapping phrases. Six minutes in begins a magnificent wild, chiming, grinding, howling electric guitar solo from Jonsdottir over a hefty bass pulse and drums, joined by churning sax, with the original melody returning for a calm ending.
| | |
| --- | --- |
| | |
The peacefulness continues as "I Østen som i Vesten (All Over The Place)" (though the Norwegian translates as 'In the East as in the West') begins its eleven-minute journey with keening Hardanger fiddle, the accordion touching microtones in sympathy. Its fixed equal-temperament tuning has been one of the disadvantages of the accordion keyboard or buttonboard in playing Norwegian and Swedish traditional music, but Haltli has overcome that limitation, and the microtones, matched by the whole ensemble, give the ensuing big melody a very distinctive and Nordic character that's emphasized by a section on goat-horn, an instrument that lends itself to microtonality. The mood changes as a bout of distortion sparks a wild chaotic workout; the fiddle returns in a twist of the earlier melody, then a burst of uninhibited squee-ing electric guitar subsides into the stillness of plucked fiddles and bass.
Not exactly traditional, then, but as deeply, deeply Norwegian rooted as any Hardanger fiddle solo.
Find the artist online
Read the review of "Border Woods."
Photos:
Portrait: Rolf Schoellkopf
Ensemble: Knut Utler