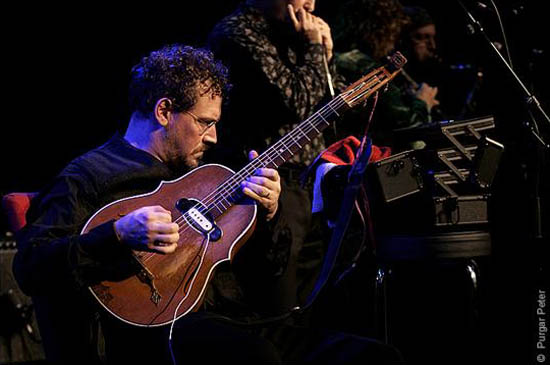 Traditional and yet unprecedented, Hazmat Modine blows its harmonica and brass in the face of today's music-industrial complex. A multi-generational, diverse collective of artists from across genres, they come together to celebrate their uncategorizable music. Marty Lipp talks with band leader Wade Schuman about their third recording, Extra-Deluxe-Supreme (Barbés Records).
| | | |
| --- | --- | --- |
| | | "Whiskey Bird" |
Here's a band that features harmonica, tuba and the occasional forgotten instrument; whose leader, Wade Schuman, has a career outside of music as a painter and college professor, but has kept the band viable since 1998. With its third album, Extra-Deluxe-Supreme, the band synthesizes different strains of American roots music, particularly blues and gospel.
In a recent interview, Schuman recalled a childhood borrowing 78 rpm folk recordings from the Ann Arbor, Michigan library and recording them on cassettes to listen to over and over. He pointed out the mix of Hazmat Modine's influences is idiosyncratic, but adds "I don't do it just to be odd. I do it because that's how I hear it. We're a band of very unusual components."
"Synthesis is how music evolves," he said, "but there is a difference between appropriation and synthesis. Appropriation is you take something and stick it in, and synthesis is you take two different languages and create a new language."
| | | |
| --- | --- | --- |
| | | "Acadia (Coffee, Salt & Laces)" |
The harmonica is very much the heart and soul of the band, though Schuman – who has been playing it since he was ten - said, "I'm not interested in showing my stuff as a kind of virtuouso. I've moved away from that. The band is the instrument."
"We have a band of extremely talented musicians," he continued, "but virtuosity in and of itself isn't content. It should be at the service of content because technique is only there to serve a feeling and meaning."
Indeed, while the group's music is reminiscent of the blues, there isn't the extended soloing that you might hear from a premier blues band. Performing live, the instrumentalists do step up for some rousing solos, but they don't dominate as much as raise the stakes of each song.
Schuman said his own evolution has found him more fascinated by creating songs in what he called the "almost extinct" tradition of Tin Pan Alley.
| | | |
| --- | --- | --- |
| | | "Your Sister (excerpt)" |
The new album has fewer global influences than the band's previous two, but does have appearances by the Tuvan musicians of the group Alash. Among an album of strong songs, Alash contributes to two great tunes. On "Your Sister," the narrator evokes a teen-age crush during a steamy summer, with music that feels distinctly like a rural American landscape even though several of the instruments are Tuvan and the haunting, other-wordly singing of Alash hovers in the background.
The Tuvans reappear on the lovely, dark-edged "Whiskey Bird," a spare, gospel-steeped song about a woman lost to alcohol. "Open that bottle of whiskey and watch her fly away," sings Erik Della Penna to mournful slide guitar, eventually joined by the brass section and chorus.
As a singer and frontman, Schuman steps up the swagger, standing on chairs and tables in live shows, prowling through the audience, convulsing as he wrings sounds of his harmonica. In many of the songs, he seems to channel the braggadocio of old bluesmen. "That's one of the cool things of music," said the bespectacled college professor. "You step outside of yourself and create a narrator."
| | | |
| --- | --- | --- |
| | | "Plans" (excerpt)" |
On "Plans," the narrator becomes more absurd as he puffs himself up, telling grander and grander schemes to a chugging, brass-fed beat. "I'm going to put my name on the board room door. I'll be signing checks, won't be mopping the floor….I'm going downtown to settle my old scores; and when I come home, I'll organize my drawers."
| | | |
| --- | --- | --- |
| | | "Up and Rise" (excerpt)" |
Della Penna steps forward on this album as the sweet, plaintive singing foil to the gruffer-voiced Schuman, particularly on the brassy, gospel mix of "Up and Rise," an upbeat picaresque looking at various hard-luck characters enduring the stumbles of life.
The band's lineup has changed a bit over the years, but Schuman has always managed to attract talented musicians whose commonality is their ability to straddle and meld genres. Tuba player Joe Daly has been with the band from the beginning, but has played with bluesman Taj Mahal and jazzmen such as Charlie Hayden and Gil Evans. Trumpeter Pamela Fleming has played with jazz, reggae and klezmer bands, as well as Natalie Merchant and the Indigo Girls. Saxophonist Steve Elson started with the legendary Johnny Otis revue and went on to play on many records and soundtracks as well as doing his own award-winning composing.

On previous albums, Schuman spiked the sepia-toned soundscapes with flashes of modern absurdity, using impish humor and snippets of found recordings, such as a woman talking about being abducted by aliens and a phone message from a repairman named Morris who says, "your unit is ready for pick-up." While the sly humor remains, the recordings are mostly gone on Extra-Deluxe-Supreme except for an unlisted final track that features hundreds of seven-year-olds at a young people's concert where Schuman prompted them to scream reminiscent of old Beatle's concerts. "They wouldn't stop," he recalled. "It was ear-splitting."

Extra-Deluxe-Supreme takes the unlikely band and its multi-national fans to places that are somehow comfortably familiar and still bracingly new. The band has obvious reverence for the soulful, handmade music of the past, but takes tradition off its pedestal and moves it forward with a sense of joy but without winking irony. Strong songwriting, beautiful playing and a joyful synergy makes this an under-the-radar, sui generis album that you want to put in friends' hands. - Marty Lipp

Find the band online: www.hazmatmodine.com

All audio and images ©2016 Barbés and Hazmat Modine
Used by permission.

© 2016 RootsWorld. No reproduction of any part of this page or its associated files is permitted without express written permission.