Iļģi
Īsākās Nakts Dziesmas
Platforma Records (www.platforma.lv)
Jāņi is an ancient pagan summer solstice ritual that is observed into the present day in Latvia. So it's a no-brainer that Latvia's premiere folk-rockers Iļģi would put out an album of songs celebrating the rite. Their last couple of albums (Totari and Ne Uz Vienu Dienu) have been ritual-themed, using Christmas and marriage as jumping-off points for their explorations of ancient Latvian songs. They get a little crunchier on this release than in the past, with grinding fiddles, wailing pipes, more assertive drumming, and thrashier guitars. This is not to say that they've lost the ethereal side that made earlier releases so appealing; they've just upped the ante a bit on many tracks.
Most of the tunes here have a repetitive, circular nature that makes them perfect vehicles for textural layering and thematic development. The band has gone further afield in its experiments with tone color, adding some electronic burbles to the jazzy "Tā sacīja, tā bij' tiesa" and some Celt-rock inspired pipes and fiddles to a couple of tunes. They use a monster ģīga (a cello-like instrument) and throbbing drums on "Saule brida miglājos" a juggernaut of a song about chasing away witches. They won't be back any time soon. The sound that trends through the entire release is that of the kokles, a harplike instrument with a tone similar to the Finnish kantele. It's used to add a crisp ostinato to "Jāņu mātes pagalmā" and to sweeten the final track "Līgojam, līgojam," which greets the sunrise like a sleepy whisper.
Īsākās Nakts Dziesmas translates to Songs of the Shortest Night. The night may be short, but memories of this party will go on long after sunrise. ~ Peggy Latkovich
© 2009 RootsWorld. No reproduction of any part of this page or its associated files is permitted without express written permission.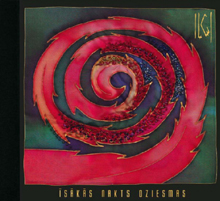 Audio samples and CD available from
Ilgi