I witnessed a hurricane come through Somerville tonight, and I'm not referring to the torrential rains we received earlier. I am referring to the larger than life person and persona that is Sona Jobarteh. Ms. Jobareteh is a ground breaking woman in so many ways. She is one of the very few female kora players in her native Gambia, and comes from a line of West African griots. The kora has always been a male dominated instrument, and one that was inherited from generation to generation. She is also one of the only kora players I have seen in African music who stands while she is playing. The sound it creates is very similar to a traditional western harp being plucked, and when combined with a full electric band, it is both delicate and powerful.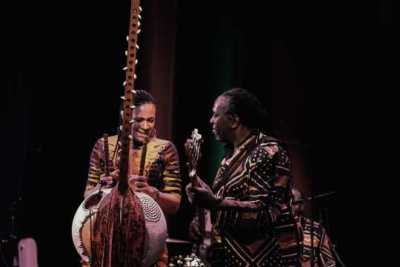 Ms. Jobareth is a master of the instrument. Her musical background comes from the oral tradition of her grandfather Amadu Bansang Jobarteh. She learned the instrument with family; her father Sanjally Jobarteh, her brother Tunde Jegede, and her cousin Toumani Diabate, who she also spent time touring with. Her formal Western training was at the Royal College of Music and the Purcell School in London, where she studied music and composed music for large classical orchestras. She has done work on the soundtracks of several films. She is an excellent singer with a clarity and tone of voice.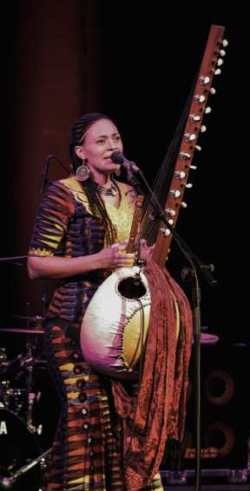 She has a unique mix of African and classical musical traditions floating around her head. As she stands on stage with her long braided hair and African dress, she plays an ancient instrument with an electric band behind her, an excellent ensemble that included a guitarist, an electric bass player, a kit drummer, and a percussionist, along with Jobarteh's young son who played the balafon on one song, to the obvious pride of his mother who gave him a big hug after the piece.
The entire show was a dynamic blur, with interesting jazz-like cross currents and a happy, beaming band. It all flowed seamlessly, making it impossible for the audience to stay seated as the band played. She seemed very pleased with the response, and said several kind things about the city of Boston and the Berklee College faculty who have helped her with her new educational program in Gambia.
Jobarteh's point of interest these days is not just her music, but also the founding of Gambia's very first cultural school, The Gambia Academy Of Music and Culture in Kartong, where young students can learn their music while also taking a series of academic courses so that they may have a broader education. Jobarteh is spending a lot of time talking about the Academy, fundraising, and doing her best to publicize and expand this pioneering institution. This is an historic accomplishment by a talented, multi-tasking Gambian woman in a country where educational opportunities are few and far between.
The members of the band:
Sona Jobarteh - Vocals, Kora, acoustic guitar
Derek Johnson - Semi-acoustic guitar
Andrew McLean - Bass, backing vocals
Westley Joseph - Drums, backing vocals
Mamadou Sarr - Percussion (calabash, djembe, congas), backing vocals
Sidiki Jobarteh - Balafon
Find the artist online.
Find out more about The Gambia Academy.
Photos by Trevor Hoffman ©2018
A performance at the University of Music Franz Liszt in Weimar, Germany