T

his is an album made by ghosts. Their voices, their instruments, the tapping of their feet…field recordings of French-Canadian people from the 1940s and '50s who live on here, lovingly brought back to life by multi-instrumentalist and composer Cédric Dind-Lavoie.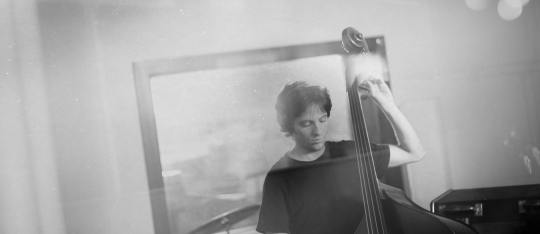 Taking archive material and using it as the framework for new music could be an academic exercise, but that's never the case here. The humanity of the original artists shines through, whether it's the rough lilting of Benoit Benoit, already 77 years old when this was recorded, or the aching violin of Joseph Larade, playing a jig slowly rises and fades like something more imagined than real on "Le Voyage De M. Larade." In Dind-Lavoie's hands, it all becomes the sound of a dream. The jewel is the original: he simply gives it a deceptively simple, sympathetic setting where it can shine.
Two generations of voices inhabit "Je Viens Là-Bas Du Pâturage," a slow piece which Dind-Lavoie decorates with spare, bell-like accompaniment, while a soft mandolin reel emerges from the hanging chords behind the singing on "Complainte Du Coureur Du Bois."
It's an album that lets the artists speak, with Dind-Lavoie amplifying them, offering them the kind of platform that makes sense to modern ears. Their work isn't prettied up, and definitely not lost under his ego. He wants them to be heard. And he certainly seems to have a particular affinity with Joseph Larade. "Dessus La Fougère," their second collaboration here – and collaborations is what all these tracks really are – glows with a delicious soft shimmer of affection.
Maybe the people who first made this music are lost to history. But their ghosts live on right here. It's music, but it's also an act of love and remembrance. – Chris Nickson
More info online:
Cédric Dind-Lavoie
Corne de Brume
Further reading:
Yggdrasil with Vera Kondrateva & Kristian Blak
Xabier Diaz e Adufeiras de Salitre
Stephan Micus