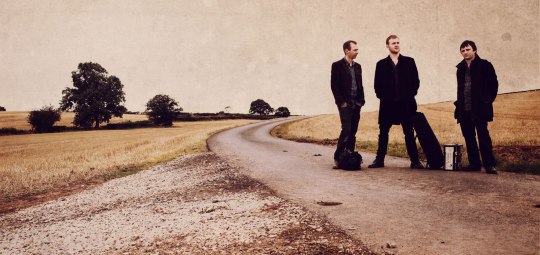 Leveret
Diversions
RootBeat Records
Review by Chris Nickson

Leveret started life a few short years ago carrying the reputation of an English folk supergroup. And with this third album, it's easy to understand why they deserve the tag. No songs, all tunes played on melodeon/button accordion, English concertina, and fiddle. But it towers over most everything being released. That's all the more impressive for being recorded live over the course of just a few days with virtually no rehearsal. The empathy between the three musicians shows just how much they listen and desire to complement each other and the tune by never overplaying.

There's great delicacy in the arrangements – simply let the sorrowful beauty of "The Wounded Huzzar" (from poet John Clare) or the grandeur of "Unanimity/King George The Third's March" flow over you for examples of the way the instruments weave in and out and around each other. You can readily understand that this is a masterclass in how to play well with others. But the members have plenty of experience between them – Andy Cutting was in Blowzabella, and is probably the most in-demand melodeon player around, while fiddler Sam Sweeney cut his teeth with Kerfuffle before moving on to Bellowhead and working with luminaries like Fay Hield and Eliza Carthy, and Rob Harbron has the Royal Shakespeare Company and the Full English on his resume.

Last time out, Leveret recorded a set of originals. This time, though, they've gone back to the tradition, with several from Playford's "Dancing Master, " a book published in the 1600s. That might seem as if they're restricting themselves. In fact, it's anything but that. What they do isn't a reinvention of the tradition. You won't find any loops or beats or cut-ups. It's simply playing, letting the beauty of the tunes carry everything. Better to term it a reinvigoration, one that bears plenty of listening to divulge the full fruits of what's inside. It's much more than a diversion. Even if you don't think you like English folk music, give it a listen. This is music that transcends any easy label. It's great music, period. – Chris Nickson Find the ensemble online

As a little bonus, here's a 2014 live recording made by our friend Michal Shapiro

© 2019 RootsWorld. No reproduction of any part of this page or its associated files is permitted without express written permission.