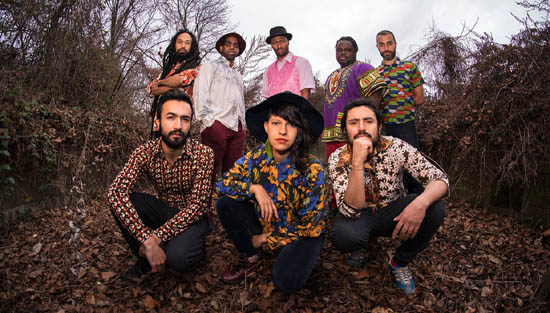 M.A.K.U. SoundSystem
Mezcla
Glitterbeat Records (www.glitterbeat.com)
Review by Alex Brown

There is something special about the anxious, lengthy anticipation of a new record from a band with tremendous promise, especially when the finished product surpasses rather high expectations. This is how special albums are made and M.A.K.U. SoundSystem has produced a bit of magic on their fourth release. The New York City based ensemble, primarily composed of Colombian immigrants, has gained plenty of recognition since they kicked things off six years ago and their debut recording is a doozy.

According to the band they recorded this set of songs two years ago, but after listening back, they felt the songs weren't hot enough. So they began to incorporate the new material into their live shows, letting the pieces shift and change organically, becoming more substantial over time. After a while they recorded a track in Brooklyn with engineer Quinn McCarthy, who perfectly captured the energy of the band's live sound. They were so impressed with the results, they decided to re-record the album with McCarthy at the helm. In the past, the group wrote songs around an individual's idea, but with Mezcla each song was created with input from everyone. These two factors are a big part of the reason why this record is so successful from start to finish.

The title of the album reflects this coming together to create a mix encompassing shared influences and differences, detailing in particular the immigrant experience in the United States. The result is a percussive record with plenty of kick that grabs the listener from the first track. A variety of Afro-Colombian rhythms power this effort, with touches of West Africa alongside funk and jazz channeled through vintage synthesizers, and a mighty brass/woodwind section. Lead vocals are handled by Liliana Conde, who also adds percussion, and Juan Ospina, who plays electric bass. Most of the members contribute backing vocals adding depth to an already full sound.

The opener, "Agua," bursts with horns, synth, guitar, bass and the almighty union of percussion. The song tackles an important issue right away; why are some corporations controlling all of the seeds when they should be available for everyone? During the break, Conde stops singing and speaks to the listener about how some people talk of building walls to separate us, but you can't stop the flow of water from the rivers to the oceans. Her rallying call is inspiring.

"Thank You Thank You" builds a rolling guitar/bass rhythm with great synth accents that propel the track. Conde and the band engage in some powerful call and response with percussion and horns joining in to assist them. The intensity of the album doesn't let up on "Let it Go," a quick track that borrows a rhythm from Cape Verde for several minutes of positive, shaking bliss. The tempo slows a bit for "Positivo," handing the lead vocals to Ospina. The song rolls along until it hits the break and shifts to a horn stabbing afrobeat groove. Songs like this capture the live energy that M.A.K.U. SoundSystem was seeking for this recording. The intensity, with all of the sweat and determination, is something that is hard to produce on a studio album and is felt with force here.

"La Inevitable" pops with some serious cumbia and passionate vocals from Ospina. This infectious song is topped with wailing clarinet and trombone which takes it into another realm. "Happy Hour" is another intense cumbia with some spacy synth and a great duet between Conde and Ospina. "De Barrio" drives home immigrant life with a tender closing waltz.

From the music to Byron Gray's artwork to the compassionate dedication in the liner notes, Mezcla is the complete package. This is a band that has been on the rise for a while and will increase their fan base significantly with this phenomenal release. The production is top-notch and the compositions speak for themselves. The praise for this album will continue for years to come. - Alex Brown

© 2016 RootsWorld. No reproduction of any part of this page or its associated files is permitted without express written permission.