So, on the principle of 'listen first without reading the booklet notes,' what have we here?

The first track begins with muscular percussion and bass drums, a distant reed instrument, and didgeridoo, joined by female lead and backing vocals in a song, in what turns out to be Ladino, with a winding tune. I'm attracted, so onward with the album, expecting it to be in a similar vein.

But the second track is different; a Balkan melody with a high female vocal lead in Macedonian joined by a mixed male and female chorus and an ensemble of sax, keening clarinet and other Balkan wind instruments, with pattering darabukka, bass drum and other percussion, the sound further expanded by keyboards as it progresses. Track three, even more different, has a male lead vocal over limpid Spanish guitar and piano with pulsing double bass in an elegant, popular-Spanish style love song. Further listening reveals a panoply of styles, sounds, languages and vocalists, all impeccably arranged and produced.

So what's going on? Time to read the booklet and do some homework on singer Sarah Aroeste and the story she's telling in this fine album.

Monastir, as it was called until 1912 with the fall of the Ottoman empire and its occupation by the then Kingdom of Serbia, is a city now named Bitola, in the Republic that, after the break-up of Yugoslavia and subsequent long negotiations with Greece, is now named North Macedonia. Not far from the current Greek and Albanian borders, for many centuries it was a meeting place of cultures with a very mixed population, including until World War 2 a substantial Jewish community of Sephardic origin. During the war some emigrated to the Americas, and then in 1943 the Bulgarian army, which in 1941 had taken the city with the German army, deported virtually all of the remaining Jewish population to the Nazi's Treblinka death camp – over 3,000 people. Today the city has no Jewish population.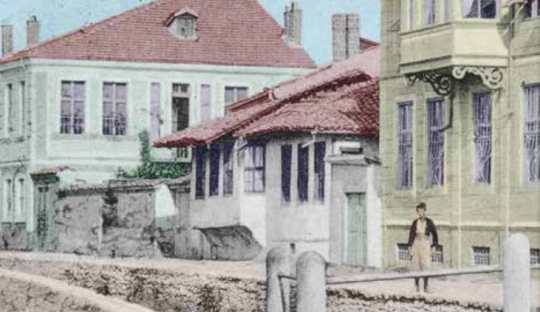 Sarah Aroeste was born in the USA, but her forebears were among the Sephardim, the Spanish Jews expelled from Spain in the 15th century and many of whom settled in the Ottoman empire, including in Monastir, which is where her grandfather was born. Most of the family was taken to Treblinka and murdered, but her grandfather's first cousin Rachel Nahmias escaped by being smuggled in a car boot to Albania where she was taken in by a Muslim family. Aged 103 at the time of the album recording, she's heard reciting a Sephardic finger-game to one of Aroeste's daughters as an intro to a non-Jewish infant class in Bitola singing, in Macedonian, their school anthem "Estreja Mara," which celebrates a 21-year-old Jewish resistance fighter who died fighting the Bulgarian army in 1944. A photo of the pigtailed fighter Estreya Ovadya-Mara, and one of Rachel Nahmias with Aroeste, appear among the many of Aroeste's family, the musicians and more in the album booklet, which also has lyrics, translations and background notes.
Aroeste's aim with the album was to select and arrange ten songs to reflect pre-WW2 Jewish life in Monastir. In the main they're from Macedonian and Sephardic tradition, with some originals by her and others, in Macedonian, Ladino and Hebrew. The over thirty singers and musicians come from Israel, Macedonia, Spain, Germany and the USA (including Gergely Barcza, leader of Hungarian band Besh o droM, on sax and Balkan woodwinds), and Israeli Shai Bachar arranged and produced in conjunction with Aroeste.
| | |
| --- | --- |
| | |
Macedonian singer Sefedin Bajramov takes the vocal on "Edno Vreme Si Bev Ergen," an up-tempo song of a man trying to convert a Jewish girl in Monastir to become 'slavic.' Macedonian Jewish opera singer Helena Susha delivers the Ladino traditional song "En Frente De Mi Te Tengo," and it's Sephardic Israeli singer Yehoram Gaon in the aforementioned love song of track three, "Jo La Keria," which, while sounding Spanish in language (when the title would be "Yo La Quería"), style and instrumentation is actually in Ladino.
| | |
| --- | --- |
| | |
"Espinelo" (video below) opens with a clap of thunder and in very flamenco style morphing to a full Arabic orchestral sound. It's lyrics were collected in Monastir in 1927, from a song traceable back to the 16th-century Spanish romanceiro, set to music by Aroeste and sung with husky passion by Israeli flamenco singer Yehuda Shveiky. The deservedly well-known Macedonian song "Jovano, Jovanke," here translated into Hebrew, is sung by Israelis Odelia Dahan Kehila and Gilan Shahaf; there have been many recordings of the song, in its original language, but this strong, moodily atmospheric rendition ranks high among them.
Aroeste herself appears on only six of the tracks, taking lead vocal on just four including the first two tracks, her own emotional "Mi Monastir," and the closer, Macedonian composer Ajre Demirovski's "Bitola Moj Roden." She says "The project is bigger than me."
Monastir
is our
Music of the Month
selection for November, 2021

Find out how to subscribe and get a copy