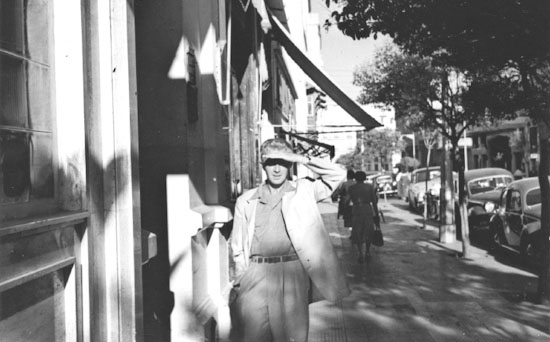 Music Of Morocco From The Library Of Congress
Recorded by Paul Bowles 1959
Dust to Digital (www.dust-digital.com)




Between July and December of 1959, Paul Bowles, known primarily for his novel "The Sheltering Sky," but who has since also become a near mythical figure due to his background not only as a composer, but as something of a shade tree ethnomusicologist, managed to document a trance-inducing volume of field recordings from his adopted home in North Africa. Concerned at the time that traditional, rural Moroccan music was rapidly disappearing due to a combination of local apathy and the advances of modern, urban technology, Bowles made his case, with the encouragement of fellow composer Peggy Glenville-Hicks, to the Library Of Congress upon receiving a Rockefeller Foundation grant.

Of course, Bowles had already been a fan of sound itself for non-academic purposes. Prior to '59, he'd already recorded Morocco's street noises, as well as its music, and it was no doubt this passion that ultimately drove his decisions on the '59 trip. And did he cover some ground. He managed to travel down along the coast from Tangier at the very top of the country all the way to Goulimine in the deepest south. He then headed inland, to Marrakech, out past Ouzzazarte to the dune desert of Zagora. He also managed a trip deep into the Northern Rif and along the Mediterranean to the border with Algeria. Yet this set is certainly not supposed to be seen as the exhaustive work of an ethnomusicologist, so much as it's a collection of what Bowles was able to find, or perhaps what he was personally into. Nor is any of the collection mapped out by region or chronology. And with his original notes on the performers and performances mere sketches, the western listener (and there are likely few buying this set who aren't western) is forced to come at this on its own terms. This is total, haphazard, often daunting immersion, and the music and the collection are no doubt all the better for it. Of course, this set has also been expanded to be well over twice what the original double LP was able to contain; performances are extended, and thanks to the inclusion of a gorgeous, aromatic, 120-page leather-bound booklet, Bowles' writings and observations have been expanded upon by actual musicologists for those who need to know the details (the book also houses essays from Lee Renaldo and ethnomusicologist, author and North African music expert Philip D. Schuyler).
"Chorus & Dance"
"Mellaliya"

And of course, the music itself is as hypnotic as it is immersive. Disc 2's second track, a 13 plus minute performance by a 16 member dance troupe from Tamanar, revels in repetition, highly calibrated footstomp percussion, and occasional snatches of aouada (cane recorder) melody ("Chorus and Dance"). The emphasis on trance is brought out further by Bowles' ability to talk a performer in Segangan, near the Algerian border, into playing his qsbah- a desert-dry toned flute-like instrument heard in much Algerian pre-Rai gasba- all by his lonesome. Elsewhere, there are rabab-playing ballad singers, bendir-accompanied women's choruses recorded southeast of Fez, and hardcore lotar-driven relentlessness recorded in Khenifra. There is also a fantastic solo street performance by a guimbri player, his lute underpinning what is apparently a story of lust, drunkenness, and an ill-fated bicycle ride ("Mellaliya"). There are examples of a Capella Jewish cantor singing, reminders of the fact that the country once had a massive Jewish population, and that an Andalusian influence had long ago seeped into their phrasing. Bowles managed a few Gnawa performances as well, one of them, a solo bass-guimbri groove and the other a chorus and quarqaba-dominated piece.

Even for those of us who have heard a wide variety of music from the region and can easily identify much of what's here as Moroccan, there is something otherworldly about Bowles' recordings, especially housed as they now are in a handsome, rectangular, cloth-wrapped jewelry box, and with Bowles' own hand drawn map of his travels stretched to fit all four CD sleeves. The music here shows the true meaning of "monotony," not in the word's typical pejorative sense, but to describe performances whose repetition is meant to completely overwhelm the listener's intellect. This is music to truly crawl inside of, and it's a true testament to its continued importance that some 57 years after it was recorded, it still retains that power. In fact, arguably, this re-issue truly brings out its sheer force for the very first time. - Bruce Miller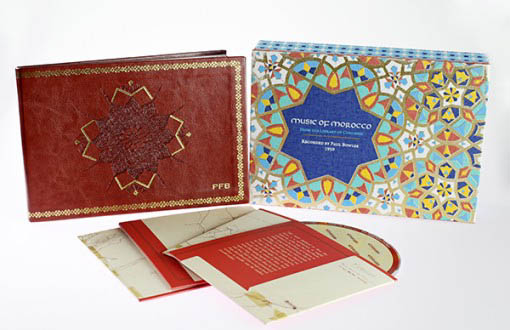 Further adventures: Paul Bowles: The Pool K III
Les Aïssawa of Fès: Rituel de Transe
Sacred Music of the Moroccan Jews (recorded by Paul Bowles)
© 2016 RootsWorld. No reproduction of any part of this page or its associated files is permitted without express written permission.