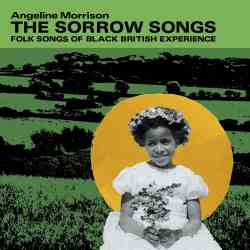 T

he slave trade was an awful thing, buying and selling people and treating them as less than human. But those people were able to carry a few things inside them. One was music, which took on different shapes in the countries where they were carried. Largely, though, slavery didn't exist in Britain (although black Africans have lived here since at least Roman times), so the Isles never had a similar legacy.
Angeline Morrison, herself descended from African slaves, has told some of the stories of black people who've lived here. She brings them alive, makes sure they have a place in history. Sometimes she's stitched a piece together from small fragments, as with "Unknown African Boy d.1830." The song makes him more than the inscription of a drowned child on a gravestone. He becomes solid, real, and the beautifully mournful piece become an elegy, a memorial.
| | | |
| --- | --- | --- |
| | | "Black John" (excerpt) |
Then there's the Welshman "Black John," whose name was John Ystumllyn, a slave who came to be owned on a Welsh estate and proved to be a natural with plants, now acknowledged as Britain's first black horticulturalist. Relatively better-known is Mary Seacole, from Jamaica, who nursed so many soldiers during the Crimean War and is celebrated in "Cinnamon Water."
| | | |
| --- | --- | --- |
| | | "The Hand Of Fanny Johnson" (excerpt) |
Everything is rooted in history and reality, about people who lived and loved and died - songs of the people, for the people, which is perhaps as good a definition of folk music as any. And this is very definitely folk music, lovingly arranged and played (with a spare, sympathetic production by Eliza Carthy). Morrison grew up with folk music, and these are songs made for performers and audiences. The tune of "Black John" sounds as if it's been around for hundreds of years, while the singalong uptempo melody of the "The Hand Of Fanny Johnson" contrasts with its rather gruesome subject, but creates something memorable.
| | | |
| --- | --- | --- |
| | | "Slave No More" (excerpt) |
To finish the album, "Slave No More," the tale of a slave and his master (Evaristo Muchavela and Thomas Johns) buried in a single grave sounds like a hymn or release and ultimately joy – a fine way to end.
Calling things worthy can sometimes be a way to damn with faint praise. In this case, this is an album that's as good as any folk album you're likely to hear, a recording that's long been needed. It's the product of acute intelligence and grounding in the folk tradition, married with loving, intensive research, real passion that gives voice to those people who would otherwise be forgetten. The Sorrow Songs is worthy and eminently worthwhile.