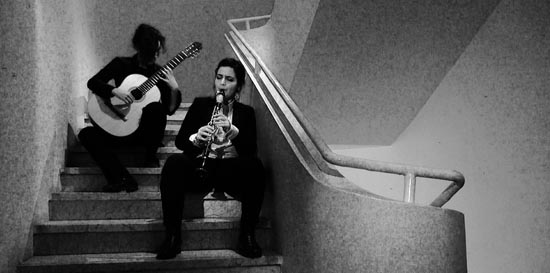 Naqsh Duo:
Golfam Khayam and Mona Matbou Riahi
Narrante
ECM
Review by Erik Keilholtz

Narrante, from two talented Iranian musicians, guitarist Golfam Khayam and clarinetist Mona Matbou Riahi, who also call themselves the Naqsh Duo, combines improvisational ideas from Persian music with structural ideas from contemporary Western art music. While this sort of hybridization often yields dull, even disastrous results, this recording successfully brings the best of both worlds to the table to create something entirely new and engaging.
| | | |
| --- | --- | --- |
| | | "Lacrimae" (excerpt) |
With two instruments there are essentially two modes of working: solo with accompaniment and conversational dialog. A successful duo will generally draw from both, as Khayam and Riahi have done here. While the guitar provides plenty of ostinato figures, chords and rhythmic drive, sometimes acting as a drone, such as on "Narrante," melodic phrases emerge in response to those of the clarinet. A particularly striking example of this is found on "Lacrimae," an expressive lament that uses the timbral palette of the clarinet to great effect.
| | |
| --- | --- |
| | "Testamento" (excerpt) |
The compositions on Narrante achieve a balance of variety and unity. From the languid opening tones of "Testamento" to the driving rhythms, extended techniques (percussive use of the body of the guitar, harmonics, non-toned use of breathing sounds) and dissonances of "Battaglia" to the dramatic finale "Lamento-Furioso," there is a sense that each track is part of a whole. In this way the listener is taken on a sonic journey, albeit one through an intensely personal space and time.
"Battaglia" (excerpt)

"Lamento-Furioso" (excerpt)
Narrante was recorded with considerable reverb, which further enhances the sense of the music occupying its own space, as well as helps to soften the edges between the disparate envelopes of the two instruments (the guitar's tones always begin with an immediate attack, and decay rapidly, while the clarinet can ease into a note from the softest of pianissimo and build, over time and limited only by the player's breath support, into a roaring fortissimo).

The recording quality is of the typical high standard one expects from ECM. This music depends on the listener being able to hear subtleties and nuances that can be crushed by clumsy sound engineering. Fortunately engineer Stefano Amerio did a masterful job of capturing the whole sound of these intstruments and keeping them in perfect balance.

The packaging is typical ECM, mostly semi-arty black and white photographs and minimal text. This one looks particularly of the ECM formula, although the cover painting by Pariyoush Ganji deserves special citation. The album is being released simultaneously in Iran on co-producer Ramin Sadighi's Hermes label.

Both Khayam and Riahi are natives of Tehran, and both continued their musical studies abroad, Khayam in Cincinnati and Geneva, and Riahi in Vienna. With roots in traditional Persian music, both musicians turned towards Western classical music and jazz. It was through improvisation that they felt drawn back to Persian sources. The duo are supporting the album with some appearances in Iran and Europe.

Hopefully Narrante is the first of many albums from the Naqsh Duo, as the material on this CD offers great potential for further exploration. - Erik Keilholtz

Naqsh Duo, live at Festival Les Nuits Du Monde in Geneva, 2014


Further adventures

Las Hermanas Caronni
Mamak Khadem
Rahim Al Haj


© 2016 RootsWorld. No reproduction of any part of this page or its associated files is permitted without express written permission.