Elisabeth Holmertz, Anders Røine, Harald Skullerud, Elisabeth Vatn
Martyred Saints & Sister Bells: Stave Church Songs
Heilo (www.grappa.no)
Anita Skorgan
På gyllen grunn
Kirkelig Kulturverksted (www.kkv.no)
In 1989 Norwegian folk singer Agnes Buen Garnås and jazz musician Jan Garbarek joined forces to rattle the world of Medieval music with their adventurous yet sublime LP Rosenfole. There have been many worthy imitators and a few exceptional continuations of the experiment over the years, but this year we are graced with two examples of how new technology and a new globally-aware generation of musicians and singers continue to explore and expand these ideas, using the ancient roots of Norway.
A diverse group of Norwegian artists, Elisabeth Holmertz (vocals), Anders Røine (langeleik, Jew's harp, Hardanger fiddle), Harald Skullerud (percussion, ceramic bells, music box), Elisabeth Vatn (harmonium, folding organ, Swedish bagpipes, medieval pipes, Meråker clarinet, digital Srutibox for iPhone), have joined together to make an impressive and important contribution to new Norwegian folk and art music. Starting with an ancient manuscript from 1173, the St Thomas Hymn or "Aquas Plenas Amaritudine," these musicians have forged new musical ideas upon the story of Thomas Becket, the Archbishop of Canterbury, murdered by Henry II's men in Canterbury Cathedral on 29 December 1170. Written and improvised around these old texts, these artists have created a 47 minute epic that is both aggressively modern and deeply respectful of the source material.
Martyred Saints & Sister Bells: Stave Church Songs is slow and careful in its buildup, opening with the original verses of "Aquas Plenas Amaritudine," but then shifting towards the artists' strong interpretive skills to give it an unexpected immediacy. The sparse percussion and jews harp, the pristine vocal style and the careful addition of strings, reeds and pipes weave and wander, never settle too tightly on a single phrase, allowing a strange sort of wandering to take place in the listener's mind. There are also shocks of aggressiveness, as befits the story of the murder of the priest Thomas and the reaction of both followers and enemies of the English cleric. There are also moments of pure folk music to pull it back it its origins in the stave churches of Norway. It completes its journey with poet Steinar Opstad (simply and without musical accompaniment) reading his poem "The Bells of St Thomas Air," which was written specifically for this new work, followed by a few seconds of a bird whistle to bring the work to a bucolic and beautiful climax.
It has been over a decade since pop singer and Norwegian Eurovision star Anita Skorgan has made a recording, so it is quite a surprise to find her return to be a work of traditional folk tunes produced with great care and understanding by Erik Hillestad, who also wrote new texts, and recorded Skorgan and her ensemble in a mausoleum in Oslo. Hillestad creates a moody and roomy ambiance for the musicians - Arve Henriksen (trumpet), Rolf Lislevand (lute, baroque guitar and theorbe), Eivind Aarseth (electric guitar) and Helge Norbakken (percussion) - and gives the vocalist room to breathe, and to expand her voice way past any thing the Europopster has done previously. The vast reverberations of the recording space give På gyllen grunn (On Golden Ground) more of the feel Garbarak created on Rosenfole (which, while produced by Manfred Eicher and Garbarek, was originally released on Hillested's KKV label). Skorgan's voice swirls softly on some pieces, and soars through the space on the others, using the natural echoes of the mausoleum beautifully. The ultimate feel is much more otherworldly and modern that the primitive aural attributes of Stave Church Songs but still retains an essential primitivism that gives it a unique, if stately, energy. Both recordings remind us that ancient roots from any culture can be brought to a modern audience with both grace and power, without resorting to popular tricks or falling into clichéd traps. - Cliff Furnald
More audio and CDs available from cdRoots.
© 2011 RootsWorld. No reproduction of any part of this page or its associated files is permitted without express written permission.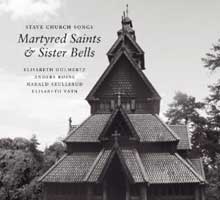 "Aquas Plenas Amaritudine- Variation II"
Stave Church Songs