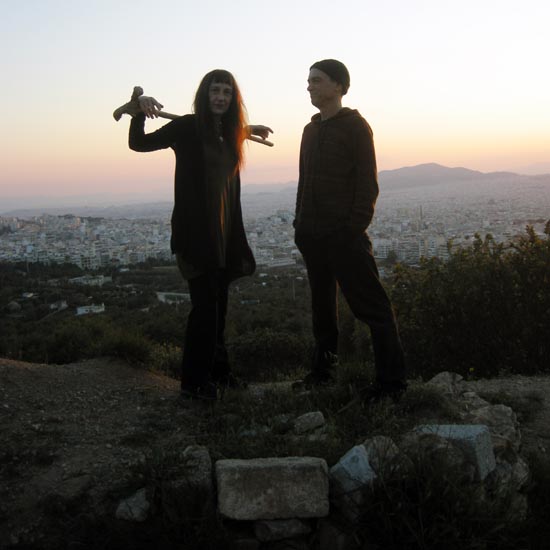 Kristi Stassinopoulou and Stathis Kalyviotis
NYN
(Riverboat Records)
Review by Nondas Kitsos
Gia Mia Stigmi
For a moment
With NYN, Kristi Stassinopoulou and Stathis Kalyviotis have created an absolutely wonderful reprise to their Greekadelia. Here they are, addressing the meltdown of Greece by offering music of incomparable beauty and inventiveness.

No one I know has combined psychedelica and traditional music like this duo. But still, I unwrapped this CD expecting a letdown. After all, almost every other contemporary Greek artist has been drawn in to the maelstrom of the financial crisis that has been ravaging the country since 2011, forcing them to either write some kind of agitprop blandness or to withdraw completely. Artists have been twitter-bullied because of their positions regarding the crisis. Others have stopped getting music out for financial reasons or because, frankly, who cares about art when people are going hungry all around us?

It's very difficult to produce music when as an artist you seem irrelevant and when your audience cannot buy it. According to a recent survey, each record is expected to sell around 1,000 copies.
Erhetai
Winter is coming (excerpt)
Yet, this music comes pouring out of the speakers: "Winter is coming" sings Stassinopoulou and each one of us Greeks knows what she's all about. "The new Middle Ages are coming, but hush: we'll be together." The more the song plays, the better you feel: they are addressing the issue head on but still produce innovative music in a song about togetherness, toughness, determination and love. The bass in the music drives the point in, following a rhetorical question: "Would a sacrifice save us? Or should we just hug and forget it all?" and you know very well which one is their choice. "Let's change the world starting from ourselves" she sings, while people around her are busy carrying sacrificial lambs.
Ouden Oida
I know nothing (excerpt)
The record continues on a high note with "Ouden Oida," a song that lyrically brings together the Mediterranean from side to side, offering the only mantra for difficult times: "the only thing I know is that I know nothing." The start-stop rhythm section combined with the very Eastern vocal will have you whirling like a dervish, seconding Stassinopoulou in asking: "Why?"
"Strati Strati" takes us up the mountains, where the Greek soul has resided since time immemorial. It is there, among the trees, the stones and the cattle, that the bells invite us into the song.
| | | |
| --- | --- | --- |
| | | Mystic rap |
"Mystic rap" in the hands of less capable artists could have been excruciating. But Stassinopoulou and Kalyviotis have created the record's manifesto, the lyrics pulsating between the cosmological and the ontological, "In my body I feel the tide of the water, I am one drop of the big ocean." It is an ode to the universe in us, the universe that is us.
Pare me agera
Take me, wind (excerpt)
"Pare me agera" is a love poem to their beloved Aegean, so traditional in her vocal, so avant garde in the musical score with its pulsating, whirling electronics.
"Allaxokairia" declares the emotional need for a safe haven, a secure home to protect your soul and spirit in difficult times. The vocal is more westernized this time, more like a pop ballad.
"Kyma to kyma" has an Iberian feel, rooted in what sounds like bagpipes.
Ithela na'mouna nero
I wish I were water (excerpt)
"Ithela na'mouna nero," a fluent, minimalist love poem, is perfectly produced by Kalyviotis, with a rhythm section that seems to be carried by a sampled gamelan.
In "NYN" Stassinapoulou sings, "I threw away the past in the garbage bin." It's one of the most revolutionary phrases ever uttered in Greece, a country that sometimes seems exists just to justify its ancient history. In this hymn for the here and now they sing "I'll just lie down in the Ypsilon of the NYN," the υ of the νυν in Greek letters.
Ola pane ki erhondai
All things come and go (excerpt)
"Ola pane ki erhondai" is the last track, its lyrics revisiting the cyclical theme of the record. "Everything comes and goes. Everything goes and comes," the chorus sings. Good times, bad times, it's just a life. Dance, love, and feel nature, Tao and friends. Hug the earth and the sky!
All of the various strands of their previous work have come together in a cohesive, mature, innovative, brilliant recording. Whether you are new to their work or a long time fan, start with NYN. It is their towering achievement. - Nondas Kitsos
© 2016 RootsWorld. No reproduction of any part of this page or its associated files is permitted without express written permission.