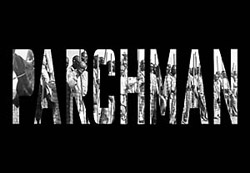 Parchman Farm:
Photographs and Field Recordings: 1947-1959

Dust to Digital (www.dust-digital.com)

Review by Michael Stone

The a cappella songs of the Mississippi Delta's African American prison farms left their mark on 17–year-old Alan Lomax when he first visited Parchman with his father John in the early 1930s, on a Library of Congress mission that among other things sprang Leadbelly and brought "The Midnight Special" to the American vernacular. Alan Lomax returned to record at Parchman in 1947, 1948 and 1959, logging work-song vocal traditions forged under plantation slavery and hammered out under Jim Crow.

This artfully produced book and CD package includes an essay by folklorist Bruce Jackson (longtime Lomax colleague, friend, and author of "Wake Up Dead Man: Afro-American Worksongs from Texas Prisons"), Lomax's black-and-white and color photos (all from 1959) and facsimiles of telling prison documents, artifacts of an era of U.S. social history whose residual animus persists into the Hands-Up-Don't-Shoot-I-Can't-Breathe present.

Listeners may well have come across some of the 44 riveting tracks of this two-CD set: among others, the Tradition label issued 16 songs on vinyl in 1957, and Rounder Records put out the entire 1947–48 set in 1997 as part of its massive Alan Lomax Collection project.

Early in the 20th century Mississippi Governor James Vardaman called Parchman Farm an "efficient slave plantation" intended to enforce black work discipline and respect for white authority: Arbeit macht frei. Likewise, in 1961, white supremacist Governor Ross Barnett ordered the arrest of 300 Freedom Riders, a racially mixed group including James Farmer and Stokley Carmichael, sending them to Parchman to be strip searched and brutalized, only shortly after Lomax's last session there. That Lomax's work would help inspire the folk revival of the 1960s should come as little surprise.

Yet Lomax has also been criticized for the romantic notion that the purest, most "authentic" African American expressive culture was to be found inside the prison wire; black culture as pathology. A cringe-worthy irony informs the easy cooperation between Lomax and the white prison wardens who brought black singers to perform before Lomax's microphones: What choice but to get down with Mr. Charlie?

By contrast, Lomax's recordings of African American congregations are few in number, and it didn't occur to him to document the African American culture of black middle-class communities, historically black colleges and universities, or the Civil Rights movement. To imagine as he did the existence of a "pure" black music wholly separate from and untouched by white domination reflects the ideological myopia and virtuous innocence of a democratic project with slavery branded into its founding charter. Indeed, a powerful, brutal expression of the socioeconomic and political landscape of the South, state penitentiaries such as Parchman, Angola (Louisiana) and Cummins (Arkansas) institutionalized the intimate linkage of black and white lives and the power inequities inscribed therein.

Of course, a parallel racialized mentality informs the history of Native American reservations, the Mexican American prison work camps of Texas, the relocation camps where "enemy aliens" (citizens of Japanese, Italian and German descent) sat out World War II, and the 21st-century national-security slammers of Bagram, Abu Ghraib, Guantanamo and beyond.

The latter black sites served up atrocity audio of a more tortured kind. Lomax's prison oeuvre may be compromised, but the voices he logged affirm human resilience before the latest fashion in FaceTube final solutions. Stop, now, what's that sound, the evidence is all around, lost minds and souls, captive in a shop-'til-you-drop prison-industrial gulag, where heads do roll and global jumpsuit orange is the new red, white and blue. O prisoner, may the Midnight Special shine its ever-loving light on thee.

© 2015 RootsWorld. No reproduction of any part of this page or its associated files is permitted without express written permission.