T

hose of you old enough might recall flipping through record shop CD bins- yes, there were such things as CD bins- in the late 1980s and 90s and seeing the distinctive artwork from Real World records in the frustratingly labeled "world" music section. Started by the World of Music and Arts (WOMAD) festival organizers and Peter Gabriel, Real World's concept was to give musicians from all over the planet access to state of the art studios and production, an offering that likely first turned much of the world onto the likes of Nusrat Fateh Ali-Khan and Remmy Ongala. To detractors, the label elevated music from around the globe while often diluting it of its cultural immediacy in its attempt to polish it off for a Western market. But now that they are far from the only label offering contemporary music from various places outside of the West, what they produce might be seen as simply one way in which to hear our world.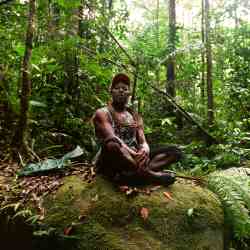 Polobi and the Gwo Ka Masters' Abri Cyclonique is a case in point, which is largely the production work of Irish-Parisian producer Doctor L –aka Liam Farrell. This record doesn't sound anything like actual Gwoka drumming and singing, which is what 69 year old Creole singer and drummer Moise Polobi, from Petit-Bourg, Guadeloupe, became obsessed with as a boy. Eventually, he became a master of toumblak, a prominent Gwoka rhythm; he also joined drum, vocal, and dance troupe Indestwas Ka, who have recorded multiple albums and toured France and Canada (see a video below). Musically, Gwoka demonstrates one more infectious, celebratory example of African musical tradition in the Caribbean.
Abri Cyclonique allows Polobi the song creator and vocalist a chance to apply his booming voice to tracks about his ancestry, fishing for crayfish, and the spirits that watch over the land in a Creole language of his own invention. In other words, this isn't a Gwoka record. It doesn't need to be. Instead, the music here is based on select tracks from a mountain of cassette tapes Polobi had recorded of himself singing and drumming, which a neighboring musician, Klod Kiavué, sifted through.
| | |
| --- | --- |
| | |
Here, Polobi weaves spells of vocal improvisation over Kiavué's ka drum, a kit drummer, an electric guitar, and Doctor L's multi-instrumentation. The result is a penetrating, psychedelic journey through a mythical version of Guadeloupe as Polobi works himself into a trance. Ultimately, it's a homage to the forest and the nature it houses. "Léono" skates along on stuttering, subtle rainforest funk, punctuated by jittery guitar and hand drums. Even freakier is "Bouladjel," a nearly-disturbing track that sounds like a recording of a spirit possession, with field recordings of frogs, disembodied voices, and free-meter synth squelches, all underpinned by a chorus of grunting as Polobi asks the eternal for help.
| | | |
| --- | --- | --- |
| | | |
As the album moves, it seems to pull the listener deeper into its murk, climaxing with "Levé Yo Mano," a plea for bringing young people back to their origins, awash in distorted drum patterns and eerie synth echoes. It's likely that nothing else like this album has ever emerged form Guadeloupe until now. It's as if Miles Davis' mid-seventies band got lost and ended up soundtracking an Amazonian shaman in the midst of a yage ceremony.
It's clear that Doctor L's imprint runs large over this album, as the editing and sonic canvas here appear to be largely his creation. But it's Polobi's improvised root performances that give Abri Cyclonique its raison d'etre.
Further reading:
Gwoka: music, song, dance and cultural practice (UNESCO)
The 7 Rhythms of Gwo-Ka
Indestwas Ka (YouTube chanel)