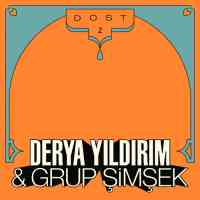 The video for "Kar Yağar" shows baglama saz master, vocalist and lyricist Derya Yıldırım & Grup Şimşek, a trio of Roland synth, bass, and drums playing outdoors as part of Normandy's annual Pete the Monkey festival. The video captures the quartet in a semi-forested art space/green house lost in their grooves, which owe more than a little to classic Turkish Anadolu psych. It's nearly impossible to hear them and not think of 3 Hurel or Selda Bağcan's 1976 self-titled LP. Part of the reason for the comparison lies in the Yildirim's baglama playing, which, like the above mentioned artists, connects folk and pop effortlessly. There's also her rhythm section's loping, analogue funk grooves that are buoyant with 1970's warmth. Both bassist/guitarist Antonin Voyant and drummer Greta Eacott mesh effortlessly, allowing Graham Mushnik's synth to weave melodies that complement Yildirim's voice and saz.

Yildirim, born in Hamburg, Germany to a family with roots in Turkey, grew up playing multiple instruments. Bilingual, she explains her decision to sing in Turkish because it's her "emotional language." Dost 2, the band's third release, weaves constantly unspooling melodies over grooves that walk a thin line between genres.

A cover of folk poet Aşık Mahzuni Şerif's "Darıldım Darıldım," with its not-quite-reggae bounce, saz & synth twin melody and harmony chorus comes directly from the group's love of classic Anatolian players such as Cem Karaca. "Odam Kireç Tutmuyor," places Yidirim's spell-casting voice over Voyant's flure and sparse bass and organ that embody a space between trance and ballad.

"Mola" serves as a solo instrumental feature for Yildirim's unhurried, hypnotic baglama saz. It also makes a meditative prelude to the bass and wah-wah infused funk of "Bal," where the saz scales over the groove's top and uncoils under Yildirim's slithering vocal.

The record's final, and perhaps, most exquisite track is "Ayşe Halam Arıyor" a solo a Capella performance sung over studio loudspeaker by Derya's aunt Ayşe Yıldırım, sounding uncannily like a call to prayer randomly captured in the field. It ends this magnificent record on a haunting note.