It's likely that this collection's existence makes little sense to anyone unfamiliar with Harry Smith or the original 6-LP Anthology of American Folk Music he curated, originally released by Folkways in 1952. Yet, if there's a soul out there somewhere who's just now tapping into this music via this comp, it will then get a chance to stand on its own as a collection of music recorded commercially and released on 78 RPM shellac discs in the US circa 1927-30. They'll hopefully note that it isn't representative of what was popular at the time. Hell, it's not even representative of whatever 'American' is, as it leaves out not only music from South America, but also sounds from parts of North America that aren't in the US. And even within the US, it manages to pass over commercial records made by Greek fiddlers, Jewish Klezmer clarinetists, Syrian Oud masters, and many other groups of people who immigrated to US and recorded commercially at the time. And there's not a note of music by any of the indigenous tribes that roamed the continent before anyone else here's ancestors did.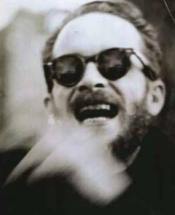 Harry Smith was a collector - of Easter egg patterns, textiles, paper airplanes, and at one point, records. He also saw a pattern to the sides he decided to initially compile for the anthology. He mixed alchemy with academia to make choices, and as awesome as the original collection is, there are some clunkers, which means those clunkers' equally weak B sides appear here. So, both the original anthology, and this mirror collection are filtered by the commercial nature that allowed them to exist on record in the first place, and then again by a curator driven by the power of particular patterns as much as by the records' quality. Arguably then, the idea of a collection of B sides undoes Smith's vision. All that said, it's a wonder the music is as good as it is.
Lance Ledbetter, who co-owns Dust to Digital, explains in the booklet- which makes up such a large part of this package's listening experience- that the idea for this collection sprang from conversations he had with record collector Robert Nobley, who ran a CD-R label that made compilations to order. In 2004, Nobley sent Ledbetter a two-volume, incomplete set of the Smith B-sides. Later, the recently late musician, musicologist, photographer, and New Lost City Rambler John Cohen contacted Ledbetter with a complete collection of the sides and wondered if he'd be interesting in publishing them. Long story short, seven years later, we've got them here, even if listening to these sides in one order or another has been a mouse click away for some time now.
| | | |
| --- | --- | --- |
| | | Edmonds and Nestor "Black Eyed Suzy" |
Anyone listening to B-Sides might wonder why Smith passed over tracks as gorgeous as Uncle Bunt Stephens' droning solo fiddle showcase "Louisburg Blues," Hoyt Ming's "Old Red," or Norman Edmonds and JP Nestor's frantic take on the fiddle tune "Black Eyed Suzy" just because they appeared on side B. One might also wonder, when every side recorded by hardcore gospel duo William and Versey Smith is so incredible, how he made the curator's decision he did. Whatever the case, what's here is a not-at-all random collection of mostly stellar examples of fiddlers, banjo-driven balladeers, singing preachers, Cajun accordionists, blues and pre-blues guitarists, and other performers whose music exists between genres. That it isn't divided by category means it also avoids designations along racial lines too.
| | | |
| --- | --- | --- |
| | | Nelstone's Hawaiians "Village School" |
The booklet, always such an amazing part of the label's work on any given box set, is leather bound, and includes notes from Ledbetter and parts of an interview Cohen did with Smith in the late 1960s. It also gives the same type of often hilarious track-by-track information with subject summaries that read like newspaper headlines (a particular favorite is Nelstone's Hawaiians' "Village School," being explained as "Children Lose Their Mother Under Mysterious Circumstances; Fail to Complete Homework"). Here, everyone from award-winning folk artist Dom Flemons, banjo builder Pete Ross, and folklorist Sarah Bryan gets a shot at the track list information too.
| | | |
| --- | --- | --- |
| | | Sister Mary Nelson "he Royal Telephone" |
Putting this out in 2020 didn't come without issues. As awful as the year's been, it has also served as the closest the United States has come to finally being forced into a conversation about the country's racist history's influence on our still-racist present. That said, Dust to Digital has seen fit to cut 3 tracks-due to their overt racist nature- that would have otherwise appeared here for the collection to completely house all of the B-sides to Smith's Anthology picks. In this way, their exclusion seems louder than their inclusion might have been. However, this isn't scholarship, nor does it need to stand as unbiased in its selection. These tracks' absence is also part of long-needed discussion around the racist history of so much of the folk music many of us love and play. (For example, there's a not-particularly-humorous irony in the fact that old time fiddle music, typically sourced from recordings of- or time spent with- conservative, rural-dwelling racist white people now resides in the hands of largely college-educated, often urban-dwelling white liberals.) This racism filters through every fabric of the culture of the United States, and can make dealing with this music uncomfortable on many levels.
| | | |
| --- | --- | --- |
| | | Joseph Falcon "Aimer et Perdre" |
All of this makes the section of the booklet that analyzes the song lyrics using evolutionary biology tools problematic. While someone's tongue is likely firmly in cheek here, there's no real way such filtered representation could lead to any real indication of an anthropological survey of the words folks sung (not that culture could even be equated with biology). Plus, the division of "highland" and "lowland" songs appears to smack of classist, racist assumptions the collection attempts to otherwise address.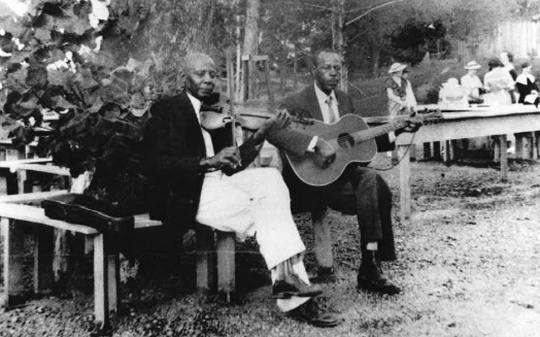 Andrew and Jim Baxter
| | | |
| --- | --- | --- |
| | | Andrew & Jim Baxter "Forty Drops" |
All of the above observations, however critical, also point to the importance of this music's place in our lives, not to mention the joy it still brings. The original anthology influenced a generation of musicians in a truly profound way. It served to show another way of hearing the music, interpreted at a time when commercial 78s captured snapshots of folk music just prior to the rapid changes music started going through thanks to the intentions of the labels that recorded these artists in the first place. The anthology's 1997 CD reissue only served to expand its impact as its late 20th century listeners included punks, experimental sound sculptures, laptop-driven beat makers, as well as folks thinking about picking up the banjo. What this collection means for the early 20th century, released during a pandemic, just as the country that birthed it grapples with the nastiness of its own divisions along ideological lines so deep that half the country no longer subscribes to fact while the other is more loudly calling for an end to systemic racism, has yet to be seen. Make no mistake though, like wellness practices and homegrown vegetables, it's crucial stuff. - Bruce Miller