Recently Paquito D'Rivera and Chucho Valdez appeared together at Town Hall in New York City to perform the quintessential Afro-Cuban concert. A few months later John McLaughlin, the English jazz guitarist who worked with Miles Davis before launching his solo career convened Shakti with Zakir Hussain in Port Chester New York, where jazz and Indian Music are combined so effectively. Vijay Iyer has recently joined forces with Arooj Aftab on a new album combining jazz and qawwali music with Urdu lyricism.
Jazz with all its joyous complexity has the alchemy needed to magically transform Afro-Cuban music into an elixir of the two forms. This tradition started in the 1940s with Chano Pozo and Dizzy Gillespie - think "Manteca" and "Tin Tin Deo". Stan Getz, one of the greatest tenor sax players was influenced by Brazilian music as composed by João Gilberto and Antônio Carlos Jobim and popularized into the bossa nova sound with the 1964 hit single "The Girl from Ipanema".
These traditions in jazz, the merging of cultures, has everything to do with rhythm and timing. One can take a master class in this idiom by listening to Bebo Valdez and Javier Colina live at the Village Vanguard to understand the concept of space in the Afro-Cuban jazz tradition.
What elevates Omar Sosa's playing is that his improvisational muse is grounded by the clave and montuno of Afro-Cuban music. Sosa may go farther afield but he always comes back to the invisible scaffolding of Cuban music. These parameters are joyous constraints that make him so interesting to listen to.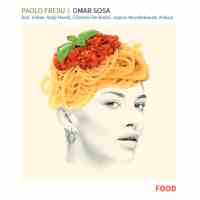 Omar Sosa and Paolo Fresu have a three album trilogy, Eros and Alma, and now Food takes on another layer of their cross cultural musical exploration. Their first gig in 2006 became the live recording Promise including Sosa's quartet, Fresu, and Cuban flutist Leandro Saint-Hill. Eros and Alma both feature original compositions from both Sosa and Fresu as well as a take on the Massive Attack tune "Teardrop" and the Paul Simon classic "Under African Skies." As a side note Sosa and Fresu are not the only jazz musicians lured by "Teardrop," which has also been covered by the ECM recording artists, pianist Vijay Iyer, the Israeli born trumpeter Avishai Cohen and the Chilean sax player Melissa Aldana.
Fresu is an Italian trumpeter from Sardinia Italy, who is often compared to the moody atmospheres Miles Davis and Chet Baker conjured. He has toured with Carla Bley, Gerry Mulligan, Dave Holland, John Zorn and Ralph Towner among others. Chet Baker, who lived in Italy during the 50s had an impact on Fresu. Folklore includes the story of the first time Baker played with Romano Mussolini, the pianist and son of the dictator. Trying to comfort him, he said: "Sure is a drag about your old man." While this can't be confirmed, there is no doubt after seeing the documentary Let's Get Lost that this sounds like something the Prince of Cool might have said.
"Chet was my first inspiration," Fresu said. "He was so poetic. A lot of Americans play really well now. They have wonderful techniques and they know the culture, but they lack poetry." Fresu's playing is full of poetry, emotion and an engrossing timbre, as if a story full of color and sound is being told slowly.
Sosa brings the Cuban piano tradition to his work with a distinctive chamber-music mentality. He is a multiple Grammy nominee for his explorations of the Afro-Latin Diaspora. The Cuban-born, Barcelona-based pianist blends global sounds with electronic elements. For the purist, those craving acoustic piano, you will wish the electronic elements were significantly reduced as it leads to a bit of cherry picking on their albums. Some songs are a splash of nirvana where all the elements come together perfectly, uplifting the listener. Some songs waft into a new age, unwelcome wholesome sound.
The Brazilian cellist Jaques Morelenbaum, brings a moral weight to the album and his playing is absolutely beautiful on his work with Sosa and Fresu. He is a long established Brazilian composer and musician who has performed alongside such luminaries as Antonio Carlos Jobim, Tom Jobim, Caetano Veloso, Gilberto Gil and Gal Costa establishing himself among these elite musicians.
Other welcome additions include Andy Narell on steel canister, rapper Kokayi from Washington DC, the Italian singer Cristiano de André and the South African Indwe are indispensable to the album.
The songs on the album are references to food in a broad sense. "Â çìmma," composed by Fabrizio De André, is a reference to a typical Genovese dish, consisting of rolled veal stuffed with vegetables, cheese and giblets. The dish is complicated and takes all day to prepare which consigns it to a meal for special occasions. This tune starts with the preparation of this dish "You'll wake up on the indigo of the morning when the light has one foot on the land and the other in the sea." De André is an Italian singer songwriter who reached national status over a 40 year career singing protest songs. Sosa gives this an absolutely beautiful rendering with De Andre's son Cristiano providing the nostalgic vocals as a tribute to his father while Fresu's trumpet glides alongside.
Andy Narell's steel pan adds a thicket of drumming to "New Love In Love" which emerges into a clearing of piano and trumpet. Narell has performed with many Latin jazz greats such as Paquito D'Rivera, Chucho Valdes, Bebo Valdes, Irakere and Tito Puente.
"Father Yambu" starts with a prayer that might be said before a meal. You'll hear clinking glasses, wine pouring and other related sounds throughout the album which further grounds the theme. The percussion adds a deep, layered drumming, that 'Nana Vasconcelos sound' as if some of the music was played underwater.
"Greens" incorporates Kokayi's vocals on a lament to our destruction of nature:
These
Last suppers
One more cupper
Feasting in tongues in the upper room
Some live where the hopes shattered
It's grains and beans
Foul to soothe
To hold the bones steady to toil the land
Ready
The earth births the nourishment first
We scorched the planet and murder the dirt
Yank out the trees spoil the well
To have more fossil fuels and jewels and bells

As hip hop and rap becomes a more common feature in modern jazz, (witness Kassa Overall and Kendrick Lamar for example), it can serve to elevate the reach of music. The father of this influence is certainly Gil Scott Heron and the many jazz musicians before him who utilized vocals in their music to protest, such as Fables of Faubus, and the stain on Columbia Records for banning the lyrics.
Sosa and Fresu have created a beautiful album that channels the joy of food, communal table life and also the implications of climate change in an emotional and intimate album. And then there is the sheer pleasure of listening to masters of the cello, piano and trumpet playing so perfectly together.