T

here is always a sense of satisfaction when two veterans from entirely different musical scenes join forces to create something genuinely new and different, the feeling that old dogs still have some new tricks left. Poul Lendal is certainly a respected old dog of Danish folk music; after more than four decades as a performer and teacher he's pretty much a godfather of it all. David Mondrup's time with electronic music isn't quite as long, but he's established a reputation as one of Denmark's great innovators and teachers of the subject.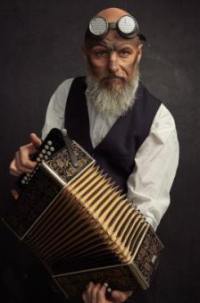 As Vaev, the pair have come up with something that steps outside the sometimes-jaded boundaries of folktronica. They've used their skills to make dance music – not the wave your hands in the air type, but the very human rhythmic pulse and clatter that surrounds the melody of a folk dance. Essentially, they've put together a beautifully intimate, joyous, sweaty evening of moving around in a small, hot hall. Instead of the macro, they've focused on the micro in this set of traditional material, alongside originals that could easily have been unearthed from history. The listener only needs supply ears and feet.
| | | |
| --- | --- | --- |
| | | "Klaphopsa" |
The album gets off to a cracking start with the traditional "Klaphopsa." It's a ridiculously simple earworm of a melody that's guaranteed to haunt for days. But it's set to a spectacular arrangement that becomes a shop window for the different instruments the duo bring to the project: listen closely and you'll pick out violin, harmonium, melodica, mouth harp, while a laptop providing the rhythm and the 21st interjections of bass. Like a dance, the music rises to crescendos and ebbs again, but it never loses its forward thrust, overdubbed to become a full, rousing band by the end. It's stirring, but more than that, it raises a smile. This is a folk reinvention of a decidedly different kind.
| | | |
| --- | --- | --- |
| | | "Springdans" (excerpt) |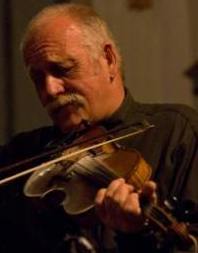 Variations on the rustic village dance theme recur throughout the disc. "Springdans" slowly emerges from a soft haze of violin and effect, growing almost like a flower, and "Svøpsker" mixes keyboards and fiddle for that rough and ready feel. You can practically feel the floor bouncing up and down under your feet – and the addition of Mia Guldhammer's vocal back in the mix makes her singing sound like an unearthed archive recording, which enhances the feel – offering the future as the past.

| | | |
| --- | --- | --- |
| | | "Svøpsker" (excerpt) |
Guldhammer is back on the next track, too, singing rhythmic lines on "Lejerdrengen/Englesholm" that explode over a four to the floor beat which pounds and pushes as strongly as anything you'll find in house music.
| | | |
| --- | --- | --- |
| | | "Lejerdrengen/Englesholm" (excerpt) |
Not everything is quite so full-on frantic. There's a chance to catch your breath as "På Snei" offers dark, swirling electronic textures, for instance, and some other tracks slow things down.
| | | |
| --- | --- | --- |
| | | "På Snei" (excerpt) |
But the real innovation is what Vaev have done to the folk dance, the way they've made tradition and electronica work together at a very human level, and how intimate and close they make the music seem. It's a beautifully realised vision, strand of the future with its ideal in a small village hall.