Valfart is the Danish word for pilgrimage, and the ensemble Valfart was begun as a theatre project for a pilgrimage on the Danish island of Mors. They draw from traditional Danish music, but they also draw from Balkan, Middle Eastern, and American old-time music. Far too often bands describe themselves with a mishmash of hyphenations -- Nordic-Balkan-Klezmer-Punk-Bluegrass-Cumbia-Polka -- and those bands often sound mishmashy. Valfart takes a better path by exploring the music of each tradition for what it is, not as a conglomeration, but as individual expressions.
| | | |
| --- | --- | --- |
| | | "Ryper På Fjellet" |
I was pleasantly surprised at where my musical mind went when making associations with Valfart's tunes. The title track moved me toward Maurice Ravel's "Boléro." "Ryper På Fjellet" with the use of jaw harp made to think of US Civil War era campfire music. And the Renaissance ideas embedded in "Flickorne Svenson" conjured up Sir John Alot Of Merrie Englandes Musyk Thyng And Ye Grene Knyghte, the first John Renbourn recording I heard.
And while Valfart took me in many directions, it was not an English early music / American cow camp / French impressionist falderal. The record holds together as a cohesive Nordic expression, serving as both a self-contained listening experience and as a springboard to musical lands. And that's exactly what a pilgrimage is supposed to do.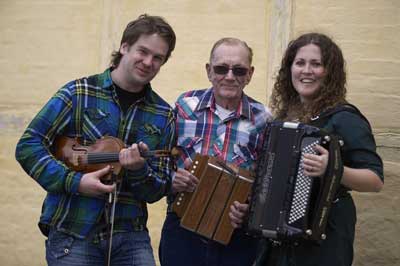 | | | |
| --- | --- | --- |
| | | "Polka" |
Valfart's accordionist is Mette Kathrine Jensen, who is also half of the duo Jensen & Bugge. They have released a pair of Live in Denmark recordings of Danish folk tunes performed with the Danish-American accordionist from Iowa, Dwight Lamb. Lamb brings a number of Danish tunes remembered from his American childhood played by Danish friends and relatives. Jensen and fiddler Kristian Bugge have been steeped in the traditional music of Denmark and beyond, and have performed as a duo and individually with ensembles like Zenobia, Habadekuk, and Baltic Crossing.
| | | |
| --- | --- | --- |
| | | "Mette's Opposite Polka" |
As a trio, with doubled accordions, they put out an impressive set of deeply rooted Danish traditional tunes. There are plenty of polkas and waltzes and schottisches here (including the humorous "Mor, jeg skal tisse"). Many are simply named: "Polka," "New Schottis," "Made Up Tune." All are enjoyable. My favorites here are those like "Mette's Opposite Polka" which are performed with a full band include Anders Ringgaard on trombone and rhythm guitarist par excellence Morten Alfred Høirup.
So shun the Nordic-Balkan-Klezmer-Punk-Bluegrass-Cumbia-Polka, and get on the dual bandwagons with the deeply-rooted sounds of Valfart and Jensen/Bugge/Lamb. - Greg Harness
Both CDs are available from cdRoots
Dwight Lamb, Jensen & Bugge
Valfart
Further Reading:
Hav Og Land by Jensen & Bugge
Vintermørkets Hal by Zenobia
Kaffepunch by Habadekuk