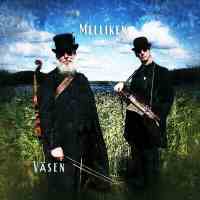 38

years together and still going strong. That's not a bad history, although inevitably it involves a few changes. Swedish band Väsen is making their second recorded appearance as a duo on Milliken, with Olov Johansson on the nyckelharpa and Mikael Marin playing an assortment of bowed instruments. The sound is unmistakable; rich and complex and woody, the notes flowing free, so carefully interwoven that it's hard to tell where one player ends and the other takes over. That long-honed mix of precision and freedom is on display from the start with the Marin original, "Ridmarsch Från Ön."

The album's title comes from the nickname given to fiddler Per Persson Menlös, and much of the music relates to the Dalälven river, where he lived On his delicate composition "Röda Livstycket," the two musicians bring the energy and swirl of a string quartet and transform a simple piece of folk music into something glorious.
| | | |
| --- | --- | --- |
| | " | "Strutzvals" (excerpt) |
The pair have meticulously arranged each piece here to create a wonderful fullness, and the playing is nothing short of spectacular, completely up to their usual standard on something like the traditional "Strutzvals," which glides along in a silky dance.
| | | |
| --- | --- | --- |
| | " | "Korsälven" (excerpt) |
Their original material nestles perfectly alongside the past (witness Johansson's "Korsälven"), and the musicians know how to complement each other and let the music shine. If you wondered whether they could sustain life as a duo, this is the very emphatic answer.
All photos and audio courtesy of the artists.