It was their album Vinta Plays Olitunes, with compositions by the late Oliver Schroer, that attracted me to the ongoing series of digital releases by Toronto quartet Vinta. These encompass their versions of material from the repertoires of now-passed musicians. Without exception they are beautifully arranged and played on fiddles, clarinets, accordion, double bass, and also piano, harmonica or mandolin.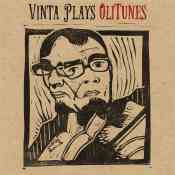 I knew and liked Schroer. I first met him when we were both part of a "collaboratory" organized by then festival director Dugg Simpson, that took place before Vancouver Folk Music Festival. Later, in Euskadi for the recording of the debut he was producing by now-famous Inuk throat-singer Tanya Tagaq, a vivid memory is watching him create a tune for Basque trikitixa master Joseba Tapia. The pair of them were sitting outside the old stone country manor house that was the studio, in beautiful weather, he fiddling and Tapia learning phrase by phrase.
In his too brief time he composed around a thousand pieces of music, recorded ten albums including one of solos made in churches along the Camino De Santiago as he walked it, played on or produced many more, and a lot of his tunes have entered the repertoires of others. Vinta's Emilyn Stam accompanied him on piano in the tunes he wrote and recorded for each of the 59 students that he taught in his last year, and she also played in his final concert a month before his untimely death of leukaemia in 2008. On Vinta Plays Olitunes the quartet plays eight tunes that he made but never got around to releasing before he died.
| | |
| --- | --- |
| | Vinta Plays Olitunes |
There's an attractive lift and bounce to all of Vinta's playing that brings out a tune's essence. The first one, "Happy Goodbyes," resonantly-named, given when he made it, could almost be a Shetland tune, and indeed,while his compositions range widely in style, there's quite a Scottish melodic feel to this particular bunch, even though some of their titles suggest American (including "Driftwood Canyon Waltz" which gets a Cajun-style accordion reprise at the end of the set). If Schroer had been in Scotland making these back in the days of Niel Gow he'd probably be considered a legendary Scottish tunesmith. He certainly deserves to be revered as a legendary Canadian tunesmith. His melodies are full of interesting twists, but on the surface seem simple, like they've always been around. They never get clever for the sake of it, nor are they see-how-fast-I-can-play fodder. They are catchy and memorable, and show his deep understanding of traditional music.
Moving on to the other releases in the Vinta Plays... series, the four tracks from the repertoire of Wallonian Belgian accordionist Elizabeth Melchior (1926-1999) - mazurka, schottische, polka and waltz - sound distinctively, well, Wallonian. While the simple repetitiveness of the rondeaux, mazurka, polka and waltz of Gironde fiddler Marcel Lagardère on the album of his tunes gives them something of the feel of England's Playford collection.
Simone Fauret, from the Auvergne, didn't play fiddle tunes, she sang them. To be picked up and performed by a singer a tune has to have a strong, memorable melody. Vinta choose five from Fauret's repertoire: a mazurka, two bourrées, a polka and a sprightly schottische, and indeed as they play their own arrangements developed from what were single-line melodies they themselves at one point burst into vocals.
| | |
| --- | --- |
| | Vinta Plays Peyrat |
Fiddler Léon Peyrat (1904-1988) was also from central France, in his case the Corrèze region. VInta fiddler/pianist Emilyn Stam found his repertoire, much of it bourrées, particularly attractive, so learned all the material that had been collected from him, and the group picked seven tunes to make the five tracks of Vinta Plays Peyrat. Powered by parallel harmonies and drones, their renditions of the bourrées have a compulsive, insistent drive, while "Valse de Saint Salvadour" turns and swirls, evoking an image of a village square full of waltzing couples singing along, as do Vinta in the spirit of this track.
Back westward across the Atlantic but still French-language (if tunes can be said to have a language), for material from Québécois fiddler Louis "Pitou" Boudreault (1905-1988) learnt by the band from fiddler friends and in sessions and then from cross-referencing to recordings and videos. They make no claim to capturing all the details of Pitou's playing, but aim to capture the spirit, and for sure it sounds exuberantly Québécois, foot-percussion and all, while drawing on the full range of Vinta's instrumentation and skills, including fine bouncy piano from Stam. The five-track set ends with a lyrical, stately rendering of "La Pêcheuse."
| | |
| --- | --- |
| | Vinta Plays Dickerson |
Heading south, the set of tunes from Kentucky fiddler Emma Lee Dickerson (1923-2001) are very much in Kentucky mountain fiddle-shuffling style, and sound as natural, fluent and right in their identity.
Onward and eastward to the Nordics. From the 18th-century notebook of Rasmus Storm, of the Danish island of Funen, come six tunes that, in the absence of being able to hear the actual players from back then, Vinta interpret in what they describe as "the modern Balfolk tradition" which gives them an elegant, sometimes stately, slightly baroque feel.
| | |
| --- | --- |
| | Vinta Plays J.E. Taklax |
The Finnish polskas of Johann Erik Taklax (1856-1948) have become staples among today's generation of very skillful Finnish fiddlers. Finnish polskas aren't like the lurching polskas of Sweden's Dalarna, they're much more regular. Taklax's have unusual, distinctive forms that have a sense of internal loops. Vinta, on two fiddles, clarinet and double bass, takes its own approach that doesn't emerge sounding like the Finnish pelimanni bands; Robert Alan Mackie's double bass, plucked or bowed, takes swinging, syncopated lines, underneath or matching, the modulating weave of Emilyn Stam and Nathan Smith's fiddles and John David Williams's clarinet.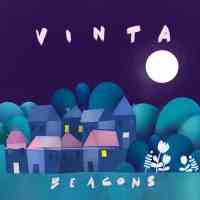 Vinta's own tunes, performed on their full-length Beacons album, reflect the influence of all these past musicians, and their playing and tunes combine European feel with North American joyful spring. As they say, "The compositions on this album are inspired by the folk music and social dancing traditions of western Europe. Two shining lights have led us to the music we create together: recordings of bygone musicians whose repertoires we revere, and our friends whose spirits keep these traditions alive."
| | |
| --- | --- |
| | Vinta - Beacons |
The group is astonishingly prolific in this ongoing series of releases - almost an album a month since Dec 2021. Except for for the full-length Beacons they are shorter, digital-only EPS. Nevertheless, it's a marvel how they manage to learn, arrange and perform to such a uniformly high standard at such a rate. There's probably another one about to hatch as I write this.
Find out more about the band online.
All of the Vinta Plays... recordings are streamable and buyable as downloads. Beacons is available as a CD as well.
Find them all on Vinta's Bandcamp site, which also has a monthly subscription scheme to get them as they come out.