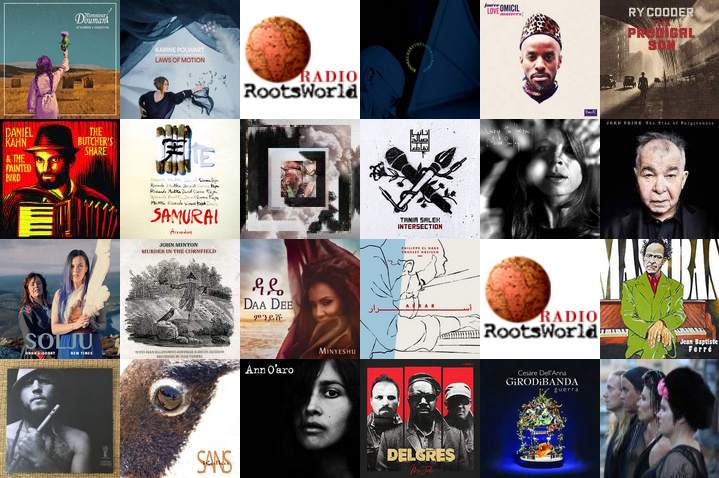 RootsWorld Radio #276 & #277 include songs chosen by Cliff Furnald, David Cox, George De Stefano, Tom Orr, Tyran Grillo, Alex Brown and Michael Stone. Links to articles and reviews below.
Karine Polwart
"Laws of Motion"
From the album Laws of Motion (Hudson Records)
Read more




Ry Cooder
"Gentrification"
The Prodigal Son


Cesare Dell'Anna and GirodiBanda
"Opapo"
Guerra
11/8 Records
Read more




Suistamon Sähkö
"Humani Hei"
Etkot, ресторан ja etnoteknoa
Kihtinäjärvi
Read more




Minyeshu
"Hailo Gaja"
Daa Dee
ARC Music
Read more




Philippe El Hage and Youssef Hbeisch
"Asrar"
Asrar (Secrets)
Artist release
Read more




Jean-Baptiste Ferré
"Samba Bacanale"
Mambas
In Ouïe
Read more




Rinde Eckert
"Bar Fight"
The Natural World
National Sawdust Tracks / Songtone Productions
Read more




Monsieur Doumani
"Hey You"
Angathin
Artist release
Read more




Doctor Nativo
"Guatemaya"
Guatemaya
Stonetree
Read more




SANS
"The Walking Song"
Kulku
Cloud Valley
Read more




Ann O'aro
"Lo Shien"
Ann O'aro
Cobalt / Buda Musique
Read more




Accordion Samurai
"Gernika"
Te
Visage
Read more




Jowee Omicil
"Rara Demare"
Love Matters
Impulse!
Read more




Daniel Kahn & Painted Bird
"Freedom is a Verb"
The Butcher's Share
Oriente





Jean-Baptiste Ferre
"La Mamba"
Mambas
In Ouïe
Read more




Maarja Nuut & Ruum
"Haned Kadunud"
Muunduuja
130701





Ayn Trio
"Checkpoint"
Music of Basel Zayed
artist release
Read more




Moira Smiley
"Refugee"
Unzip the Horizon
artist release
Read more




Tania Saleh
"Happy About Something"
Intersection
KKV
Read more




Giulio Bianco
"Tranieri"
Di zampogne, partenze e poesia
Puglia Sounds
Read more




Solju
"Oðða Áigodat"
Oðða Áigodat
Bafe's Factory
Read more




John Prine
"Caravan of Fools"
Tree of Forgiveness
Oh Boy





John Minton
"New Delia"
Murder in the Cornfield
artist release





Monsieur Doumani
"Drinking and Kissing"
Angathin
artist release
Read more



---
RootsWorld cannot survive without the support of our readers. If you want to hear great music and read great writers, then we need each listener and reader to contribute just a little to make it happen.
Please join us!
Make a One Time Contribution Today!
| | | |
| --- | --- | --- |
| $5.00 | $10.00 | $20.00 |
| $40.00 | $70.00 | $100.00 |
,
This web site is optimized for any good browser.
Notscape and Internet Exploder will also work well here.
We won't make that choice for you.
The Hollow Ear: no roots, new routes
Featured CD link: Lodging... food... gas?: travel reviews
Hear.cc: Hearing Health Information
---
Please contribute to our survival.
About RootsWorld: RootsWorld is a world music magazine started in 1993, pretty much at the dawn of the term "world music" as well as the pre-dawn of internet publishing (I suspect this was the first music magazine of any sort published on the www). Our focus is the music of the world: Africa, Asia, Europe, Pacifica and The Americas, the roots of the global musical milieu that has come to be known as world music, be it traditional folk music, jazz, rock or some hybrid. How is that defined? I don't know and don't particularly care at this point: it's music from someplace you aren't, music with roots, music of the world and for the world. OK?
All pages at RootsWorld are © 1992-2018 RootsWorld/ Cliff Furnald / FNI Multimedia Publishing, New Haven CT
The RootsWorld name is protected by US trademark law.
All picture and sound images are the property of the artists and record labels, and are protected by copyright. No file or part of a file may be used for any purpose, commercial or non-commercial, without the express written consent of RootsWorld or the other copyright owners.
About the use of sound files and copyright protections at RootsWorld