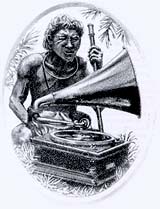 The Secret Museum Of Mankind
Yazoo (www.shanachie.com)


For the past several years Shanachie has been releasing The Secret Museum of Mankind series which is currently up to eight volumes. These CDs are the result of arch-collector and "curator" Pat Conte's lifelong obsession with old recordings of ethnic music. Old in this case, is VERY old. The bulk of these recordings dates from 1925, (though in a recent lecture Mr. Conte played recordings from as early as 1905 from his collection) and noise reduction has been conservative, in order to preserve clarity and spirit.

The historical significance of these releases goes without saying, and the quality of the music is enormously high. Mr. Conte has lovingly culled his collection for tracks that would best represent each genre. The listener is rewarded with new insights and revelations with each visit, indeed, this IS a museum. The cumulative effect is inspiring and it is almost impossible not to be transported in one's imagination to the various places and times represented by these tracks, to wonder at how the world has changed since these recordings were made, and what may have happened in the intervening epoch to the peoples captured in these musical moments.

One could moan about how ethnic music has since been tainted by Western influence and commercialism, but it seems healthier to listen and be nourished by this music, which comes from a time when it's marketability was directly tied to the novelty of the recording process itself.

There are an average of 25 tracks on each and all of the choices are first rate for any number of reasons. Volumes 1 through 5 are global surveys. For example, volume one, Ethnic Music Classics contains tracks from : Nigeria, Sardinia, Russia, Ceylon, Rajahstan, Cuba, Rumania, Viet Nam, Macedonia, Society Islands, Morocco, South Africa, Japan, India, The Basque, Sweden, Yiddish, Poland, Jamaica, Abyssinia, Andalucia, Visayan Islands and Fiji. That's a pretty impressive spread, and representative of the series.

Volumes six, seven, and eight, by contrast concentrate on the specific areas of East Africa, North Africa and Central Asia.

This is an enormous, ongoing project and after hours and hours of intense listening, it is safe to say that one could take one's complete education in authentic world music right here in these CDs. In attempting to review each disc individually I found myself singling out certain tracks based solely on my own musical biases. This procedure did not seem worth pursuing, as it neglected tracks which had equal validity. Suffice it to say then, leave your trust in Mr. Conte. He knows his collection, and he is sharing the best of it with you. Count yourself fortunate. - Michal Shapiro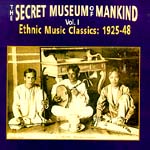 ---
We will be adding short reviews of, or comments on, individual titles as time allows. Here's the first:
Volume One, Ethnic Music Classics
Favorite tracks: "Jubilee Anthem" as sung by the Eleja choir of Lagos is a gentle rendition of a missionary hymn with a lovely vocal solo. "Kapirigna" (Sri Lanka) as performed by Fonseka and Party, has an almost old-timey waltz sound to it. "Dance Song" as performed by an anonymous Romanian Gypsy band is a terrific example of the furious violin playing and exquisite vocal embellishment that accounts for all those cliches about "exotic Gypsy music." The riveting "Voice of the Mountain and Stream" from Viet Nam has an hypnotic and gymnastic melody. Zwabesho Sibisi (South Africa) sings "Angihambe;" the recording is extremely clear and intimate sounding; a real tour de force. Eric Sahlstrom plays the nyckelharpa, a keyed fiddle on a virtuosi performance of "Byggnan," a polonaise from Sweden. There is a classic flamenco by "La Nina de los Peines" (Pastora Pavon). The collection ends appropriately with a beautiful song of parting from Fiji. - Michal Shapiro
The Secret Museum CDs available at cdroots.com
Visit the real virtual Secret Museum on the web.
---