Sounds are Real Audio G2

The first pair of rollerblades entered Saigon in December, 1993 attached to the feet of one Victor, a Brooklyn teen. With a geometrically-shaved design on his head and apparently frictionless motion through the busy boulevards he caused a Red Sea parting wherever he went and left the crowd agape in his wake. I met him on his release from a four-hour detention where he had been helping police with their inquiries. His charge? Not fitting any known human or vehicular category.

The first time American experimental music was introduced to the professional and student musicians of Hanoi, Hue, and Saigon, it created a similar stir; no contingency plans had been laid for that either. Charles Ives' Fourth Symphony with its interfering marching bands disturbed this audience in a way Ives might originally have intended but has since been lost on clash-happy Americans. Riley's In C and Reich's Come Out left them aghast, waiting for some music to emerge from the repetitions. ("But that's too easy," exclaimed one when I tried to explain minimalism to him.) Computer music set them in fits of derisive laughter as did Varese's Ionization until they realized the caterwaulings were actually air raid sirens. On the other hand, some reactions were more positive: excerpts of Bobby McFerrin, Aretha Franklin, David Hykes, Lou Harrison, and Aaron Copland all received spontaneous rounds of applause.

The Asian Cultural Council was supporting my mission to spend four months in Vietnam representing the Minnesota Composers Forum as the first U.S. music organization to establish connections with its Vietnamese counterparts.

Through the Musicians' Association, an arm of the Ministry of Culture, I was given unprecedented access to their more than four hundred composer, performer, and musicologist members, allowed to travel freely, and had privileged access to the extensive (but decaying) musical research archives.

Few Vietnamese had ever had a chance to speak to an American (certainly not without fear of reprisal) and fewer with one not connected to the militia or business, so many that I met were curious about how my lifestyle fit their image. Before speaking engagements I would be introduced to suppressed amazement as an American "of the people, who gets around by bicycle, stays in a cheap hotel, and eats vegetarian food from the street stalls."

Recurrent questions included: Is it really so easy to make a living in America as a musician? What is the American tradition? What is a non-profit organization? How do we stop the Michael Jackson invasion? Once at the end of a long afternoon in Hue I received a carefully scrawled question out of the blue: "Please tell about LaMonte Young, John Adams, and Post Modernism." And I thought my thesis defense was over.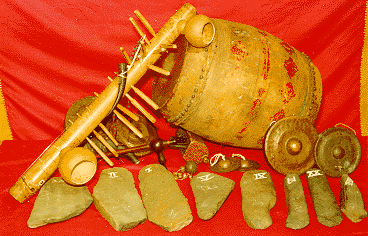 At the Research Institute in Saigon I accepted an offer to play the pile of rocks lying in the corner, a 6,000 year old stone xylophone (the Dan Da). This is the world's second oldest instrument (the oldest is an identical pile now in Paris) and sounds just as it sounded long ago (D-F-G-A-C-D), six ringing tones perfectly tuned in pure pentatonic ratios. Directing the heavy wooden mallets to the shiny playing areas I tried to honor the many generations of ancestors, although I couldn't help wondering about the diplomatic consequences if I broke one of the stones.
During an interview on Voice of Vietnam Radio I was prepared to give in-depth reactions to my experiences of Vietnamese music. The interviewer however chose a different tack and introduced me as an unmarried, 31-year-old composer with a doctorate, and handed me a dilapidated guitar with which to sing one of my songs to all the girls in the national listening audience. "Forgive me, but I am not the marrying or the songwriting kind of guy and I don't know how to play the guitar (even when it has all its strings)." An unfortunate slip of my Vietnamese tones then caused me to confuse Radio Voice of Vietnam with Pissing Voice of Vietnam. After hearing tapes of my experimental music there were no further questions.
One method of bridging the conceptual gulf, repeated with success, was for me to sing Appalachian ballads. On counting the tones and reaching five, proof would be apparent that we are all one people, our blood equally red and our music basically pentatonic. The myth of music as a universal language can occasionally be a useful platitude.
Folk song is especially powerful as a symbol of the Vietnamese identity. It was an ultimate gesture of reconciliation; several players of the traditional one-stringed instrument asked me to provide American folksongs for them to learn, so that in future when more Americans return, we will feel at home. Don't be surprised if you hear strains of "We Shall Overcome," "Hills of Galilee," or "Black is the Color" on your next trip to Vietnam.
The laid-back musicologists of the Saigon Research Institute, among them Lu Nhat Vu and The Bao, were mostly composers from the North before 1975 who were brought down to become researchers. The parallel office in Hanoi felt much more imposing. There, in a drafty former pagoda, was a plain wooden chair, an empty table, a bare light bulb, and a display of Bakelite electrical contraptions. The 4,000 recordings of traditional music kept there, their rusty dandruff particles floating off with each playing, have been uncatalogued and on forbidden access for the last few decades. Now recognized as a national treasure because of all the lost traditions that are documented, they are being studied on condition that no copies be made; the fears are a) that someone might make a lot of money out of publishing them abroad and b) their technical quality is embarrassing when compared to modern compact discs. The institute's solution is to begin making new field recordings of what's left (which of course keeps all those lost traditions lost...).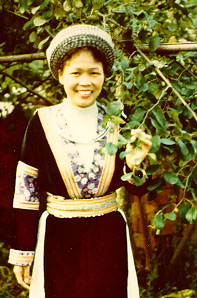 H'mong singer Ngo thi Mai
One day, after a 12-hour drive from Hanoi to Cao Bang, the Commissioner of Culture at the provincial capital of Cao Bang, about 30 kilometers from the Chinese border, took delight in introducing me to the local musicians. He arranged recording sessions with some of the singers of the area, known for its many distinct minority cultures. United in their opposition to the Chinese (who sporadically invade along the rocky paths and massacre the villagers) these ethnic groups now get on so well (I was told) that they sing each other's songs despite the fact that they speak mutually incomprehensible languages. I could appreciate the problem since our closest line of communication was from Tay through Vietnamese to French and English.
At a military outpost near Cao Bang I met Hoang Xuan Dao, a 70-year old Gertrude Stein of a woman of the Red Yao minority (in this case truly a minority). As the last known member of the tribe she remembers the language and songs and is sometimes asked to sing at local festivals. And when she is gone the tradition will end. Likewise, the local Commissioner remembers the "Luon Then" style songs of his Tay youth but has no occasion to sing them since the festivals at which they would have been sung have been banned or are too expensive to mount. Recognizing that the diversity of traditional cultures is shrinking, its preservation has become a major concern of the government at a time when other cultural forces are at play, and "inheritance development and preservation promotion" has become an official rallying cry.
The best singers, however, lived in a town 20 kilometers further into the mountains up a boulder-strewn path unnavigable by our van (which lacked a jack or spare tire). With the help of a United Nations Toyota Landcruiser, commandeered for the day, I could boast that I was the first Westerner ever to set foot in the bustling town of Quang Hoa.
There one blistering November afternoon as the children came in from roasting rats in the paddy fields and as knitters and hunchbacks and opium connoisseurs congregated to watch, two Nung couples sang for three hours an amazing kind of diaphonic chanting, Ha Leu, from the Sli repertory, as if the spirits of Bulgarian women's choirs had wafted directly over from Macedonia. They sat on the front porch of a small hut in their black clothes with a silver hoop around their necks; back and forth improvising a dialogue, a sort of performance poetry, teasing, mocking, and flirting while the voices coiled around each other.
Here is a typical male verse pregnant with innuendo:
With a true heart, avoiding disregard and unfeeling;
A hand has long and short fingers, hasn't it?
And chop sticks are not of equal length.
Few Vietnamese and fewer Americans are aware of this style of music which has been passed down through family members of this region. Later in the afternoon I heard young children and teenagers singing this music. Sli singing has had little reason to change for many generations; something is always needed to shoot the breeze while ambling to market with baskets on one's shoulders. But the children in this remote area are also learning songs in the Vietnamese language in the post-revolutionary lyrical song style (known as "Misery Pop" to some). The Michael Jackson phenomenon is still poised on the far side of the jagged mountains.
Popular music in Vietnam mainly fits into a category known as Pop-Rock; the predominant style being the sentimental love song ("Misery-Pop" or "Yellow Music"). If you want to hear every singer in Saigon during the course of one evening, all you have to do is sit at a bar where there is a band. One by one the singers take turns to come on stage, sing two songs, one slow, one fast, before getting on their bike and going to the next location to repeat the routine. This rotation ensures variety, egalitarianism, and allows each singer to perfect and popularize just a few songs. Songwriters, such as Trinh Cong Son, Pham Trong Cau, Diep Minh Tuyen and Thanh Tung (who runs six successful business ventures in addition to being a well-known song and film writer) keep a stable of their favorite singers who will promote their new songs on the bar circuit.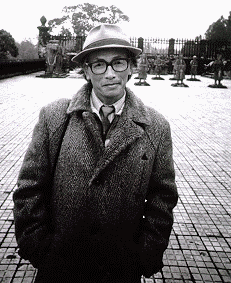 Hue Singer Tran Huu Phap
Other varieties of music thriving in this proud culture are Ca Hue (Hue-style song), Tuong Hue (Hue classical theater), Chau Van (mediums' trance songs, an ancient form of goddess worship), Ngam Tho (poetry declamation), and the chanting styles of buddhist pagodas such as Linh Mu. In some cases the musicians are in their 80s and used to perform for the emperor himself. They are teaching the younger generations and, because these genres admit of little variation or free improvisation, little has been modified.
The best known star of Chau Van and Ca Hue is Ai Hoa, a singer in her 40s, whose voice explores all the sensuous slides and cracks inherent in the Hue dialect. Among the songwriters, Tran Huu Phap, Ha Sam, and Nguyen Khac Yen all bring a Hue flavor to their modes and a historic aspect to their lyrics (such as Phap's radio drama on Huyen Tran, a misfortunate 14th Century princess). Other artists also flourish such as the painters Nguyen Duy Linh and Dang Mau Tuu, who bring a Matisse sensibility to Confucian themes, their art rooted in the surrounding tomb-strewn hills of memory.
The standard band comprises singer (the only one on stage who is liable to make any body movements), bass guitar, and one or two electronic keyboards, recognized throughout the country as the greatest labor-and-money-saving device, despite their sound. Indeed, in rural areas where there is no electricity, these portable keyboards can run happily on batteries. Vietnam is clearly the market for which they were designed: all the rhythm buttons that are so rarely used elsewhere _ rumba, tango, bossa nova, and surf rock " are here employed liberally.
Maybe for the first time in modern Vietnamese history, there is such a thing as a generation gap; thanks to economic reforms and increased international communications, teenagers, the post-war baby boomers, now have some tools for rebellion such as riding sexy motorbikes, wearing U.S.A.F. jackets and sunglasses, or spending the equivalent of four months wages on a ticket to see Bryan Adams or John Denver in concert _ all behavior guaranteed to bewilder their parents.
Accompanying the economic boom comes the uncontrollable beat of foreign influence. Whereas much of the last 2,000 years has been spent repelling foreign invaders, much of the last two has been spent wooing them back again. Before the collapse of Eastern Bloc Socialism, markets for goods and culture were assured; many composers were sent to study in the conservatories of Budapest, Sofia, Leipzig, Moscow, Leningrad, Karlmarxstadt, or Beijing and were sure to return having learned techniques appropriate to the cause. Since then, however, few have traveled abroad and the main source of knowledge about foreign cultural activities is in the form of smuggled tapes, occasionally swiped by customs officers and bootlegged for profit (although if they can make a profit from my tapes of avant garde music that disappeared, their marketing is clearly better than mine).
As I traveled (by means of everything from generic bicycle to Mercedes) through and around Hanoi, Hue, and Ho Chi Minh City, I was able to gain an overview of the varieties of musical attitudes existing in the country. These three cities also have conservatories for the teaching of both traditional and Western classical music which has had a firm footing in Vietnam since the days of the French colonialists (who were routed in 1954).
Almost all the faculty graduated from foreign conservatories, the Olympic training ground for romantic virtuosos, a fact which may explain the high incidence of child prodigies and the uniform approach to interpreting the standard repertoire (Mozart to Debussy). Under this system, students are considered professionals and are paid a token sum for every rehearsal and performance. The cost to a composition student for holding a reading of a new work is prohibitive and the formation of a new orchestra next to impossible. Despite a wealth of young talent, there is therefore only one full-time orchestra in Vietnam (affectionately known as "the relic") and heated discussions are underway about how to improve its quality (by somehow infiltrating conservatory students) without putting large numbers of orchestra veterans and sinecurists out on the streets. Because there are only so many hotel lobbies to play in, the better-connected students "are condemned to go abroad" for their careers while the rest face certain unemployment.
Considering the conditions of instruction (an unsanitary building filled with warped pianos, some recovered from their days in the jungle trenches during the bombing years), the standard of accomplishment at the Hanoi Conservatory is high. Under the direction of Vu Huong and Trong Bang, the government is constructing a new concrete concert hall for the school. Students who look unlikely to succeed as pianists are encouraged to become composers. They are required to produce work that has "something of themselves and something Vietnamese" about it. This is achieved through the emulation of western forms and techniques applied to Vietnamese materials. The essential ingredients include: ABA or Theme and Variations form, a harmonic style derived from Glinka, Prokofiev, or Saint-Saens (according to the teacher's training), all applied to folk melodies or traditional instrumental idioms and written for western chamber ensembles. The final year requirement is to write a symphony or concerto which is unlikely ever to be played.
The most progressive composition teacher, Tran Trong Hung, has managed to introduce his students to the works of Messiaen, Stockhausen, and Maurice Ohana (through tapes sent from Paris). This more-or-less up-to-date music from the West has inspired some students to experiment with different techniques but until the performers and others are also introduced to these international developments the music will remain isolated and unappreciated, "like a goat gazing at a thermometer."
The Traditional Music Department at the Hanoi Conservatory has had an enormous influence on the direction of musical culture. While professing to preserve the tradition for future generations it has succeeded already in altering it beyond recognition. By adopting the Soviet techniques of appropriating melodies and arranging them into simple forms as vehicles for instrumental virtuosity the original purpose of the music (such as being a work song, for boating, harvest, or courting) has been lost. The music that used to be passed down orally within families has been notated in the Western method and is now fixed as a repertory piece with a standard interpretation. This Modernized Folk Music is now the official version of traditional music and can be heard on recordings, TV and radio and in hotel lobbies throughout the country. A friend visiting Ban Me Thuot asked the local musicians how they felt about their music being lifted. At first they replied what an honor it was for their music to be considered by city people, but in private they are quite angry at the disrespect.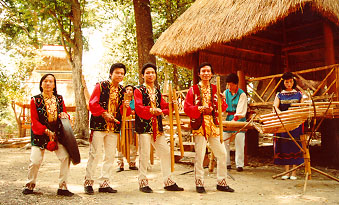 One family of six brothers, led by Duc Loi, forms a percussion group in Saigon under the name "Phu Dong" (the name of a legendary weakling baby who, on hearing that his country was being invaded by the Chinese, grew to hulking proportions and sent them packing). They studied in Hanoi but spent time in the Central Highlands learning the instruments of several minorities.
For the last 16 years they have played together as a group and have developed their own brand of new music, some of it using traditional motifs, others simply jamming on the bizarre collection of instruments: a Dan Da stone lithophone, H'Mong reed pipes, E-De bronze gongs, and rattles. More than many other modernized folk players these have forged an integrated style all their own.
Recently in Hanoi small experiments to use Vietnamese techniques on Western materials have been tried, thereby reversing the normal method which uses Western techniques (such as harmony and standard forms) on Vietnamese materials (such as folk melodies). Thanh Hien, a young musicologist at the Conservatory, has analyzed some of the rules of Nhac Tai Tu improvisation and given them to composition students to adapt them to new modes and non-traditional instruments. Violinist Dao Trong Tu has pioneered fingering and bowing techniques derived from the Vietnamese two-string fiddle to play folk tunes on the violin (analogous to the adaptation of the Western guitar for Vietnamese music). The subtle nuance achieved by using "traditional" fingering and bowing on the violin is remarkable.
In Hue where the legacy of imperial days is down every footpath, the concern of preserving the local culture is paramount. Hue has missed out on the economic investment of the larger cities and looks forward for its survival on the tourist industry. After years of uncertainty UNESCO decided recently to grant the city status as a historic landmark, thereby making it qualify for money to conserve its splendid buildings for future visitors.
The musical culture of Hue is also rich and insular; much of the repertory revolves around former entertainments and ceremonies for the emperor. Some of the music that accompanied the ritual activities has been discarded but the rest has been played continuously since 1945 when tourists (who can pay to be emperor for a day) became the new regime. Indeed the court band for Nhac Cung Dinh waits in costume every day in a side room of the palace and troops out to play when visitors appear. There are now eight schools for teaching children the repertory of this music and dance and still the director asks me what more he could do to preserve the tradition.
The only kind of composing that brings in more than a token sum (in a country without money to commission, without performing rights societies or copyright laws) is film music. One of the top composers is Dang Huu Phuc, trained in North Korea and France, and owner of the only MIDI studio in Vietnam. In Pyongyang, he makes good money by doing backing tracks for karaoke videos. In Hanoi, he writes richly-produced MIDI-orchestra film scores. In Paris he uses samplers to compose Western-style avant garde music. "No one in Vietnam has heard my experimental works, there is no market for them yet. People are more concerned about getting enough rice and clothing to afford the luxury of difficult music."
Throughout my travels in Vietnam I met with absolutely no hostility at being from the land of "American aggressors." If anyone knew words of English beyond "Hello" it was likely to be "Let bygones be bygones." Others mentioned a waste of blood and money. Even visiting homes where pictures of relatives shot down by my compatriots hung above the family altar, care was taken that I would not feel uncomfortable. The most popular explanation I was given for the open arms extended to Americans was that the Chinese have occupied Vietnamese territory much longer than the Americans ever did so the hatred is proportional. But even without this explanation or the visions of $$ in peoples' eyes, an optimistic spirit of moving forward was everywhere.
In the back room of an English teacher's house I glimpsed the following inscription on the wall: "Thoughts are free. No one can prevent you from thinking any thoughts so long as you don't express them." At this point in Vietnamese history developments in artistic expression are prevented as much by economic reasons as by ideological ones. With the economy growing at 8% per year, the balance between music, money, and ideas, like the daily traffic mayhem, is entering a chaotic period from which a new order will emerge.
---
Philip Blackburn is a composer, singer, and Program Director at the Minnesota Composers Forum. He is working to facilitate contacts between American and Vietnamese musicians and has projects to send recordings and textbooks to Vietnam and begin exchange visits. The World of Vietnamese Music Project, bringing together leading Vietnamese musicians from around the world, will take place in Minnesota during March, 1996. His CD recording of traditional Vietnamese music, Stilling Time [innova 112] can be ordered from cdRoots.com Blackburn can be reached at (612) 228-1407; Minnesota Composers Forum/ 332 Minnesota Street #E-145/ St. Paul, MN 55101, or via email at

[email protected]


This article is published with the author's permission.
| | |
| --- | --- |
| Real Audio | Two seven year old girls sing "Hà Lêu," a Nùng folk song. |
| Real Audio | A skilled chamber group performs "Little Song of River Lam." The group includes zither, lute and a modified guitar. |
All songs are P.D. Audio clips are used with the written permission of the publisher.
See also: Asian Music