Music of the Month
For a contribution of 20.00 a month (33.00 outside of the US), I'll be sending you a recording from somewhere interesting, each and every month. You will receive a CD in the mail, and regular monthly subcribers will also get a bonus CD now and then.
Check out other ways to donate at The Rent Party.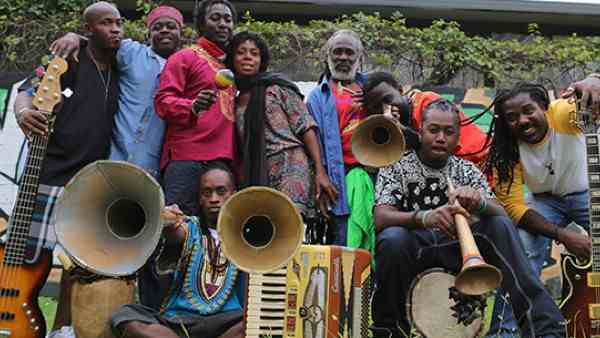 Our October 2019 selection for Music of the Month
Lakou Mizik with friends from New Orleans
HaitiaNola



"HaitiaNola blends funky New Orleans soul with Haiti's rebel spirit in surprising, sometimes sneaky ways: steamy swamp funk leavened with delicate vocal arrangments, ceremonial rara voudou horns trading licks with second line brass, barrelhouse piano in counterpoint with ringing hand percussion, and a Mardi Gras classic reworked with an island lilt. Through it all Lakou Mizik is at the top of their game, always grounding the music in Haitian tradition first. They make generous room for guests, but they never let you forget whose house this is..." - Tom Pryor in his RootsWorld review.

These CDs were donated to RootsWorld by the artists and Cumbancha. We thank them, and you, for supporting the magazine and radio porgram.

Listen to some excerpts from the album:
Renmen (feat. Preservation Hall Jazz Band)

Rasanbleman (feat. Leyla McCalla)

Pistach Griye (feat. Trombone Shorty)

La Fanmi (feat. Jon Cleary)

Sa Na Kenbe (feat. Cyril Neville)

Iko Kreyňl (feat. Win Butler & Régine Chassagne of Arcade Fire, Preservation Hall Jazz Band, & 79rs Gang)


Kay Granpa (feat. Tank of Tank & The Bangas)
Loumandja (feat. Jon Cleary)
Lakou Dogwe (feat. Anders Osborne)
Azaka Vini We'n
Grann (feat. Lost Bayou Ramblers)
Manman Lavi (feat. The Soul Rebels)
Bouyon Lakou (feat. The Soul Rebels)
Mizik Sa Yo (feat. King James)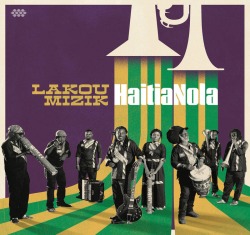 From the album notes:
The seed for Lakou Mizik's second album, HaitiaNola, was planted in 2017 when the band was invited to play the legendary New Orleans Jazz & Heritage Festival. It was an eye-opening pilgrimage to the mythical music city and the band members immediately felt a connection. The music, the food, the architecture all reminded them of home. For those familiar with the history of Haiti and New Orleans, this makes a lot of sense.
The Caribbean country and the Crescent City have deep historical connections. In 1791, Haitian slaves began rising up against their French masters and earned their freedom in 1804 after years of bloody rebellion. Thousands of refugees consisting of French colonists, freed people of color and slaves fled the turmoil of the revolution and ended up in the nearest French territory: New Orleans. This influx doubled the city's population and forever changed its ethnic and cultural identity.
To this day, Haitian influences can be felt in the music of New Orleans. From the rhythms of the Mardi Gras parades to the swampy grooves of funk, echoes of this Haitian connection can still be heard in the sounds of the city. It can also be felt in the food, language, spirituality and so much more. One sunny day, when the musicians of Lakou Mizik found themselves walking down Frenchmen Street, they hatched the idea for HaitiaNola.