Haitian roots outfit Lakou Mizik made a big splash with their 2016 debut Wa Di Yo, which brought their contemporary mizik rasin (roots music) sound to the world. The brainchild of singer Jonas Attis and guitarist/singer Steeve Valcourt, Lakou Mizik brought together a multi-generational septet of some of Haiti's best musicians to showcase the diversity of modern Haitian sounds, including konpas, kanaval songs, twobadou ballads, and vodou ritual music. Three years and a few international tours later Lakou Mizik returns with a barn-burner of a second act on HaitiNola; which revisits the connections between Haiti and New Orleans with a crew of NOLA musical all-stars.

It's a simple, but potent concept, thanks to the centuries-deep cultural connections between Louisiana and Haiti. Much of what we think of as Louisiana Creole culture today — from red beans and rice to shotgun houses — can be traced back to the refugees who fled Saint-Domingue when the Haitian revolution roiled the French colony at the end of the 18th century. From the first uprising in 1791 until long after Haiti formally achieved independence in 1804, gens de couleur (free people of color), white colonists and their enslaved Africans were dispersed all over the Caribbean basin, with Spanish-controlled Santiago de Cuba and New Orleans being two of the biggest ports-of-call. As in Santiago, the new arrivals put an indelible Creole cultural stamp on the language, culture and music that reverberates to this day.

Lakou Mizik dialed into this connection in 2017, when they made their first appearance at the New Orleans Jazz and Heritage Festival. When the group was invited back the following year, recording began on HaitiNola, at the private studio of Win Butler & Régine Chassagne, the husband-and-wife duo behind Canadian indie rock outfit Arcade Fire.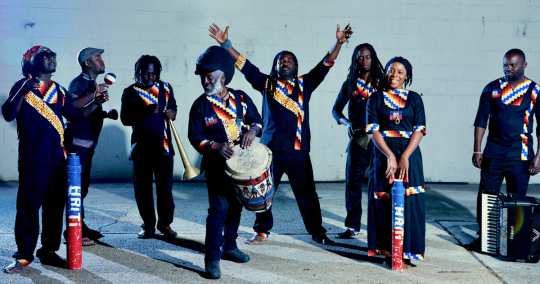 Chassagne, the daughter of Haitian immigrants, has long championed Haitian music and culture internationally. She pulled in Ben Jaffe, creative director of NOLA's legendary Preservation Hall Jazz Band (the two also co-founded the Haitian themed Krewe de Kanaval for Mardi Gras), and Jaffe offered up access to PHJB's own private studio for the project, too.
Lakou Mizik has always been an international proposition both in outlook and execution, thanks to their original production team that included American Zach Niles, Canadian Chris Velan, and British veteran producer Iestyn Polson, and this time around was no different.
HaitiNola was helmed by producer Eric Heigle of The Lost Bayou Ramblers, who had also produced two albums for Arcade Fire. Together this crew called in a deep bench of musical heavy hitters from NOLA and beyond, including Trombone Shorty, Preservation Hall Jazz Band, Cyril Neville, the Lost Bayou Ramblers, Leyla McCalla, Tarriona Ball of Tank & The Bangas, Antibalas guitarist Raja Kassis, and more. British-born NOLA transplant Jon Cleary even traveled to Haiti with Heigle to record with Lakou Mizik in a studio in the city of Jacmel.
The result is 14 tracks that blend funky New Orleans soul with Haiti's rebel spirit in surprising, sometimes sneaky ways: steamy swamp funk leavened with delicate vocal arrangments, ceremonial rara voudou horns trading licks with second line brass, barrelhouse piano in counterpoint with ringing hand percussion, and a Mardi Gras classic reworked with an island lilt. Through it all Lakou Mizik is at the top of their game, always grounding the music in Haitian tradition first. They make generous room for guests, but they never let you forget whose house this is.
| | | |
| --- | --- | --- |
| | | "Renmen" |
The album kicks off with "Renmen" (Love) an infectious party groover driven by the tighter-than-tight horns of the Preservation Hall Jazz Band, that connects the musical dots between Mardi Gras and Haiti's own Kanaval tradition. " "Pistache Griye" (Grilled Peanuts) features Trombone shorty, but Nadine Remy's powerhouse vocals and Raja Kassis' chiming guitar threaten to steal the show.
| | | |
| --- | --- | --- |
| | | "Pistache Griye" |
Jon Cleary invokes the spirits of Professor Longhair, Alain Touissant and generations of NOLA piano gods on "La Fanmi" (The Family), where his understated, almost ghostly performance lets the low-key, atmospheric percussion and Beniste Belony's accordion room to shine.
| | | |
| --- | --- | --- |
| | | "La Fanmi" |
"Kay Granpa" (Grandfather's House) is an energetic konpa-inflected workout that features Tarriona "Tank" Ball doing her spoken word rap thing over the strident Kreyòl language vocals — her performance feels a bit subdued here, but her presence is still a welcome benediction from a bona fide NOLA homegirl.
| | | |
| --- | --- | --- |
| | | "Iko Kreyol" |
Things slow down a bit on "Loumandija" and "Lakou Dogwe", but pick up again on "Iko Kreyol," the album's lead single. The song is exactly as advertised: a reworking of the Dixiecups' 1967 Mardi classic "Iko Iko" sung in Kreyòl and featuring Butler, Cassagne, the Preservation Hall Jazz Band, and 79er's gang — a genuine Mardi Gras Indian band drawn from the 7th and 9th wards. "Iko Kreyol" keeps the original chorus, but transforms the rest of the lyrics into a mission statement for the entire album: "My spirit is my identity/ From Haiti to NOLA/ Spirits of Congo, we are brothers and sisters/ We're ready for all that stands against us, stand firm and tell them we're here".
Musically, the song is a pretty straightforward cover, with a little hint of Dirty South bass and a rara horn breakdown to add a little flavor. But otherwise this crew had the good sense to leave the bones of the song intact and more-or-less unadorned; just cranking up the second line percussion. and letting the groove do what it does. But if you still want to hear some dubby remixes, there's three of them available on the advance EP, released in July.
| | | |
| --- | --- | --- |
| | | "Sa Na Kembe" |
Other highlights include "Sa Na Kembe" (What Will We Keep), a pean for the preservation of traditional culture which features Cyril Neville's vocals propelled forward by raucous rara horns and gentle, but relentless percussion from Peterson Joseph and James Carrier.
| | | |
| --- | --- | --- |
| | | "Rasanbleman" |
"Rasanbleman" (Come Together) is a spooky slowburner graced by the vocals and subtle cello of Leyla McCalla. The onetime Carolina Chocolate Drop reconnects with her own Haitian heritage here, trading Kreyòl verses with Lakou's Jonas Attis.
"Grann" (Grandmothr) turns up the stings even further, with mournful Cajun fiddle courtesy of Lost Bayou Ramblers' Louis Michot laid over a swaggering, vodou-steeped swamp funk groove.
| | | |
| --- | --- | --- |
| | | "Bouyoun Lakoun" |
HaitiNola finishes strong with "Bouyoun Lakoun" (Lakou Gumbo) and "Mizik Sa Yo" (These songs). The first is a lilting medley of traditional Haitian proverbs mixed with a voudoun hymn — that's blasted into the stratosphere courtesy of the the Soul Rebels brass band and their swinging horns.
"Mizik Sa Yo" is uptempo rocker fueled by a big dirty horn riff that's straight out of a '50s juvenile delinquent flick. The song also features another local NOLA mainstay, Jimmy Horn, the erstwhile frontman of The Special Men, who brings some funky R&B grit to this defiant assertion of cultural and musical independence — a fitting closer to a helluva recording. - Tom Pryor
Hear some remixes of "Iko Kreyol."
Learn more abou the Haiti-New Orleans connection.
HaitiNola is our October selection for Music of the Month